The Scary Reason Ric Flair Was Once Placed Into A Coma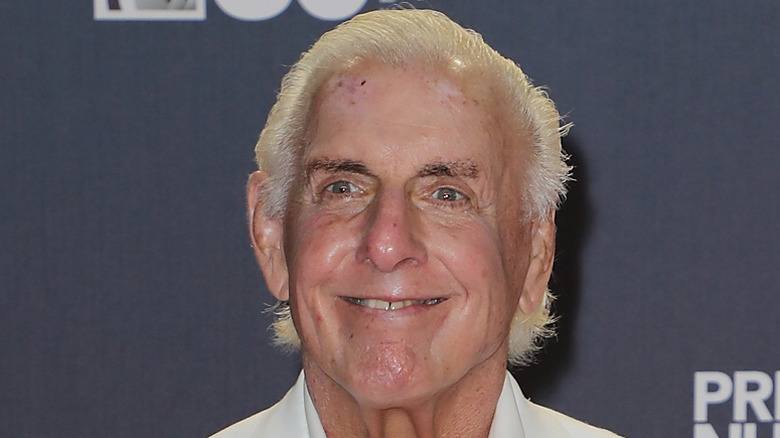 Alexander Tamargo/Getty Images
In yet another year marked by a slew of controversial — and oftentimes unpopular — talent releases, WWE's decision on August 3, 2021, to part ways with Ric Flair after the "Nature Boy" asked for his release was one of the most shocking. Although it had been quite a while since the 72-year-old Hall of Famer wrestled his last match for the company, Flair was oftentimes utilized in WWE storylines, many of them involving his daughter Charlotte Flair. And let's face it — as a 16-time world champion, the elder Flair is one of the greatest talents to ever set foot in the squared circle, both in terms of his in-ring ability and promo skills. There's probably hardly a wrestling fan alive who hasn't, at least once, tried to recite his "stylin' and profilin'" catchphrase word-for-word or even yell "WOO!" in honor of the Nature Boy.
Then you also had Flair's gimmick, which was, for decades, pretty much an extension of his real-life personality. On the mic, he loved to boast about living the high life, boozing, partying, and fooling around with women in every city. Even at his advanced age, he was rarely without a drink in his hand. But that all came to an end a few years ago, as Flair was placed in a coma and given a very slim chance of surviving after he was rushed to the hospital for what didn't seem like a serious medical issue at first.
Decades of heavy drinking led to Flair's 2017 health scare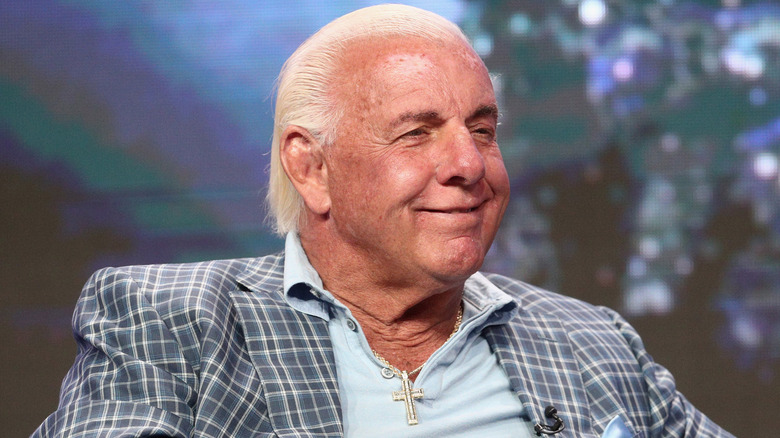 Frederick M. Brown/Getty Images
On August 11, 2017, Ric Flair was hospitalized after complaining of stomach pains. He was soon fighting for his life as he entered the early stages of kidney failure and was nearing congestive heart failure just hours later. According to People Magazine, Flair was then placed in a medically induced coma, and his family was told that he only had a 20% chance of surviving. It was found that the wrestler had an intestinal blockage that required part of his bowel to be removed (via Sports Illustrated), and doctors also had to insert a pacemaker to further help with his recovery. In the end, Flair ended up beating the proverbial three-count, though he spent weeks after the procedure at a convalescent center while trying to get his strength back.
Speaking to People shortly after his operation, Flair admitted that it was close to five decades of drinking that contributed to his health scare. While he was never one to get intoxicated while on the job, he revealed that he would often drink heavily after shows, mainly in an effort to bond with his fellow wrestlers but also to dull the pain caused by various injuries and years of taking bumps in the ring. He also said that he had struggled for years to "do anything in moderation" and had, in fact, entered rehab in 2013, only to keep on drinking after completing his stint. "I didn't think I was an alcoholic, but obviously I was," he lamented.
Fortunately, Flair has been a man of his word — despite dealing with less serious health issues (via Fox News) in more recent years, the Nature Boy hasn't hit the bottle since his 2017 hospitalization.