What Ed Kemper's Life In Prison Is Really Like
Edmund Kemper, also known as "The Co-ed Killer," is one of the most famous serial killers in the United States. He was arrested in April 1973 after killing his mother and her best friend, but he left a trail of victims behind him in the years before. The notorious killer is now serving a life sentence at the California Medical Facility and became crucial in the FBI's understanding of other serial killers. He also inspired the character Buffalo Bill in "Silence of the Lambs" and was portrayed by Cameron Britton in the second season of "Mindhunter," which is based on real events (via A&E).
Like many other serial killers, Kemper had a troubled childhood. He was physically and emotionally abused by his alcoholic mother, Clarnell, who would often lock him in a basement at night. When Kemper was 14 years old, he ran away to live with his father, who rejected him. He then went to live with his grandparents in North Fork, California, which is where he started killing (via Psychology Today).
According to Kemper, his grandmother was abusive. In 1964, when he was just 15 years old, Kemper shot his grandmother dead after an argument — allegedly to see how it felt. When his grandfather arrived home, Kemper shot him dead and hid the body. Following his first murders, he called his mother, who told him to call the police. When they asked him what motivated his crime, Kemper said he wanted "to see what it felt like" (via Biography). Authorities sent him to the California Youth Authority, where he spent the next five years.
Ed Kemper's first time in prison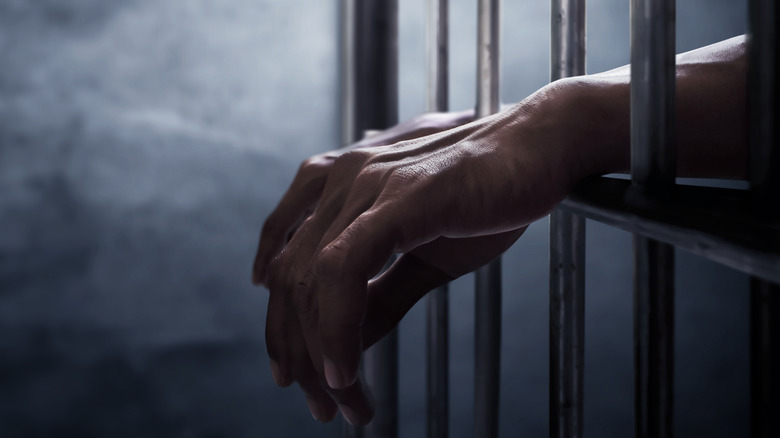 Shutterstock
While held at the California Youth Authority, Ed Kemper underwent multiple tests, Biography reported. Although the results showed that Kemper had a very high IQ, they also diagnosed him with paranoid schizophrenia. After his diagnosis, he was sent to Atascadero State Hospital — a maximum-security facility for convicts with mental health issues. Surprisingly, Kemper developed a friendly relationship with his psychiatrist, who eventually made the teenager his assistant. But despite his apparently well adaptation to the facility, several psychologists did not believe that Kemper was ready for release back into the world. Nevertheless, on December 18, 1969 — his 21st birthday — Kemper was released from the facility to live with his mother.
Kemper was massive. With a height of 6-foot-9 and a weight of 280 pounds, it's no surprise that some people began calling him "Big Ed." He hated his mother, but he was not ready to kill her just yet. Still, his bloodlust was insatiable — between 1972 and 1973, Kember killed six female students who were hitchhiking, Murderpedia reports. "When I see a pretty girl walking down the street, I think two things: one part of me wants to take her home, be real nice and treat her right; the other part wonders what her head would look like on a stick," Kemper allegedly said, per "The Aesthetics of Degradation."
Kemper made his victims feel safe before killing them in many different ways, including by shooting, stabbing, and strangling. The vicious killer also had sex with their bodies, which he would often decapitate to keep their heads as a trophy. In April 1973, he killed his mother while she was sleeping and raped the body. Later, he invited his mother's best friend over and strangled her as well.
Ed Kemper helped the FBI
After killing his mother and her friend, Ed Kemper fled, but he was soon upset that he didn't hear about his crimes on the radio. To satiate his appetite for the spotlight, he called the police and confessed to the murders (via Murderpedia). After being arrested, the serial killer gave details about the crimes, which included necrophilia and cannibalism. During his trial, he pleaded insanity and asked for the death penalty. In November 1973, Kemper was sentenced to life in prison.
Surprisingly, while serving his sentence, Kemper helped the FBI to catch other serial killers. During the 1970s, researchers and police didn't know much about their inner workings and the FBI launched a pioneer project that involved visiting prisons to talk to those criminals and understand their minds; Kemper was one of them. "He was able to provide a lot of insights as to why these offenders commit these crimes. FBI agents were able to identify some common characteristics and backgrounds among serial killers we normally would not have known about," said Bryanna Fox, a former FBI agent and researcher at the bureau's Behavioral Science Unit (via A&E).
Kemper became one of the most famous killers in the country and has given some fascinating interviews over the years. He is serving his sentence at California Medical Facility in Vacaville, and he reportedly doesn't want to live a normal life. "His feeling is that he — and this is his belief — no one's ever going to let him out, and he's just happy, he's just as happy going about his life in prison," his attorney said in 2007 (via New York Post).