Cocaine Cowboys: The Tragic Death Of Augusto Falcon's Wife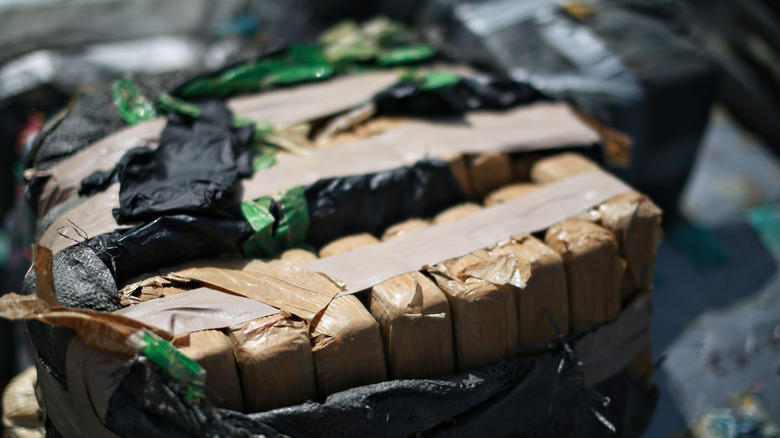 Sandy Huffaker/Getty Images
For all of her husband's power and money, Alina Rossique-Falcon was still not safe from young street criminals. Most likely, Charles Israel Cheatham and Raymond Smith, who were ultimately convicted of robbing and killing the wife of so-called "Cocaine Cowboy," Augusto "Willy" Falcon, didn't even know who Rossique-Falcon was when they made her their mark, but she looked like she had money, and that's what they were after. 
According to The Tampa Bay Times, the robbery-turned-murder in the affluent Coral Gables area of Miami was the third-such violent crime in three months in 1992 that ended in someone's death. In the case of Falcon-Rossique, her husband was in jail fighting a 24-count indictment related to drug smuggling and money laundering when she was ruthlessly shot down. The Miami New Times reported that federal prosecutors alleged that Falcon and his partner Sal Magluta had brought 75 tons of cocaine into the United States between 1978 and 1991 and that smuggling operation had earned them around $2.1 billion in cash and assets. 
Alina Rossique-Falcon was gunned down while running an errand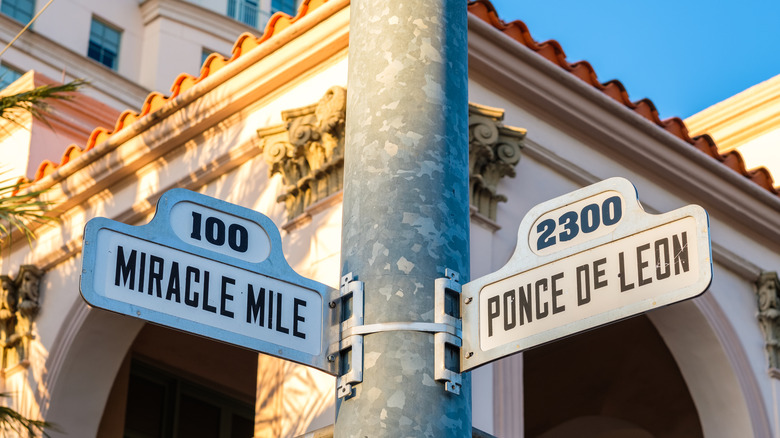 Shutterstock
According to the Miami-Dade online marriage license bureau, Falcon and Rossique were married on September 22, 1973, so she had been with him as he amassed a fortune. While her husband was detained and awaiting trial, Rossique-Falcon went about her daily life, which is how she ended up in the wrong place at the wrong time — a place where a 20-year-old and a 21-year-old were willing to kill the 33-year-old to get her purse, according to The Tampa Bay Times. 
Per the South Florida Sun-Sentinel, On August 6, 1992, Rossique-Falcon drove her tan Jaguar to the Clara Lorenzo 2000 Hair Designer Salon in Coral Gables for a quick purchase of some shampoo and conditioner. When she was walking back to her parked car two men tried to take her purse. 
Rossique-Falcon instinctively grabbed it back from them and ran to her car. She made it into her Jaguar but once inside, one of the men shot her through the car window and the other snatched her purse from the vehicle. Then the two men jumped in another car where a getaway driver was waiting. A 15-year-old was arrested in the case along with Smith and Cheatham, per the Sun-Sentinel, but it's unclear what became of that case as juveniles' records are not made public. 
Two men were sentenced to life in prison for the murder of Alina Rossique-Falcon
The Tampa Bay Times reported that Rossique-Falcon died almost immediately from her gunshot wounds. A Coral Gables public information officer, Mitch Fry, said at the time that there was a lot of unemployment in the Miami area, and Coral Gables was — and still is — a high-end area where "the money is." He theorized that may have been a reason for the uptick in robberies in that part of the city in 1992. Yet according to the Times, police said Smith was in town visiting friends and borrowed their car to commit the crime that ended Rossique-Falcon's life and cost him and Cheatham their freedom. 
According to the Florida Department of Corrections, Charles Cheatham was convicted of first-degree murder, armed burglary, and robbery with a gun or deadly weapon and was sentenced to life in prison for all three crimes. Raymond Smith was convicted of first-degree murder, shooting into a vehicle, armed burglary, and robbery with a gun or deadly weapon. He is also serving a life sentence for the murder charge, with lesser sentences for the other convictions. 
Rossique-Falcon's alleged drug-smuggling husband, Augusto "Willy" Falcon, was ultimately acquitted in 1995 of all the charges in the 1991 indictment, but later served 14 years in prison after pleading guilty to money laundering. According to Esquire he was freed in 2017 and deported to the Dominican Republic.