Inside The Time Hells Angels Sued Marvel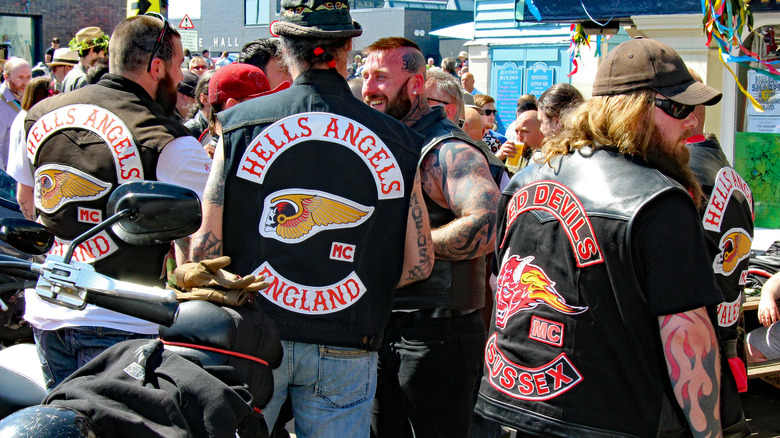 Shutterstock
The Hells Angels are the most famous and notorious motorcycle club of all time. Founded in 1948 in Fontana, California near San Bernadino, per Britannica, they became a household name in 1965 when California's then-attorney general Thomas C. Lynch released a report on motorcycle gangs, specifically calling out the Hells Angels for their "hoodlum activities." Their notoriety increased with the 1966 publication of writer Hunter S. Thompson's book "Hell's Angels: A Strange and Terrible Saga" and the tragic 1969 incident at the Rolling Stones' free concert in Altamont, California at which the Angels were hired to provide stage security and an 18-year-old concertgoer was stabbed and killed. (A Hells Angel member was charged with the stabbing but later acquitted.) 
Despite their outlaw image, the Hells Angels are not afraid to use to the law when its time to protect their trademarked name and insignia. In July 1992, Marvel Comics imprint Marvel UK introduced a character named Hell's Angel. As reported by the Orlando Sentinel, Marvel UK used the name for five issues before changing the character's name to Dark Angel. Per The Journal Times, the lawsuit stated that Marvel was getting "a free ride" from the Hells Angel Motorcycle Club's "powerfully evocative" image and implying that the club endorsed the comic. Marvel responded with "Marvel's fantasy heroine with superpowers doing battle with Satan to save souls could not logically be confused with a violent motorcycle gang that has been recognized as one of the largest illegal drug manufacturers in the world."
Hells Angels: The outlaws with a well-protected brand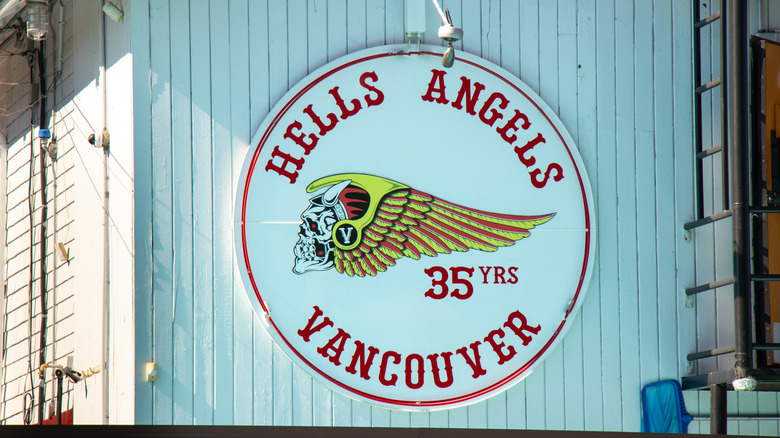 Shutterstock
The law sided with the Hells Angels and, per the Orlando Sentinel, Marvel was ordered to donate $35,000 to Ronald McDonald House, an organization that supports children with cancer and their families. It was the first legal win for the Hells Angels Motorcycle Corporation with Fritz-Howard Clapp as its lawyer. Clapp went on to bring several trademark infringement cases to court for the Hells Angels, as reported by The New York Times, going up against giant corporations such as Toys "R" Us, Alexander McQueen, Amazon, Saks, Zappos, and Walt Disney as well as a teenager who was selling embroidered patches on Etsy that resembled the club's "death's head" logo (shown above). Other targets included web domain names and a movie in production that Hells Angels claimed were unlawfully referencing the club's name and insignia. 
The Times notes that despite their outlaw image, the Hells Angels were more brand than image and, while only full club members are permitted by the club's rules to wear the death's head and Hells Angels patches, the organization developed its own merchandise for sale to the public, including t-shirts, mugs, and yoga pants. Said Clapp, "The intent is not just to punish the infringers but to educate the public that the Hells Angels marques are well guarded and not generic and that they must not be infringed upon." According to his LinkedIn profile, Clapp served as Intellectual Property Counsel to the Hells Angels Motorcycle Corporation from 1992 until 2015.