How Many Times Has Ric Flair Been Married?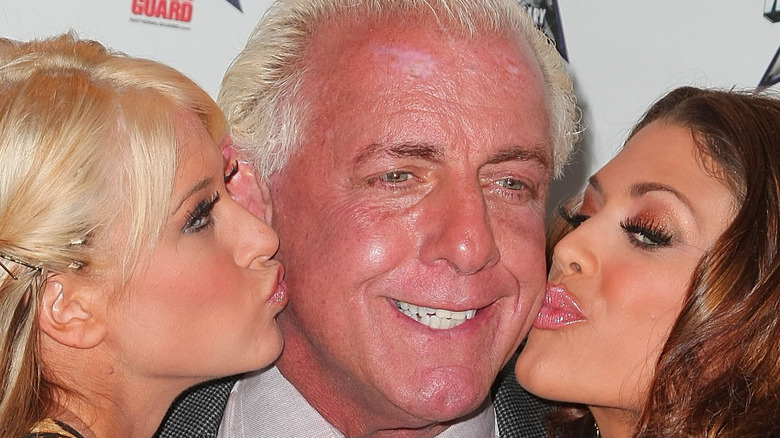 Andrew H. Walker/Getty Images
Wrestling icon Ric Flair made headlines in August 2021 when he announced that he was leaving the WWE after three spectacular decades with the promotion. And now that wrestling fans are looking back on The Nature Boy's extraordinary career, they're peeking into his personal life as well. Admittedly, it can sometimes be difficult to separate the real from the kayfabe when it comes to such grandiose personalities as Ric Flair's, especially when his kids decide to take up the family business and get all mixed up in the storylines. (Some suspect a kayfabe feud with his daughter Charlotte was the reason Flair negotiated his way out of his contract with the WWE.)
Ric Flair has been married five times, and most of those have been plagued with animosity and violence on both sides. According to The Sportster, Ric Flair married his first wife Leslie Goodman in 1971, and the couple had two children before they split in 1983. His second marriage lasted almost twice as long as the first. He married Elizabeth Harrell that same year, and they stayed together until 2005. They also had two children: Reid (who TMZ reports died of a drug overdose in 2013) and Ashley (aka Charlotte). In addition to these two marriages, Ric Flair has tied the knot three other times. Let's take a look at how things went with his other spouses.
Ric Flair is hoping his fifth marriage will be the one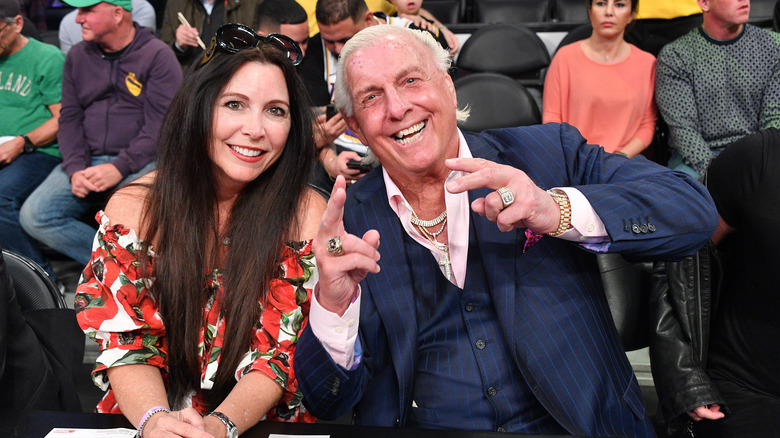 Allen Berezovsky/Getty Images
The Nature Boy's third and fourth marriages were much shorter relationships than his first two. According to Heavy, his third was fitness instructor Tiffany Vandemark. It was riddled with financial problems and physical abuse. He tried to use Tiffany's engagement ring as collateral on a loan. She allegedly hit him in the head with a phone charger. Flair also accused Vandemark of stealing wrestling memorabilia, such as robes he'd used in the ring and other personal items of Flair's, and selling them to fans. The two separated within two years of their wedding, and were divorced in 2009.
Flair's fourth marriage, to Jackie Beems, was also short and intense and fraught with violence. CBS News reported in 2010 that Beems had been arrested after she physically attacked Flair, leaving him "bloodied and bruised." Beems accused him of conducting several affairs, a complaint that his previous wives had, as well, and the two were divorced in 2012.
For his fifth go at wedded bliss, Flair decided to wait until the calendar changed a couple times to tie the knot again. He actually dated Wendy Barlow (pictured with Flair above), a former WCW colleague of his, for a few years, rather than jump right back into that married life. They do fun things together like go on Celebrity Wife Swap with Rowdy Roddy Piper and his wife Kitty in 2013. The two were married in 2018 and appear to be doing well today.