How Many Super Bowls Have The Dallas Cowboys Won?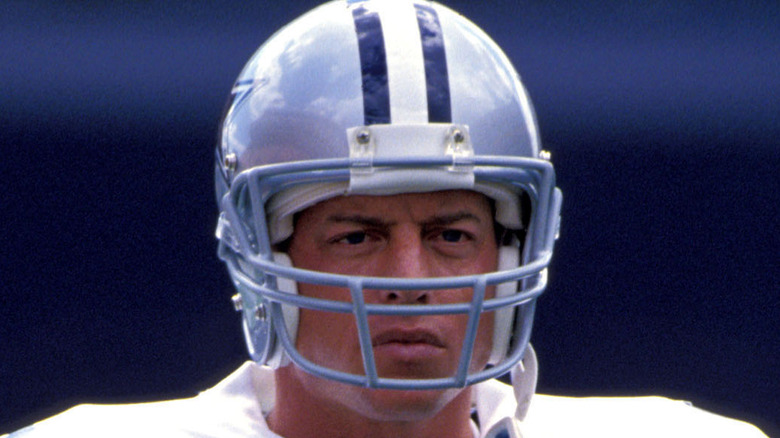 Allen Kee/Getty Images
On Tuesday, August 10, the 16th season of "Hard Knocks" will be dropping on HBO Max, and the Dallas Cowboys will be making their third appearance as the reality show's featured team. Earlier in the month, HBO released a trailer for the upcoming season, and to no one's surprise, the clip focuses heavily on the organization's top two offensive players — quarterback Dak Prescott and running back Ezekiel Elliott. It should be interesting to see "America's Team" in action at their training camp as they hope to improve on what turned out to be a rough, injury-marred 2020 campaign.
Speaking of that moniker, the Cowboys became known as such because they "appear on television so often that their faces are as familiar to the public as presidents and movie stars," according to Inside the Star. In other words, theirs is a franchise that could be compared to the 1990s Chicago Bulls in the NBA or the MLB's New York Yankees of multiple eras in terms of recognition, even to casual fans or those who don't care much for football. Similarly, they've lived up to their billing on many an occasion in terms of on-field success. But how many Super Bowls have they won since the Big Game was first played in 1967?
The Dallas Cowboys have won five Super Bowls ...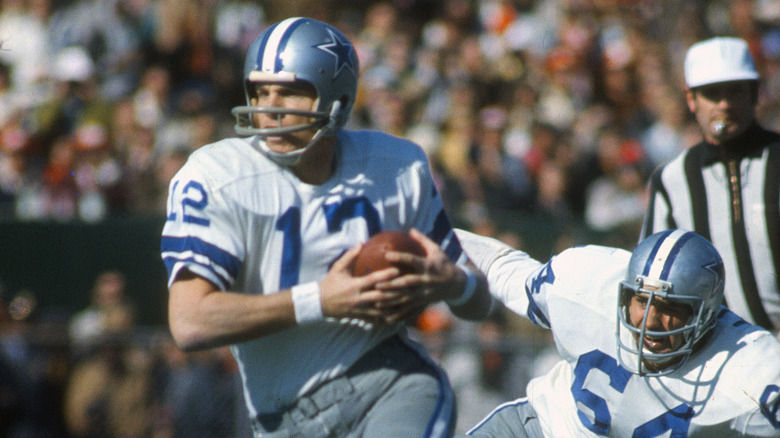 Focus On Sport/Getty Images
All in all, the Dallas Cowboys have a total of five Super Bowl wins, the first of which came in 1972 at Super Bowl VI. As recapped by The Washington Post, the Cowboys destroyed the Miami Dolphins, 24-3, and set what was then a Super Bowl record with 252 rushing yards. But that wasn't the only reason behind the team's success; quarterback Roger Staubach (pictured above) had two touchdown passes, while the Dallas defense held Miami's top two rushers — fullback Larry Csonka and halfback Jim Kiick — to just 80 yards combined. Six years later, the Cowboys won a second NFL championship at Super Bowl XII, winning 27-10 over the Denver Broncos. Not only were Cowboys defensive ends Harvey Martin and Randy White two rare examples of defensive players winning Super Bowl MVP honors; they also remain the only co-MVPs in the Big Game's history.
After years of middling to poor performances in the 1980s, the Cowboys became the NFL's team of the '90s by winning Super Bowl XXVII, XXVIII, and XXX — if not for the Steve Young-led San Francisco 49ers taking Super Bowl XXIX in 1995, Dallas could have pulled off an unprecedented four-peat. Leading the way on offense was Troy Aikman, the eventual Hall of Fame quarterback whom the Cowboys picked first overall in the 1989 NFL Draft. He was complemented by an array of talented players on both sides of the field, though as Bleacher Report noted, star players such as wide receiver Michael Irvin and defensive end Charles Haley were just as known for their crazy off-field antics as they were for their contributions to the Cowboys' three Super Bowl wins in the '90s.
... but none since 1996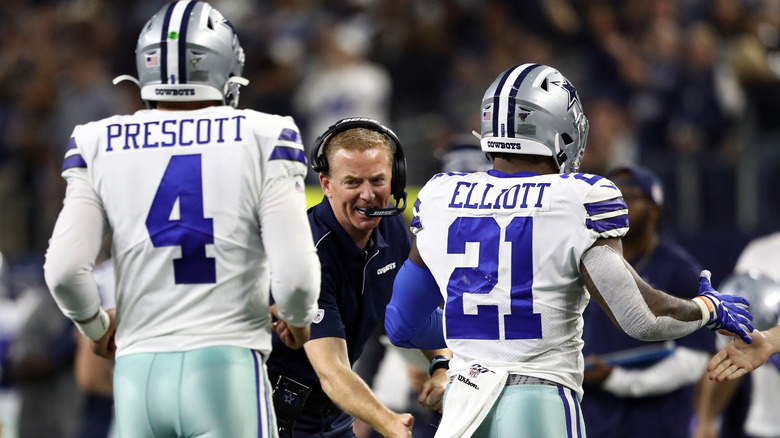 Ronald Martinez/Getty Images
For many Dallas Cowboys fans, the team's last Super Bowl victory feels like it happened eons ago. You could say Jimmy Johnson's exit as Cowboys head coach in the spring of 1994 was the end of an era. A tough disciplinarian who got the most out of his players, Johnson was replaced by Barry Switzer, whose laissez-faire approach culminated in a 1997 season in which Dallas finished with a 6-10 record and missed the playoffs for the first time since 1990 (via The Washington Post). Sure, we need more nice guys in coaching, but Switzer seemingly proved legendary MLB manager Leo Durocher right when he was fired after that disastrous 1997 campaign — sometimes, nice guys do finish last.
Twenty-five years have passed since the Cowboys won Super Bowl XXX, and they don't seem any closer to ending their championship drought. As seen on their Pro Football Reference team page, the organization made the playoffs just nine times since 1996, and last season, they finished with an uninspiring 6-10 record, good for third place in an especially weak NFC East. To be fair, that was largely on account of Dak Prescott's season-ending ankle injury (via Sporting News), but as Athlon Sports noted in their 2021 preview for the Cowboys, simply qualifying for the postseason would be the most optimistic expectation for the long-struggling team.