The Truth About Sister Gerard Fernandez, The Infamous Death Row Nun
Sister Gerard Fernandez said she felt "broken people" were her calling. According to The Straits Times, the Catholic nun didn't realize it at first, but when a little girl she knew was murdered by a woman she also knew, she felt compelled to visit the convicted woman as she sat on death row in Singapore's Changi Prison — along with the woman's husband and her husband's mistress — for the ritualistic murders of not only the 9-year-old girl, Agnes Ng, but also for a second killing of a 10-year-old boy named Ghazali Marzuki, per a different The Straits Times piece. 
Fernandez had already founded the Roman Catholic Prison Ministry with two Redemptorist priests by the time those horrific murders happened. The team would visit prison inmates and pray with them or counsel them, but  in 1981, after the double child murders and death sentences for their killers, Fernandez made death row inmates her priority after spending time with the woman she knew, Catherine Tan. 
She would pray with those sentenced to die as they awaited the day they would be hanged, and stay with them in their last hours, walking them to the gallows. According to the Straits Times, over the span of three decades, Fernandez walked with 18 doomed convicts to the place where they would be put to death.
Sister Gerard called the the moment of death 'a mystery'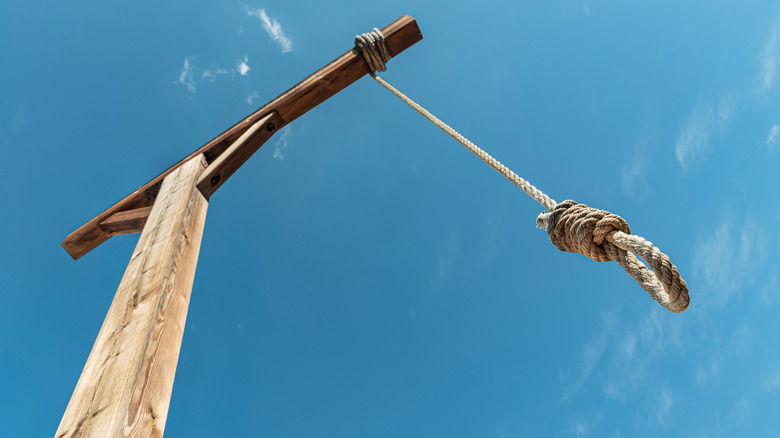 Shutterstock
Over the decades that Sister Gerard Fernandez visited death row inmates, she never spoke publicly about it. It wasn't until she retired from counseling death row inmates at age 78 that she agreed to talk about her experience. In an interview with The Straits Times, Fernandez said she felt like her work was important because regardless of their crimes, people needed a way to deal with their impending sentences. They needed hope for salvation.
"That's the way they related to me, with that hope in their lives," she said. "Things changed." Fernandez said she helped them find acceptance of their fate and a "certain peace, in an interview published by the Singapore Academy of Law. 
She described the last hours of the inmates she worked with. Sometimes she would spend the whole night with them before they were put to death. Often they would write letters and do "last minute things." They would bathe and dress. A last meal was offered. Then she would take them on their final walk. 
"I walk with them to the trap door," Fernandez said. "Normally they are handcuffed at the back so that they don't struggle and usually they allow me to put the rosary in their hands ... I kneel down and when I hear the lever, I know that she's gone. I sense [it]. It's kind of a mystery that you know someone you were just walking with is just gone like that. And so peacefully, no struggle."