Andrew Cuomo's Replacement, Kathy Hochul, Is About To Make History. Here's How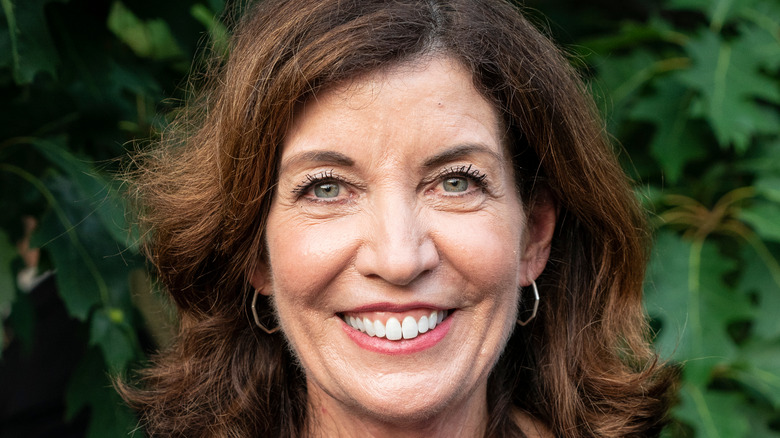 Shutterstock
When Lieutenant Governor Kathy Hochul succeeds Governor Andrew Cuomo on August 24, it will be a historic moment. Cuomo announced his resignation on August 10, after a state attorney-general's report concluded that he sexually harassed 11 women, some his own staff, and also retaliated against one who spoke publicly about the experience, according to NPR. 
"This is one of the most challenging times for government in a generation," Cuomo said in a press conference, according to The Hill. "Government really needs to function today. Government needs to perform. It is a matter of life and death, government operations. And wasting energy on distractions is the last thing that state government should be doing. And I cannot be the cause of that."
Cuomo would like to see a "seamless transition" as Hochul, who was elected lieutenant governor in 2014, becomes the 57th governor of New York. She already has worked in government for more than 25 years on local, state, and federal levels, according to The New York Times. 
A new voice for New York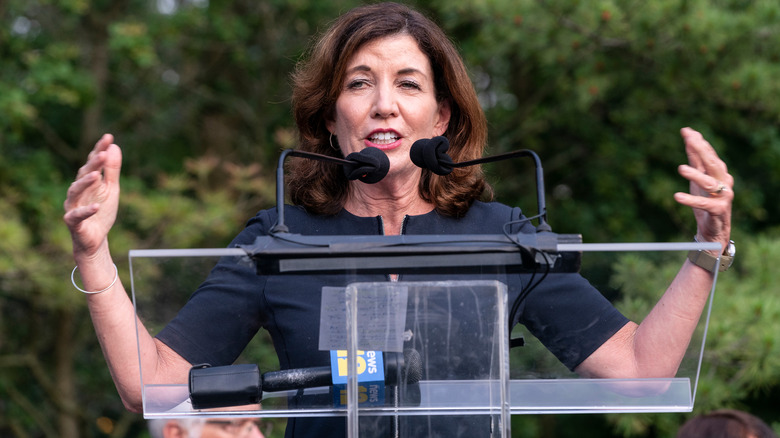 Shutterstock
Hochul will be New York's first female governor, and will finish Cuomo's term that ends in 2023. She has not commented on any re-election plans. While lieutenant governor, Hochul chaired Cuomo's campus-based "Enough is Enough" movement to fight sexual assault at universities (via ABC News). After the governor's resignation, she tweeted that "I agree with Governor Cuomo's decision to step down. It is the right thing to do and in the best interest of New Yorkers." 
The soon-to-be governor was born in Buffalo to a blue-collar family that, according to the governor's website that encouraged her interest in public service. She studied at Syracuse University and got her law degree from Catholic University. She worked as an attorney before serving as an aide for Representative John Joseph LaFalce and Senator Daniel Patrick Moynihan. She joined her town board in 1994, a stint that continued for 12 years. Then, in 2003, she was appointed as deputy Erie County Clerk. She became Erie County clerk in 2007, replacing David J. Swarts, who did not finish his term. That autumn she ran for the position and won — making her the highest-ranked woman official in her county. She also served as a representative on the 112th Congress, from 2011 to 2013. She was then elected Lieutenant Governor in 2014 (via History, Art & Archives, U.S. House of Representatives).