What We Know About The NXIVM Cult's Horrific Branding Ceremonies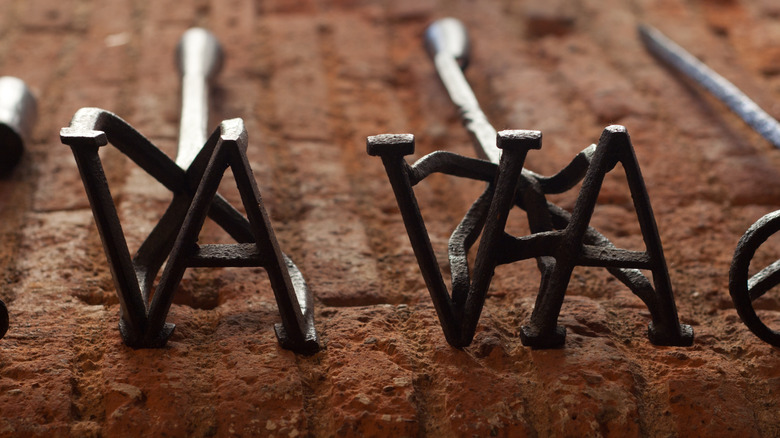 Shutterstock
The story of the NXIVM cult, founded by the now-imprisoned "guru" Keith Raniere, has remained headline news ever since details of his abusive sex ring emerged. The network lay at the heart of the shadowy organization, in which major Hollywood celebrities were involved in the trafficking of women at Raniere's behest.
In 2020, Raniere was sentenced to 120 years in prison for a slew of offenses including sex trafficking, forced labor, and racketeering conspiracy, per  Vulture. But as a persuasive and charismatic cult leader, Raniere wasn't acting alone. Throughout 2021, the world has watched as women in the NXIVM cult — including "Smallville" actor Allison Mack — gave testimony in court explaining how they aided Raniere in establishing a secret group within the greater NXIVM network that facilitated his sexual demands. Mack was one of several specially selected NXIVM members chosen to become "masters," who would recruit additional women into the group as "slaves."
Mack's evidence included an audio recording of Raniere planning a disturbing initiation ritual: the branding of women's bodies. Evidence of the process within the NXIVN cult first emerged in The New York Times thanks to escaped follower Sarah Edmondson, who herself was branded.
If you or someone you know is dealing with spiritual abuse, you can call the National Domestic Violence Hotline at 1−800−799−7233. You can also find more information, resources, and support at their website.
Keith Raniere wanted the branding to feel 'sacrificial'
The evidence from Allison Mack revealed that Keith Raniere (pictured above) wanted the branding of slaves to be recorded on video. He also requested that the women be branded naked and held down in a certain position: "Laying on the back, legs slightly, or legs spread straight like, like feet, feet being held to the side of the table, hands probably above the head being held, almost like being tied down, like sacrificial," he said, via Vulture.
As Sarah Edmondson describes in an interview with The New York Times, she had originally been told that the initiation ceremony would include getting a tattoo — and that the branding proved to be something far more horrifying. According to Edmondson, each branding would go on for more than 20 excruciating minutes, while the smell of burning flesh filled the room. The ritual was the wake-up call that Edmondson needed to leave the NXIVM cult. The New York Times described how the brand is designed to resemble the initials of Raniere himself, and that the women were coerced to hand over naked pictures of themselves as "collateral" prior to the branding.
In court, Mack has apologized effusively for the role she played as a facilitator in the horrifying ordeal that saw multiple women disfigured for life. She also said that she has "come to terms with the pain my actions have inflicted on so many people I love," per Vanity Fair.