Mullah Baradar: The New Taliban Leader Of Afghanistan
As the U.S. ended a 20-year war with Afghanistan, the country was quickly seized by Taliban forces that took over the capital of Kabul. President Ashraf Ghani quickly fled the country, and the U.S. embassy was evacuated. The last time the Taliban was in power was in the late 1990s, and now, they have once again taken control of Afghanistan. According to The Guardian, the militant group is expected to announce the new Islamic Emirate of Afghanistan in the coming weeks.
The Taliban's new leader, Mullah Abdul Ghani Baradar, is a face not new to the public. Baradar was a co-founder of the Taliban along with three other men in 1994. He serves as the Taliban's political chief and held a key role back in the 1990s when the Taliban took over provincial capitals of the country. In 2010, the Inter-Services Intelligence arrested Baradar in fear of his military proficiency. "The capture of Baradar was predominantly instigated because of his role in the war rather than because of the likelihood that he was going to suddenly make peace," said an unnamed official, quoted The Guardian.
Abdul Ghani Baradar's release and present role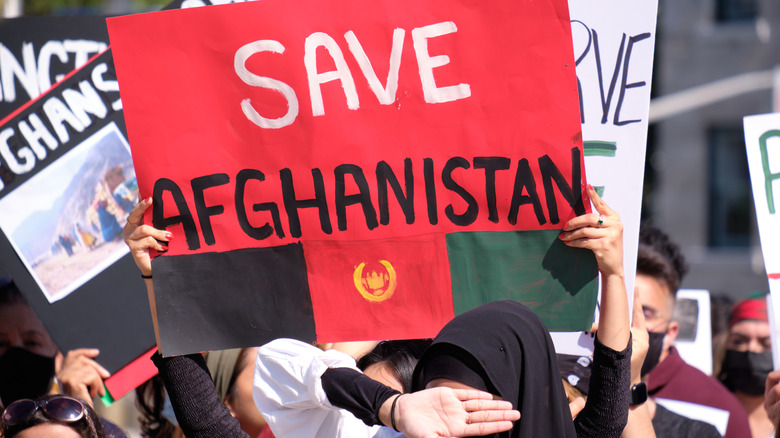 meandering images/Shutterstock
Abdul Ghani Baradar was released in 2018 under the notion that he would settle on a proposed idea of sharing power in Qatar. In 2020, he signed the Doha agreement with the United States, and the Trump administration saw that as a gesture of peace, per The Guardian. Now, however, it seems that it was merely a strategic decision, and Baradar was just biding his time until the U.S. left Afghanistan.
When Abdul Ghani Baradar, also known as Baradar the Butcher (via the New York Post), arrived in the Afghan city of Kandahar and the home of the Taliban, he was greeted with cheers by his followers. Baradar released a statement shortly after the Taliban seized control of Kabul, and it seems that he himself was surprised at how quickly they were able to take over the capital. He said that they never expected to end up being victorious in Afghanistan, per AP News. Per the Taliban's statement, they will be working hard to restore order in the country. "Now comes the test. We must meet the challenge of serving and securing our nation, and giving it a stable life going forward," Baradar said.