This Is How Long Kansas' Debut Album Really Took To Make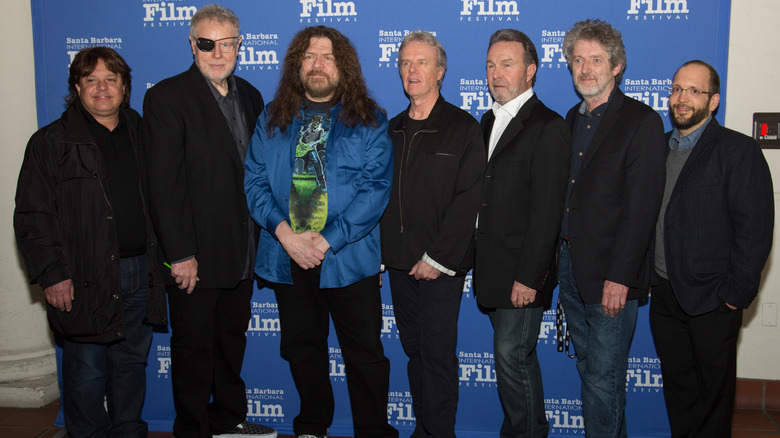 Terry Straehley/Shutterstock
Late '70s rock and roll wouldn't be the same without Kansas. Formed in Topeka, Kansas in 1970, the band's founding members — guitarist Kerry Livgren, bassist Dave Hope, and drummer Phil Ehart — first started playing together in high school. They briefly changed their name to White Clover after adding violinist and vocalist Robby Steinhardt. But before long, they switched back to Kansas with the addition of vocalist and keyboard player Steve Walsh and guitarist Richard Williams, per AllMusic. In a 2015 interview with Vice, Phil Ehart and Richard Williams, the remaining original band members, revealed that the band moved into a small house together in the 1970s and toured constantly by school bus. At first confusing audiences with their combination of classical-influenced prog rock and bluesy boogie rock, they eventually won over enough fans to sign with producer and music publishing legend Don Kirshner's label in 1972.
Ehart and Williams described coming to New York from Topeka and staying at the Ramada Inn on 48th street. Williams described the band as being "right off the farm," remembering "It was exciting coming from Topeka to New York was — we weren't very worldly yet. They were trying to take our luggage, and we were like 'hey, you can't take our luggage.' They were trying to take it to the room. We thought they were stealing our luggage." The group's self-titled debut album came out in 1974; Ehart called the experience "amazing" and said that feeling never went away for him, saying "I mean, if you ever get jaded on that, you should probably hang it up."
Kansas had a slow and steady rise to fame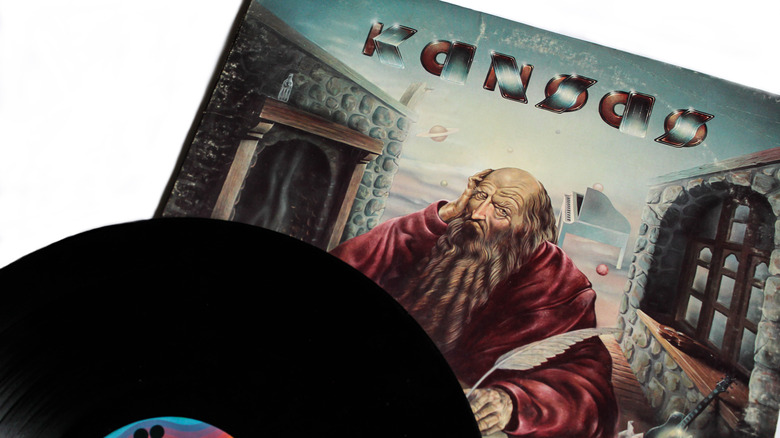 Blueee77/Shutterstock
Kansas' self-titled debut album took two years to make from signing their contract in 1972 to its release in 1974. According to AllMusic, it didn't sell well. Nevertheless, the band continued their relentless touring and put out two additional albums a year later in 1975, "Song For America" and "Masque," the latter of which sold 250,000 copies. Their breakthrough came in 1976 with the release of "Leftoverture" (shown above), which featured the hit song "Carry On Wayward Son," which is still a staple classic rock hit to this day. It was also the band's first Top 40 single, reaching number 11 on the Hot 100 chart in April 1977 and selling over 3 million copies, per Billboard. The follow-up, "Point of No Return," was an even bigger smash, thanks in part to the single "Dust In The Wind," which reached number 6. Vice called the pair of songs "songs that everyone kind of knows, even if they don't know how. The former is the song from 'Anchorman'!" 
The original Kansas lineup followed up with three more albums — the 1978 live record "Two For The Show," 1979's "Monolith," and 1980's "Audio-Visions" — before members started going their separate ways, in part because Dave Hope and Kerry Lingren became born-again Christians. However, versions of the band featuring Phil Erhart and Richard Williams, with new members coming and going, continued making albums and touring. Most recently, in 2020, the band released "The Absence of Presence" and is hitting the road for a 2021 tour. According to the Kansas website, the band was inducted into both the Kansas Hall of Fame and the Georgia Music Hall of Fame in 2015.