The Real Reason Oscar Wilde Went Broke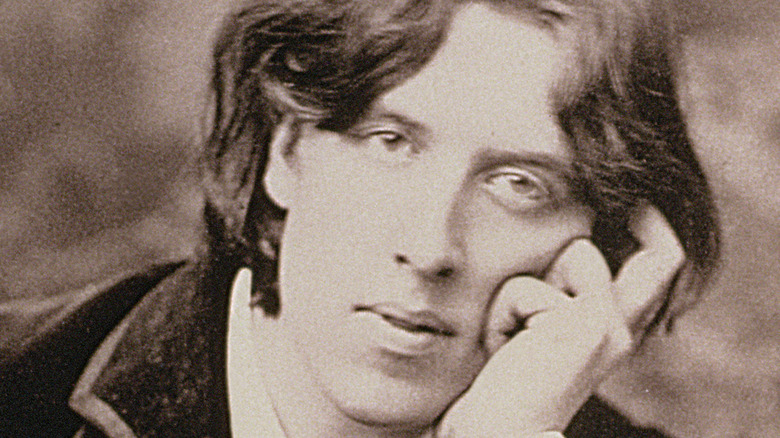 Heritage Images/Getty Images
Irish writer Oscar Wilde changed the world. A member of the aesthetic movement that championed art for art's sake, he was known for his witty, baroque style in life as well as his novel "The Picture of Dorian Gray" and plays "The Importance of Being Earnest" and "Lady Windemere's Fan." Per Britannica, Wilde was born in 1854 in Dublin, Ireland, to literary parents. He studied at Trinity College and Magdalen College, Oxford where he established himself as a classical studies scholar and poet, winning the prestigious Newdigate Prize for his poem "Ravenna." As aestheticism took off with much controversy in 1880s London, Wilde became a celebrated member within the movement's social circles, self-publishing a book titled "Poems" and making his way to the United States and Canada to lecture, famously declaring nothing "but his genius" at customs in New York City. Wilde was often lampooned in the press for his flamboyant manners and style; Gilbert and Sullivan even based a character of a "fleshly poet" on Wilde in their comic opera, "Patience."
In 1884, Wilde married Constance Lloyd, and they soon had two sons — Vyvyan and Cyril. In 1891, Wilde's fame rose as he published his most well-known works, starting with his only novel, "The Picture of Dorian Gray," first serialized in Lippincott's Magazine in 1890 and expanded and published in book form in 1891.
Harrassment and persecution followed Oscar Wilde's success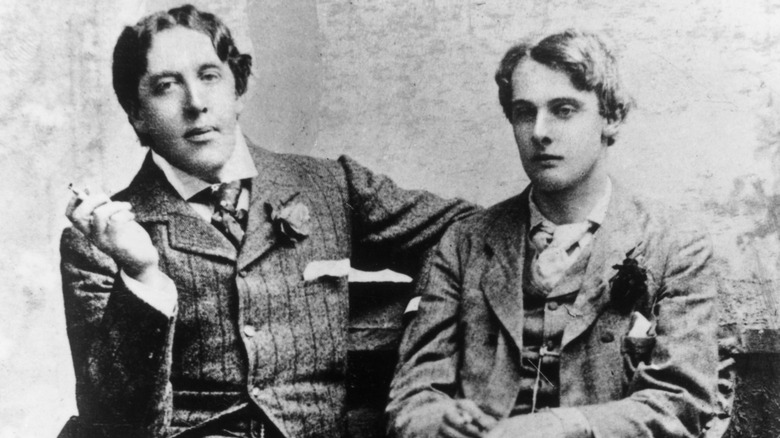 Hulton Archive/Getty Images
Also in 1891, Oscar Wilde's first "society play", "Lady Windemere's Fan," premiered to great success. That year was also significant for Wilde because it was the one in which he met and began a romantic relationship with fellow writer Lord Alfred "Bosie" Douglas (shown above with Wilde), as reported by Biography. Sixteen years Wilde's junior, Douglas was the son of John Sholto Douglas, the Marquess of Queensberry, and known as a dandy with a decadent lifestyle. 
Further success came with the production of Wilde's "society plays," starting with "Lady Windemere's Fan" in 1892, "A Woman of No Importance" a year later, and 1895's "An Ideal Husband" and "The Importance of Being Earnest," per Britannica. In 1894, Douglas' father realized the nature of his son's relationship with Wilde and set out to destroy the writer. The Marquess insisted Douglas cut off contact with Wilde, and when Douglas ignored him, the Marquess became enraged. In this fury, he attempted to disrupt the premiere of "The Importance of Being Earnest" by presenting Wilde with a bouquet of rotting vegetables. When this failed, he visited Wilde's social club and left a card addressed "For Oscar Wilde, posing somdomite [sic]." Wilde responded by prosecuting the Marquess for libel. When he took the stand and was asked if the allegations were true, Wilde replied "There is no truth whatsoever in any of the allegations, no truth whatsoever." The Marquess was declared "not guilty" but Wilde was soon back in court, this time as a defendant. 
From the prosecutor to the prosecuted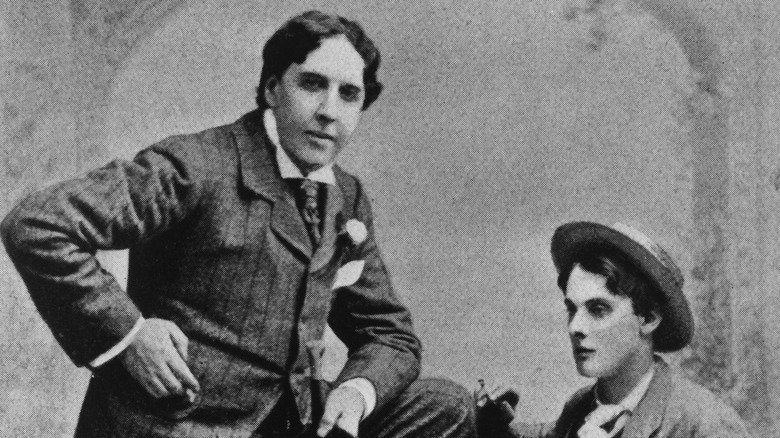 Hulton Archive/Getty Images
During the Marquess of Queensberry's trial, his lawyer forwarded statements from young men who were to appear as witnesses to the director of public prosecutions. The day after the Marquess was declared not guilty, Oscar Wilde was arrested on charges of sodomy and gross indecency, as reported by Biography. Homosexuality between men was criminalized in Great Britain in 1885 and remained so until 1967, per the GLBTQ Encyclopedia. Wilde's criminal trial began on April 26, 1895; Wilde and Alfred Taylor, who was accused of procuring men for Wilde, faced 25 counts of gross indecencies. Several men testified that they'd had sex with Wilde, and most expressed regret. Wilde continued to plead not guilty and was released on bail after a jury couldn't agree on a verdict. 
A third trial began three weeks later, with the British government pushing for a verdict. This time, the jury found Wilde guilty on most counts against him. He and Taylor were sentenced to the maximum sentence — two years hard labor. Wilde's wife changed her and their sons' last names and moved to Holland to distance herself from the scandal. When Wilde got out of prison two years later, he was exhausted and bankrupt. He moved to France and wrote very little until his death from meningitis in 1900 at the age of 46.