This Former US President Has Been Married The Most Times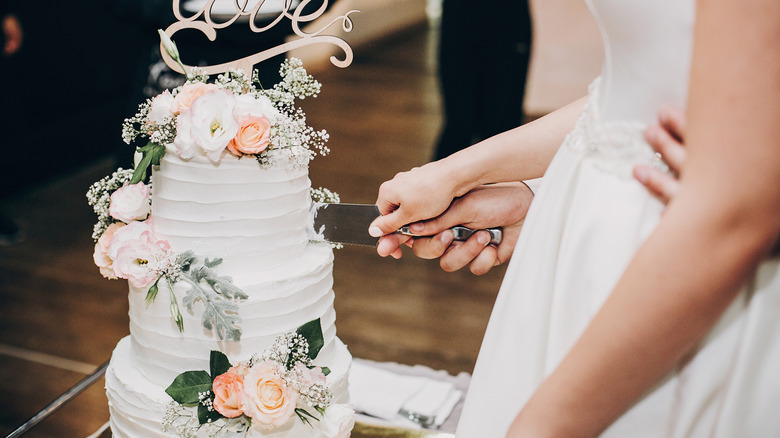 Bogdan Sonjachnyj/Shutterstock
The overwhelming majority of the 45 men who have served terms as President of the United States were married to exactly one woman in their lives, and James Buchanan was married to none at all, having lived and died a lifelong bachelor. Similarly, Thomas Jefferson had been married, but he was a widower when he took office. Elsewhere, Grover Cleveland, who served twice in non-consecutive terms, moved into the White House a bachelor and married while serving as president.
Two presidents were widowers when they took office and married while serving: John Tyler and Woodrow Wilson, per the Constitution Center. And in 1980, America elected its first-ever divorced president, Ronald Reagan, whose wife Nancy was his second wife, per Live Science. However, the president who holds the record for the most marriages has been married not twice but three times. What's more, both of his previous marriages ended in divorce.
Donald Trump holds the record for most presidential marriages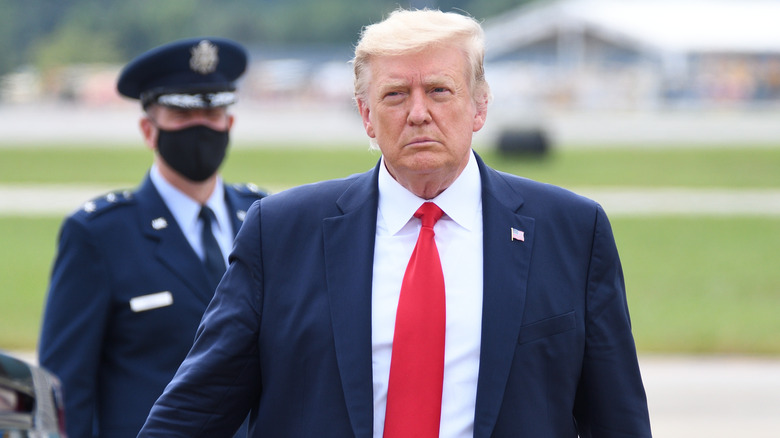 Evan El-Amin/Shutterstock
The first and (so far) only president to have been married three times is Donald Trump, the 45th president, according to Quizz Club. Back when he was a real-estate developer — and long before he'd made a name for himself in reality TV or politics — Trump married Czechoslovakia-born model Ivana Zelníčková. He had three children with her: Donald Jr., Ivanka, and Eric. Their 15-year marriage ended in divorce in 1992. She famously joked about her sizeable divorce settlement from Trump in the 1996 movie "The First Wives Club," in which she advised the characters, "don't get mad: get everything."
In 1993, Trump married his then-girlfriend Marla Maples, with whom he had allegedly been cheating while he was still married to Ivana, according to SCMP. Trump's fourth child, Tiffany, was born to him and Marla, according to Town and Country Magazine; they divorced in 1997. Trump married his third wife, Slovenia-born model Melania, in 2005. In 2006, Trump's fifth child, Barron, was born.