What Was Don Everly's Net Worth When He Died?
Don and Phil Everly — aka The Everly Brothers — spent a large proportion of their professional careers feeling as though they had been overshadowed. The pair rose to prominence on both sides of the Atlantic thanks to a flurry of hit singles that made them some of the most widely listened to acts of the late '50s and early '60s rock 'n' roll era. But the pair found themselves adrift a decade later when superstar groups such as The Beatles seemed to build on their early formula and take the genre into new and innovative directions. According to The Guardian, The Everly Brothers felt that The Fab Four had ripped off the elder group's vocal harmonies without duly acknowledging the influence. However, the fact that bands are influenced by what came before should be taken as read; the real problem for the otherwise talented Everlys was that the duo found it difficult to change with the times.
The same source reports that the brothers also argued bitterly, and the band split as a duo in 1973 after Phil stormed out on Don during a live performance in Buena Park, California, leaving him to finish the show alone. They eventually reunited in the early 1980s, which they would continue to do intermittently until Phil's death in 2014. That Don would outlive his younger brother — and would do so for a further seven years — was something that he admitted he did not expect, according to a 2014 interview published in the Los Angeles Times.
Don Everly was still worth $20 million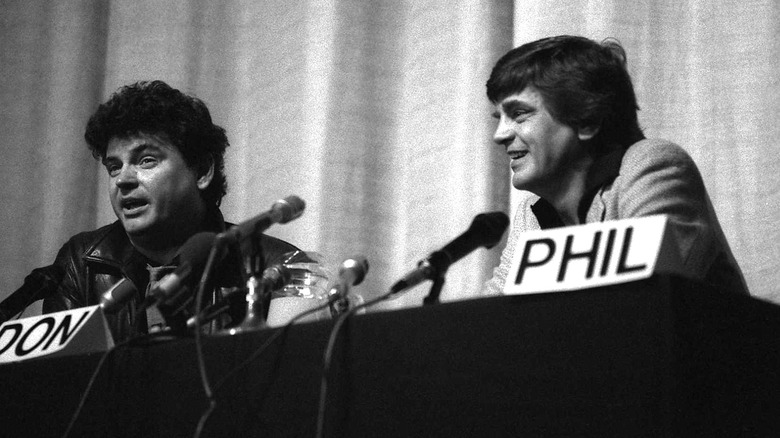 Charles Paul Harris/Getty Images
It has been more than fifty years since The Everly Brothers were at their critical and commercial peak, and in the intervening years, Don especially was known to have had a difficult life. According to his obituary in The Guardian, he was plagued by addiction and the trauma of familial estrangement, and Don allegedly had no idea that his brother had been ill when he found out about his death in 2014.
Despite this, Don was still an exceedingly wealthy performer when he died in August 2021, with Celebrity Net Worth estimating that he was still in possession of a personal fortune worth $20 million. Much of this is likely to derive from The Everly Brothers' first brush with fame, when they enjoyed the success of more than 30 hit singles that included top-charting songs in both the U.S. and U.K. According to the same source, the duo had already amassed more than $35 million as early as 1962.
If you or anyone you know is struggling with addiction issues, help is available. Visit the Substance Abuse and Mental Health Services Administration website or contact SAMHSA's National Helpline at 1-800-662-HELP (4357).