The Tragic Death Of Doom Metal Singer Eric Wagner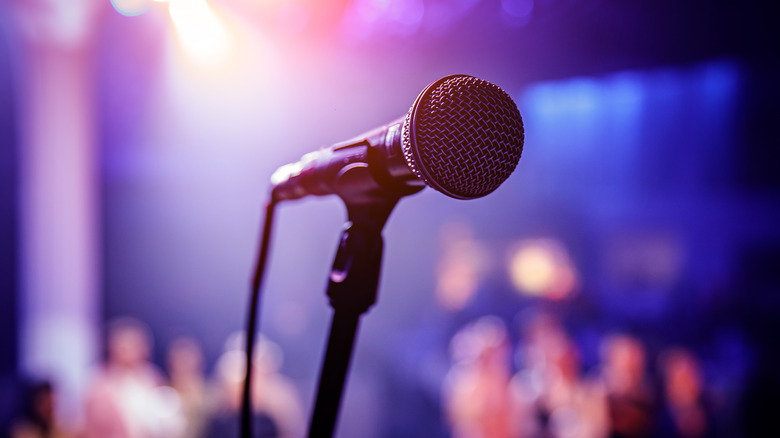 Piotr Piatrouski/Shutterstock
Eric Wagner, who was best known as the lead singer of doom metal bands Trouble and The Skull, has died at the age of 62, less than one week after he was hospitalized with COVID pneumonia. His passing was confirmed on the morning of August 23 by guitarist Chuck Robinson, who played for Trouble from 2002 through 2009 and was briefly a member of The Skull in the 2010s. "This morning I awoke to the worst news," Robinson wrote on Facebook. "We are all truely [sic] devastated.. My dear friend, band mate and brother Eric Wagner has passed. Goodnight Tempter.. We love you..Please keep his family in your thoughts and prayers."
As recalled by Loudwire, Wagner first became known in the doom metal scene in 1981 when he joined Trouble, which had been around for two years at that point. As the frontman of the seminal act, he sang on six albums before leaving the band in 1997. He would return to Trouble in 2000 and would sing on one more album, 2007's "Simple Mind Condition," before leaving for the second and last time in 2008 due to his unhappiness with touring life (via Blabbermouth). Four years later, he and two former Trouble bandmates — bassist Ron Holzner and drummer Jeff "Oly" Olson — formed The Skull, naming themselves after their old band's 1985 album. They went on to release two records — 2014's "For Those Which Are Asleep" and 2018's "The Endless Road Turns Black."
Wagner's band pulled out of their most recent tour due to rising COVID-19 cases
According to Loudwire's report on Eric Wagner's death, the iconic frontman's passing came shortly after The Skull pulled out of their tour with doom metal legends The Obsessed, citing the ongoing surge in COVID-19 cases driven by the coronavirus' highly transmissible Delta variant. Per MetalSucks, the band announced on August 17 that they would not be appearing at the Psycho Las Vegas Festival as scheduled because of their singer's worsening condition after contracting COVID-19. "Eric Wagner's bout with Covid has gotten worse and he was admitted to the hospital yesterday with COVID pneumonia," read the band's statement. "Positive thoughts and words will be helpful." 
Originally, The Skull wrote that their other three members had tested positive but were "recovering nicely," though they later updated their statement and clarified that "all the other members have tested Negative."
Speaking to ABC 13, UTHealth professor of medicine in infectious diseases Dr. Rodrigo Hasbun explained that about 10% to 15% of patients get COVID pneumonia after developing a "very large immune reaction" to the coronavirus. "They develop acute respiratory distress syndrome (ARDS), and then they get intubated and ventilated and those are the patients who usually die from COVID," he continued, adding that newer medications have been more effective in reducing the illness' mortality rate.