The Tragic Death Of The Tallest Man In The US, Igor Vovkovinskiy
The tallest living man in America has died, ABC News reports. Originally from Ukraine, Igor Vovkovinskiy died in Minnesota on August 20, 2021, at 38 years old. In a Facebook post, his mother Svetlana said that his cause of death was heart disease. In his last moments, he had a dessert from his native Ukraine and a Fanta drink. Despite having some struggle talking, his mother stated that the final hours of Vovkovinskiy's life were spent with his close relatives, including his brother, sister-in-law, and their kids. 
"A few hours before his death, he was accompanied by Oleh's wife Alla and children. Igor was glad to see them, and although it was difficult for him to speak, he tried to joke about his nephew Andriy, whether he had learned the Ukrainian language in a month in Ukraine," read the statement.
Vovkovinskiy rose to notoriety in 2010 when he visited "The Dr. Oz Show" and got measured on live television. He clocked in at 7 feet and 8 inches tall, making him the tallest man in the country and setting a new Guinness World Record, per PR Newswire. He was 27 years old at the time.
The loss of Igor Vovkovinskiy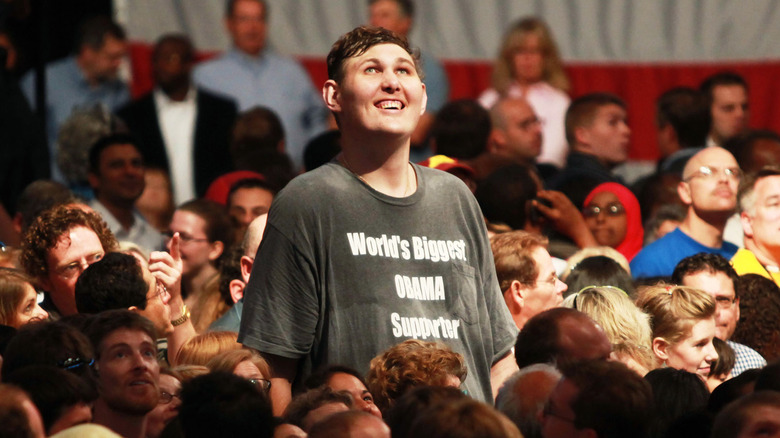 Genevieve Ross/Getty Images
Igor Vovkovinskiy came to the U.S. with his mother in 1989 when he was just 7 years old, per The Virginian Pilot. His mother came to the country to seek medical care for him at the Mayo Clinic in Rochester, Minnesota, for his condition — one that also caused him to be very tall and grow at an accelerated pace. It was determined that a pituitary condition was causing abnormally high levels of growth hormone (via ABC News).
Vovkovinskiy was thrust into the limelight when President Barack Obama pointed him out at a rally in 2009. He stood as the tallest man in the crowd, on top of wearing a shirt that read, "World's Biggest Obama Supporter." Next was his appearance on "The Dr. Oz Show" in 2010, where he was officially entered into the record books, beating out the previous holder, George Bell, who is also 7 feet 8 inches. Vovkovinskiy edged him out of the record by one-third of an inch, as Vovokinsiy is actually 7 feet and 8.33 inches tall.
Vovkovinskiy wore a size 26 shoe and had to get custom-sized sneakers made for him. Vovkovinskiy never returned to Ukraine and he and his family settled in Minnesota. He is survived by his mother and older brother.