Here's What Happened When Barack Obama Broke Royal Protocol With The Queen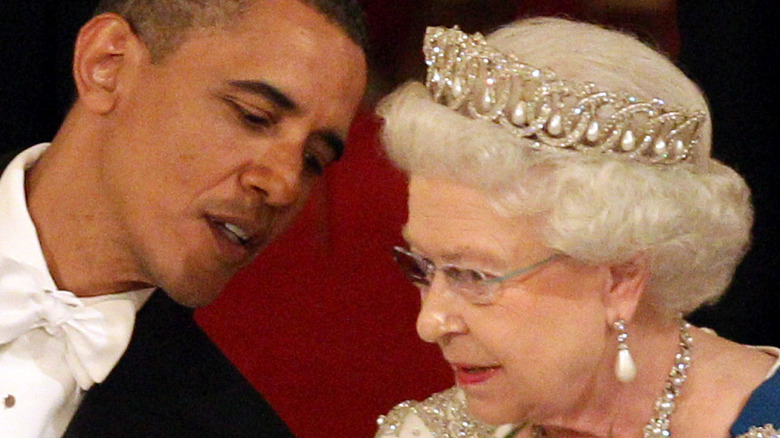 Wpa Pool/Getty Images
The U.S. and England go way back, but when the U.S. won its independence from the powerful island nation, it left behind the monarchy and all of the rules and protocols that went with it. That's why it's not surprising that when U.S. presidents have met Queen Elizabeth over the last 70 years or so, they or their wives sometimes flubbed some of the expected behaviors regarding how one is to treat a queen. 
According to Business Insider, in 1976 President Gerald Ford's wife, Betty, kept mixing up Your Highness and Your Majesty — men are Highness and women are Majesty. But that's probably not as much as a faux-pas as when a year later President Jimmy Carter planted a kiss right on her lips, southern hospitality style.  
President Donald Trump was accused of several breaches of protocol when he first met the queen in 2018. Business Insider reported he was late, he shook her hand instead of bowing, turned his back on her, and even walked in front of her. Tsk, tsk. 
Barack Obama spoke over the British National Anthem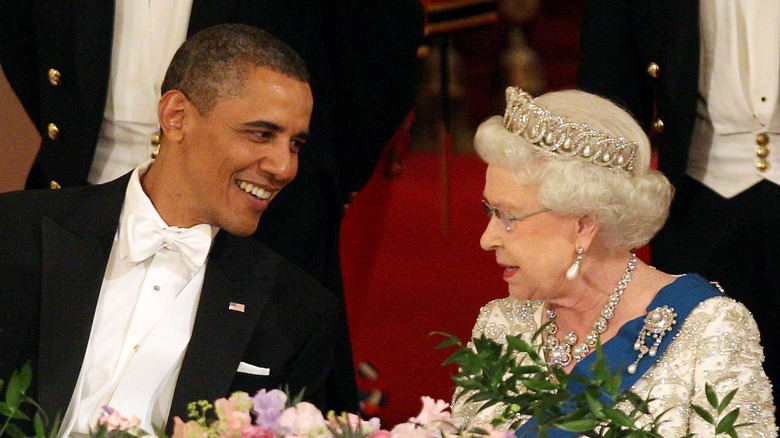 Anwar Hussein/Getty Images
Even the cool and collected President Barack Obama ended up breaking protocol at a state dinner in 2011. CNN reported that Obama was making a toast to Queen Elizabeth, talking about the U.S. and England's close bonds and thanking her for being a great queen. He then asked the other guests to stand with him in toasting her and the orchestra took that as their cue to start playing "God Save the Queen," the British national anthem. 
But the renowned orator wasn't done speaking, and so he kept on keeping on, talking right over the anthem. Per CNN, Obama went on about the relationship between the Brits and the Americans, quoted Shakespeare a little, and said "To the queen," as the music played. Then, when the song finally ended he said, "To the queen" again, and as CNN reported the "clearly confused" audience took a few seconds before they went ahead and clapped.  
But even though Obama blundered, the queen is a classy lady and she handled with grace, according to the U.K's Express, which reported that the documentary "Secrets of the Royals" explained that the queen broke protocol herself in order to be polite to President Obama when she thanked him as the song was still playing. 
William Hanson is an etiquette and civility specialist who told Express, "She says 'that was very kind, thank you' ... The queen deliberately broke with the etiquette in order to be more well mannered."