This Is How Chris Watts' Parents Feel About His Crimes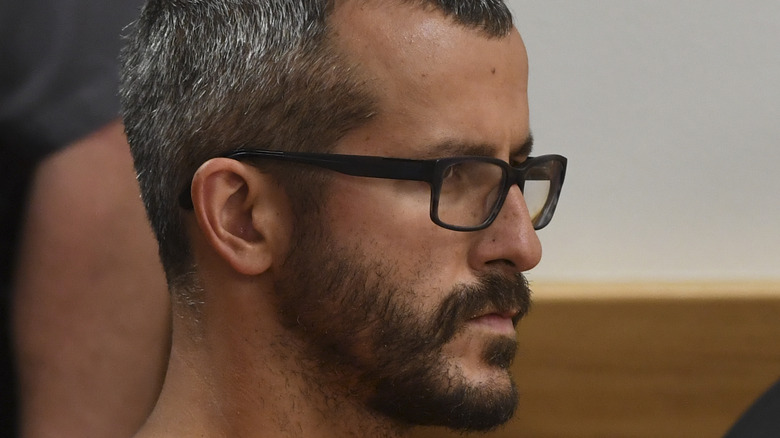 Pool/Getty Images
In the early morning hours of August 13, 2018, Christopher Lee Watts strangled his wife Shanann, who was 15 weeks pregnant, to death. He then smothered his two daughters, 3-year-old Celeste and 4-year-old Bella. As reported by Insider, Chris buried Shanann in a shallow grave and dumped his daughters in oil tanks at a site where he worked.
Chris initially denied any involvement with the disappearance of his family. However, after their bodies were discovered, Chris said Shanann killed their daughters, and he killed her in retaliation. He later recanted his previous versions of events and admitted to killing his entire family. Chris ultimately pleaded guilty to five counts of first-degree murder, three counts of tampering with a corpse, and unlawful termination of a pregnancy. Per the plea agreement, he was spared the death penalty and was instead sentenced to three life terms without the possibility of parole.
Despite Chris' eventual confession, his parents, Ronnie and Cindy, had trouble accepting the possibility that their son was capable of killing his wife and children. As reported by The U.S. Sun, Ronnie and Cindy were initially concerned Chris would make a false confession to get a plea deal. But after discussing the incident more in-depth with his son, Ronnie reportedly encouraged Chris to tell the truth and admit what he had done. Still, Cindy remained reluctant to accept her son murdered his family — she believed Chris only confessed to avoid the death penalty. 
Chris Watts' parents accept their son's guilt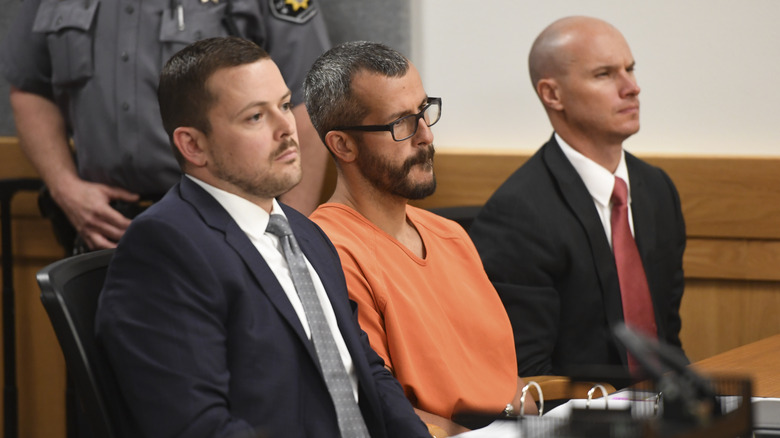 Pool/Getty Images
Amid Chris Watts' hearings and trial, Ronnie and Cindy came to terms with what their son had done. However, they never wavered in their support. As reported by The U.S. Sun, Ronnie and Cindy submitted a letter to the court, which was read during the sentencing phase of the trial. In their letter, the Watts' said, "We are not here to ask for leniency and are not in any way condoning or tolerating the crime that has occurred or the pain that has been caused."
Yet while Ronnie and Cindy Watts acknowledged what Chris did was wrong, they both revealed that they had forgiven their son. During the trial, Ronnie said, "God is faithful and just will forgive us. Chris, I forgive you ... and we will never abandon you." The U.S. Sun reports Cindy echoed her husband's sentiments, and told Chris, "I have always loved you and I still do."
The release of the Netflix documentary "American Murder: The Family Next Door" — which spotlights the Watts family murders and the aftermath — sparked renewed interest in the case, and renewed criticism of Chris.
As reported by The Tab, Shanann's family appreciated the documentary, which focused on their daughter's perspective through social media posts, videos, and text messages she posted and exchanged in the months prior to her death. However, Ronnie and Cindy criticized "American Murder: The Family Next Door" for failing to delve deeper into Chris' perspective.
Ronnie and Cindy Watts respond to American Murder: The Family Next Door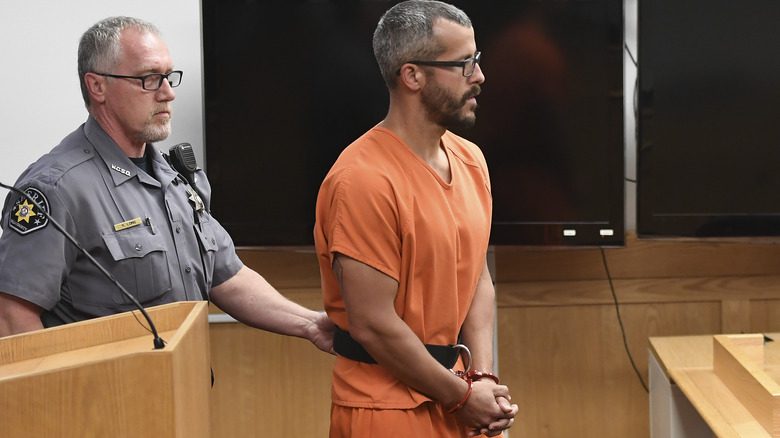 Pool/Getty Images
As reported by The Tab, Ronnie and Cindy Watts watched "American Murder: The Family Next Door" together. Cindy said she was particularly concerned that the documentary included video footage that she assumed was private. Cindy said she "would have preferred those not to be in there." Cindy was also upset because the documentary did not "show all the conversations that Christopher had with his dad." In an interview with The Sun, Cindy said a general lack of information about Chris and his point of view has led people to "come up with all of these narratives," which are simply not true.
Ronnie and Cindy said they have maintained their relationship with their son since his conviction and subsequent incarceration. Although she has forgiven her son, Cindy said she thinks about her granddaughters every day and does not think she will "ever get over" losing them. Although it has not been confirmed by the Watts family, Crime Rocket reports Cindy and her daughter are currently writing a book titled, "All My Broken Pieces." Excerpts of the book, which is reportedly being written under the pseudonym "Sarah," were leaked and shared on several social media sites. In one of the excerpts, the author, who is suspected to be Cindy, said they are writing the book to "gain an understanding" of Chris "and his actions."