The Truth About Demi Lovato's Fascination With UFOs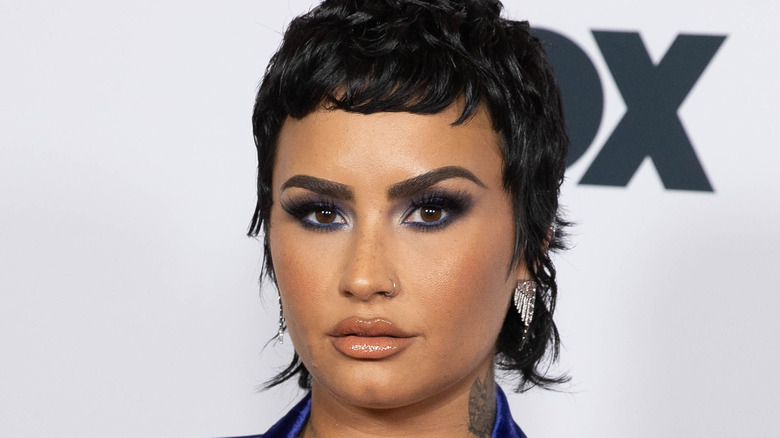 Emma Mcintyre/Getty Images
Pop star Demi Lovato (they/them) recently started their own podcast, "4D With Demi Lovato," as well as their Roku talk show "The Demi Lovato Show," which focuses on "important contemporary topics such as body positivity, mental health, feminism, identity and many more." As reported by Variety, Lovato will soon expand their media efforts into a limited unscripted docuseries that will stream on Peacock. "Unidentified With Demi Lovato" will premiere on September 30 and will feature Lovato, their skeptical best friend Matthew, and their sister Dallas investigating the truth about unidentified flying objects, or UFOs. Plans include uncovering government reports, studying eyewitness accounts of encounters with UFOs, and exploring and conducting tests at reported UFO hot spots. Lovato is serving as executive producer of the series as well as its star. 
"Unidentified" isn't Lovato's first experience with reality television; in early 2021, they released the multi-part YouTube Originals docuseries "Demi Lovato: Dancing With The Devil" in which they explored their life, career, near-fatal 2018 drug overdose, and subsequent recovery. The series is a companion to Lovato's 2021 studio album "Dancing With The Devil... The Art of Starting Over."
The Cut first reported on Lovato's interest in UFOs and aliens in 2020 after Lovato posted on their Instagram about a visit to Joshua Tree National Park in California. There, Lovato met with Dr. Steven Greer, who (per his Instagram biography) is "One of the world's foremost authority figures regarding Extraterrestrial Intelligence."
Demi Lovato uses an app to communicate with aliens
In their October 17, 2020 Instagram post, Lovato wrote that they had "dug deep into the science of consciousness" over the past several months. Lovato went on to suggest "If we were to get 1% of the population to meditate and make contact, we would force our governments to acknowledge the truth about extraterrestrial life among us and change our destructive habits destroying our planet." They encouraged their readers and followers to download Greer's CE5 app, noting "it will teach you the protocols to connect to life form beyond our planet!!"
Per Google Play, the CE5 Contact app "provides instructions and tools to assist you in making peaceful contact with extraterrestrial civilizations as well as locating others in your area who are interested in making contact." As reported by Variety, Greer (pictured above) has made several documentaries about alien encounters and visitations. His latest, 2020's "Close Encounters of the Fifth Kind," claims aliens are very real, benevolent, technologically advanced beings that have visited the Earth, and that the "national security state" has kept this information from humans.
In July of 2021, Greer appeared as a guest on "4D With Demi Lovato" (available on YouTube). Lovato gushed that "Close Encounters of the Fifth Kind" had "completely shifted my reality, my world, everything." Greer shared he'd witnessed his first UFO when he was 9 years old and, like Lovato, later had a near-death experience that he said made him realize the importance of consciousness and meditation, which led to his ability to communicate with extraterrestrials.