The Truth About Bryan Adams And Amy Winehouse's Friendship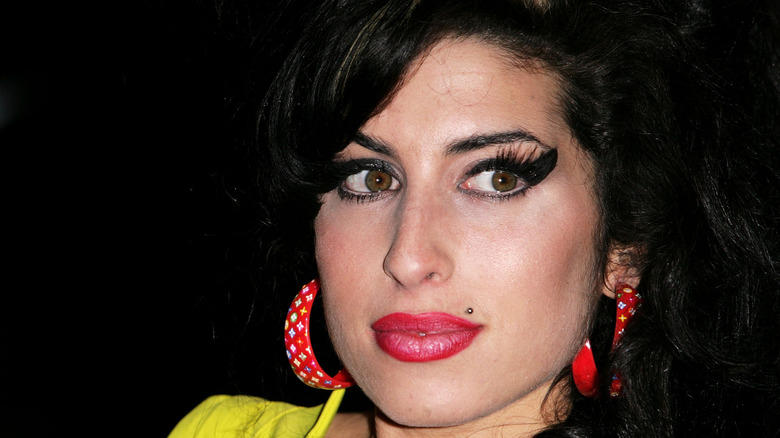 Gareth Cattermole/Getty Images
A friendship between Canadian rocker Bryan Adams and the late British powerhouse singer Amy Winehouse seems somewhat unlikely. Even the age difference — more than 20 years —  might have made it difficult for a lasting friendship. Then again, because both were successful musicians so maybe it's not so extraordinary after all. With the success of her critically acclaimed debut album "Frank" in 2003, the Grammy-Award-winner was on her way (via Biography). She was known and respected for her soulful voice and eclectic musical style — a combination of jazz, soul, and pop — but was as well-known for her very public battles with drugs and alcohol and tumultuous relationship with ex-husband Blake Fielder-Civil. So how does Bryan Adams fit into all this?
The answer is, no one really knows. Adams and Winehouse kept their friendship very private. The year 2007 was a hard one for Winehouse (via Biography), and several outlets reported that Adams had invited her to spend time at his Caribbean retreat over the New Year's holiday. 
Bryan Adams photographs Amy Winehouse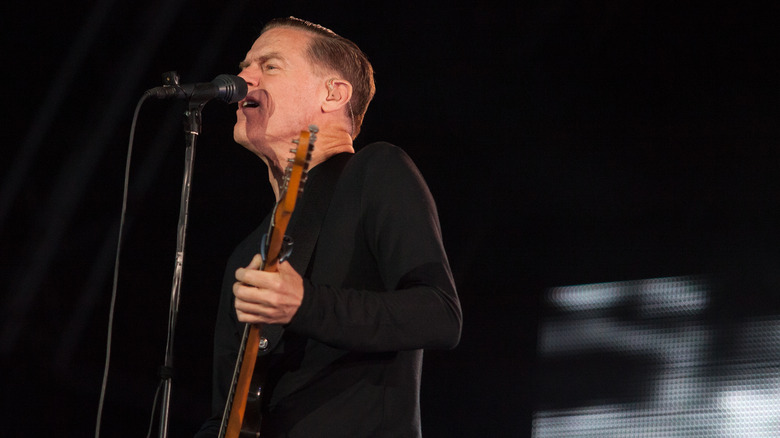 Paul Keeling/Shutterstock
The British tabloid The Mirror reported in March 2008, "Bryan was so concerned about Amy when she came to stay. It's an unlikely friendship but Bryan has taken her under his wing, and would be distraught if anything happened to her."
When people think of Bryan Adams, they think about his success as a Grammy-Award-winning musician, but Adams has had a very successful second career as a talented and noted photographer. Over the past two decades, his work has been showcased at museums and exhibitions around the world. He's developed an extensive portfolio showcasing a who's who list of celebrities and musicians, including Queen Elizabeth, Cindy Crawford, The Who, Mick Jagger, Sting, Queen, Shania Twain, Tina Turner, Rod Stewart, Robert Plant, Jared Leto, and Lana Del Ray, to name just a few. And, of course, Amy Winehouse.
Adams shot Winehouse on at least four occasions, according to The Hollywood Reporter, which ran a spread of Winehouse photos taken by Adams in 2008. At the time he told THR that her personal style stood out. 
Bryan Adams keeps Amy Winehouse friendship private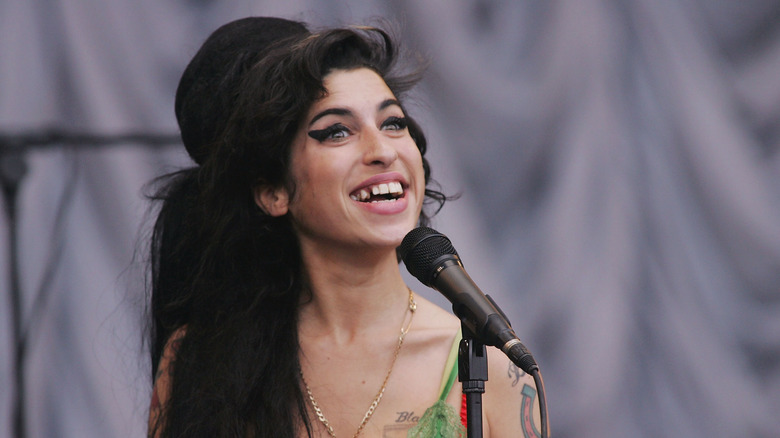 Matt Cardy/Getty Images
"Pin-up style but covered in tattoos," Adams said. It's totally unique and I can't wait for her to get back to the top of her game," Bryan Adams told The Hollywood Reporter. Meanwhile, Spin reported that Adams also photographed Winehouse for the nonprofit Hear the World, for a Fred Perry campaign, and for stories in Harper's Bazaar, ID, and Zoo magazines.
Adams was asked about his relationship with Winehouse by the Telegraph in 2008 and, although he didn't say much, he did say this: "I don't even know, truthfully, how anybody knows I know her — other than the fact I photographed her. I don't really want to talk about it because it's her business." Other than that, Adams has never talked publicly about his friendship with the singer, not before or after her untimely and tragic death on June 23, 2011, at the age of 27 from accidental alcohol poisoning.