The Strange Reason There's A Grave At The Smithsonian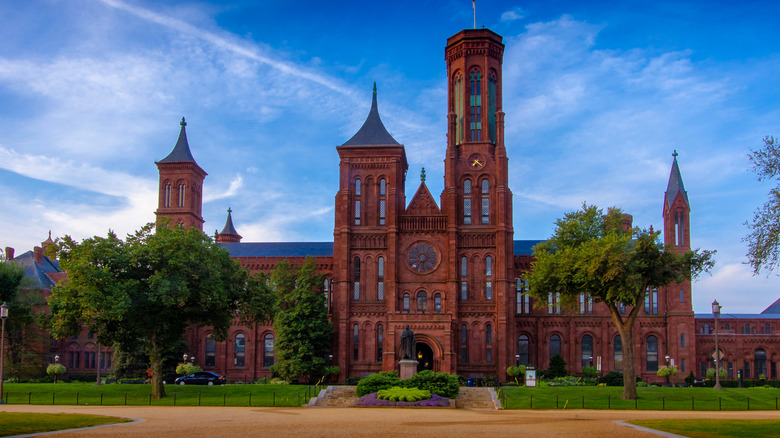 RozenskiP/Shutterstock
The Smithsonian Institution is considered the world's largest museum complex and is dedicated to sharing knowledge through the various artifacts housed in its walls. It was founded in 1846 and aside from several museums, the complex is also home to a zoo, cultural centers, as well as research centers. However, not many people know that the Smithsonian also has a crypt that serves as the final resting place of the man who started it all — James Smithson.
James Smithson was born James Macie in France in 1765. In his early years, James became a naturalized British citizen and changed his last name to Smithson after his parents' death. His love for natural science was apparent, and he became a well-established mineralogist and chemist at a time when chemistry was just a new branch of science. Although Smithson was born to a wealthy family, he was determined to make a name for himself in the field of science and was rather successful. At just 22 years old, he became a member of The Royal Society of London for his scientific know-how, an impressive feat for someone so young (via Smithsonian Institution Archives).
James Smithson's last will
Heritage Images/Getty Images
On June 27, 1829, James Smithson died in Geona, Italy. He was 64 years old. Most anyone who amassed wealth in their lifetime would leave a last will in the event of their death, and that's indeed what James Smithson did. What's surprising, though, were the stipulations written in his will.
First, he left his servant, John Fitall, a sum of £100 annually for the rest of his life. Smithson never married and had no children and his only heir was a nephew, Henry James Hungerford. He left his nephew income from his properties in annuity and his estate. However, it was stated that in the event of Hungerford's death without an heir, his entire estate would be given "to the United States of America, to found at Washington, under the name of the Smithsonian Institution, an Establishment for the increase & diffusion of knowledge among men" (via Smithsonian Institution Archives). Hungerford died without an heir, and so the Smithsonian Institution was established.
James Smithson's final resting place
James Smithson's last will and testament bewildered the scientific community in England. To this day, no one knows why he wished to establish the institute in America when he was beloved in his own country. What's more surprising is that Smithson never even set foot in the United States during his lifetime. Smithson's wishes were carried out and per the Telegram, his mineral collection, scientific notes, and entire library were transferred to the United States together with 11 boxes filled with 100,000 gold sovereigns, which amounted to $500,000 at that time ($14.6 million in today's money).
Smithson's body was buried in Italy when he died. In late 1903, Alexander Graham Bell had his body exhumed to bring it back to the United States. In January 1904, Smithson finally reached American soil for the first time. His remains were transferred to the Smithsonian and Bell said, "And now ... my mission is ended and I deliver into your hands ... the remains of this great benefactor of the United States," per Smithsonian. Today, James Smithson's remains are in The Castle — the museum's signature building — together with some of his personal effects.