The Truth About Muhammad Ali's Professional Wrestling Career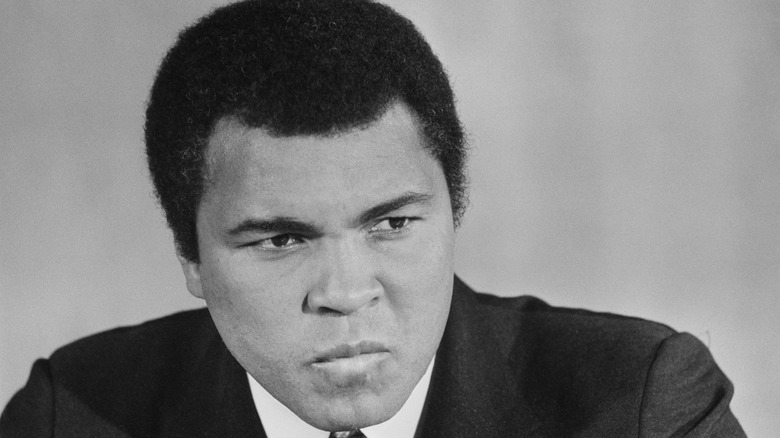 Evening Standard/Getty Images
Muhammad Ali is regarded as one of the greatest athletes of all time. During his boxing career from 1960 to 1981, Ali competed in 61 boxing matches with 56 wins — 37 of those being knockouts (via Biography). His interest in boxing started at the early age of 12, and from then on, he worked his way up to become one of the most famous names in sports history.
Although most famous as a boxer, Muhammad Ali also dabbled in wrestling and was also a fan. In fact, he often named wrestler Gorgeous George as one of his influences when it comes to his show of confidence during promotions and inside the boxing ring, per Goliath. Muhammad Ali's first match with a wrestler was on June 26, 1976, when his boxing career was at its peak. As the story goes, Muhammad Ali met the president of the Japan Amateur Wrestling Association at a party and said, "Isn't there any Oriental fighter who will challenge me? I'll give him $1 million if he wins" (via That's Mags). This quickly made headlines, and it was Japanese professional wrestler Antonio Inoki who stepped up to the challenge.
Muhammad Ali vs Antonio Inoki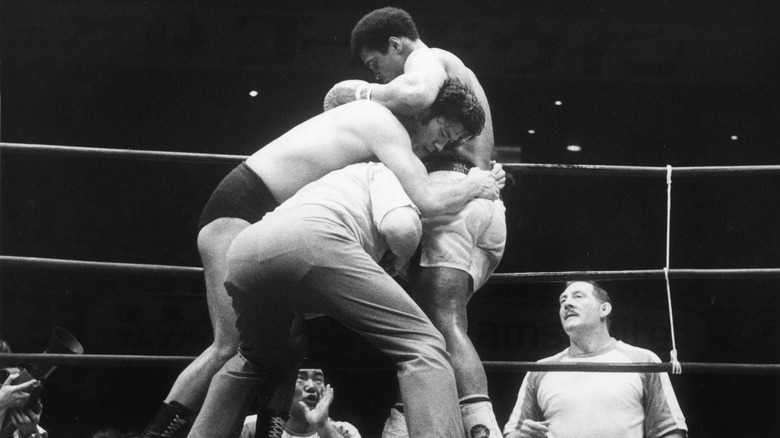 Keystone/Getty Images
Antonio Inoki was determined to fight Muhammad Ali and found financial backing to make the event happen. Eventually, everything was set, and $6 million was on the line. The fight between Ali and Inoki was to take place in Tokyo. For Ali, per That's Mags, the bout would be an exhibition of talent rather than a real fight. A few days before the fight, Ali witnessed Inoki's skills during training and asked when they would rehearse. Inoki replied: "No, no. This isn't an exhibition. It's a real fight!"
The fight had special rules, considering it was between opponents from different sports. Ali was allowed to wear his gloves, while Inoki used his bare fists. Knees, kicks, and hits below the belt were prohibited as well. Inoki was also not allowed to tackle nor throw the wrestling great. More than 1 billion people from all over the world tuned in to watch the boxer and the wrestler fight. The first few rounds of the fight went well for both sides, but by the seventh round, Muhammad Ali was bleeding from the leg, per Sportscasting. Inoki attacked with kicks while Ali punched his way through the fight. By the time the fight was over, the official verdict was a tie. Both men sustained injuries, with Ali suffering blood clots in his leg that would affect his boxing.
Other wrestling appearances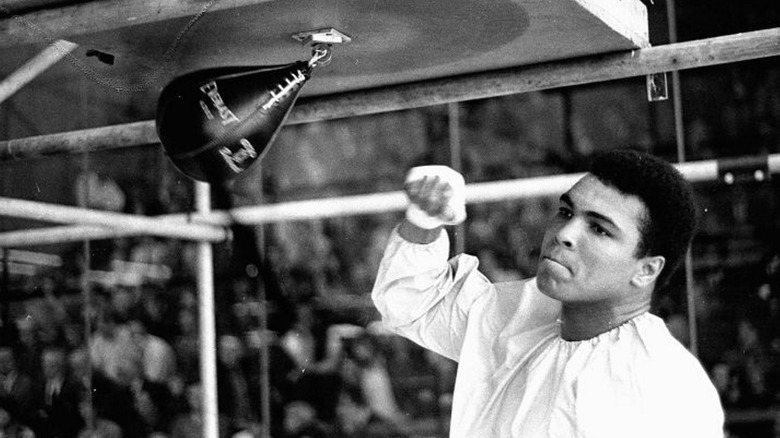 Independent News And Media/Getty Images
After the fight, Ali and Inoki became great friends. Inoki was present at Ali's wedding, and Ali was present at Inoki's final fight before his retirement, supporting his friend from the front row. The match also became a catalyst for Mixed Martial Arts to become popular in the world of sports.
Muhammad Ali also made various appearances in the wrestling world. Before his fight with Inoki, he appeared at the Madison Square Garden for a WWE match (via Goliath). Gorilla Monsoon was in the ring and after his fight, Ali stepped in to shadowbox in the ring. Gorilla Monsoon wasn't too happy with the boxer and he lifted Ali up, tossing him to the mat with an Airplane Spin. That, of course, was most likely staged for entertainment. Furthermore, Muhammad Ali, who was then retired, was also present at the first WrestleMania in 1985 as a guest referee.
The documentary "Blood Brothers: Malcolm X & Muhammad Ali" streams on Netflix beginning September 9. The trailer is posted on YouTube.