The Only Way Queen Elizabeth Says She'd Give Up The Throne
Max Mumby/indigo/Getty Images
We may receive a commission on purchases made from links.
Queen Elizabeth has been queen for quite some time now. According to Pure Wow, she's not only the longest-reigning monarch in the history of jolly old England, she's also the fourth longest-reigning monarch in history, period. She broke her home country record in 2015, when she out-reigned her own great-great grandmother Queen Victoria. In March 2020 she outlasted the previous fourth place holder, 7th-century Mayan ruler Pakal the Great with 68 years and 34 days on the throne.
Maybe she's gunning for the guy at the top of the list, King Louis XIV, who ruled France for 72 years and 110 days, because Queen Liz is showing no signs of stepping down anytime soon. She's closing in on number three on the list, King Johann II, who ruled Lichtenstein for 70 years and 91 days in the 19th and 20th centuries. If she goes 36 days longer than Johann, she'll take Thai King Bhumibol Adulyadej's spot at number two. 
Even after the devastating death of Prince Philip in April 2021, Elizabeth remains in the throne and says she isn't going anywhere. In September 2021, biographer Matthew Dennison published "The Queen," an in-depth look into the longest reign in English history, one which Elizabeth plans to continue for as long as she physically can. Something tells us she most likely has the finances to finally retire, but Liz just isn't interested in sitting back and idling away her final years. So just what would it take to make Queen Elizabeth give up the throne?
Queen Elizabeth is going to 'carry on to the end'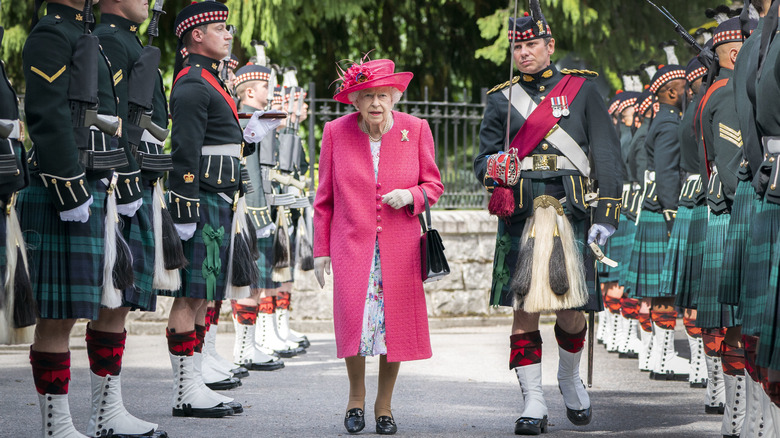 Wpa Pool/Getty Images
Just because she's a fiver shy of a century of life, Queen Elizabeth isn't letting that stop her from going full steam ahead into the last leg of her record-breaking reign. According to an excerpt of Dennison's book published by Town & Country, Elizabeth has said several times that the only thing that can take her off of the throne is her health. She once told her cousin Margaret that she would never think of abdicating, "unless I get Alzheimer's or have a stroke." And when Archbishop of Canterbury George Carey stepped down from his post in 2003, she told him, "that's something I can't do. I'm going to carry on to the end."
Queen Elizabeth's work ethic has amazed those close to her. Her cousin Margaret joked about it in 2009, after the queen got back from a tour of the Caribbean. "I sometimes think her advisers don't realize she is 83 years old. Maybe she doesn't want them to slow her down," she said. Elizabeth only started relinquishing responsibilities to her children and grandchildren as recently as 2016. She likes to say that her grip on power is an unselfish act, a service to an adoring and deserving public. But is that the real reason she would want to continue to be queen at such an age? Or is it because she gets to celebrate her birthday twice every year? Time may tell. For now, God save the Queen. But the question isn't why she does it. The real question is, How?
Queen Elizabeth reigns with the help of a little liquid courage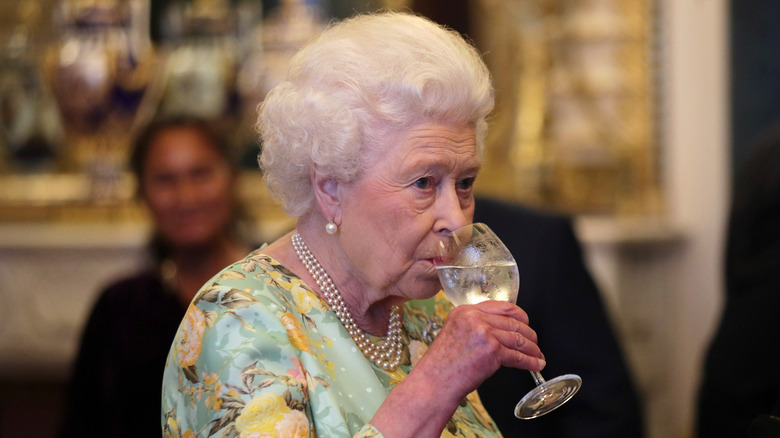 Wpa Pool/Getty Images
Continuing to work at 95 is no small feat, so Queen Elizabeth must have some kind of secret to her endurance on the throne, right? According to British Heritage magazine, she does have a trick, but it's no secret. Far from a teetotaler, Queen Elizabeth really likes her booze, and is said to drink quite a bit of it. Some would say too much, but what do scientists really know, anyway? Elizabeth likes to enjoy a glass a champagne with her evening meal. That's every evening meal, at least a drink a day so far. But Liz ain't done yet. Or rather, that glass of champagne was not her first of the day. She also likes to knock back a gin drink with lunch. Experts say that 14 drinks a week is too many, but they'll get the right to judge the next time they spend their whole lives symbolically running an empire on the wane.
Like any good functioning alcoholic, the queen has her go-to hooch for getting through the day. But her top 10 favorite beverages, according to Spirit Hunters, aren't all alcoholic. She has her favorite expensive brands of champagne, of course, and there's her lunchtime cocktail: gin with Dubonnet, a sweet wine-based aperitif. She also likes white wine from Germany, a sweet Mateus rosé from Portugal, and sometimes even dips into her own sparkling wine made with grapes grown at Windsor Castle. The two non-alcoholic drinks on the list are a fancy bottled spring water and, of course, her morning cup of Twinnings English breakfast tea.