The Tragic Death Of Former NFL Player Keith McCants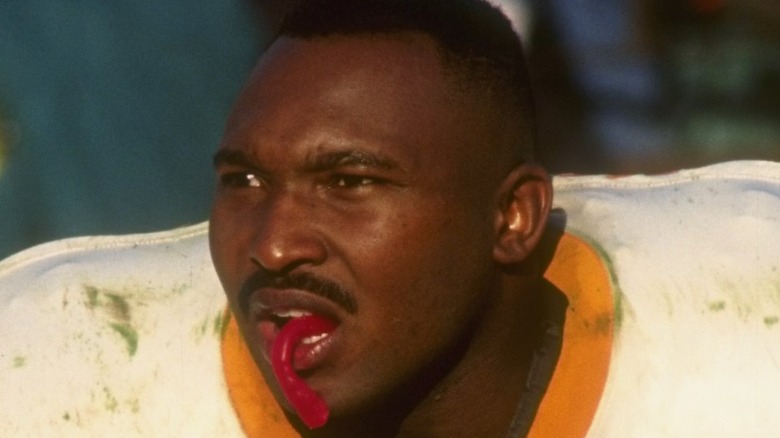 Otto Greule Jr/Getty Images
Keith McCants, a former All-American at the University of Alabama who played six seasons in the NFL, mostly as a defensive end, was found dead at his St. Petersburg, Florida, home, according to a report from ESPN. He was 53 years old.
In an emailed statement to the outlet, the Pinellas County Sheriff's Office wrote that deputies were called to McCants' home at around 5:10 a.m. on Thursday, September 2, after responding to a 911 call from the house's other residents. At the time of the report, sheriff's spokesperson Amanda Sinni noted that the ex-NFL player appeared to have died of a drug overdose, though this had yet to be confirmed by the medical examiner's office. "This is still an open investigation," she added.
In the years after his NFL career ended in 1995, McCants had been arrested multiple times for drug possession. His financial troubles were also detailed in "Broke," a 2012 ESPN documentary that centered on retired athletes who lost the money they made during their playing days. However, McCants' friend, St. Petersburg mayoral candidate Robert Blackmon, wrote on Facebook that the former defensive end had been actively trying to turn things around in recent years. "We began to talk about his future again," Blackmon was quoted as saying. "The next 20 years. Buying a boat. His signature grin was back. But for every battle I could help him fight, there were others he had to face alone."
McCants was selected between two future Hall of Famers in the 1990 NFL Draft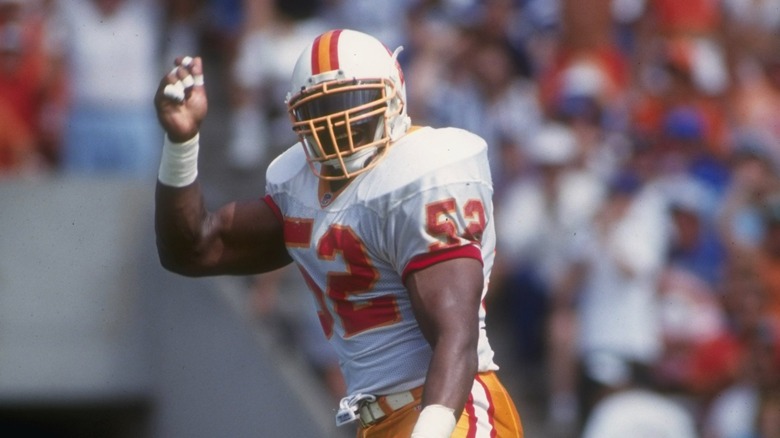 Scott Halleran/Getty Images
After a standout college career with the Alabama Crimson Tide, Keith McCants was selected fourth overall by the Tampa Bay Buccaneers in the 1990 NFL Draft, right in between two future Hall of Fame defensive stalwarts — Cortez Kennedy and Junior Seau. But while Kennedy and Seau would quickly rise to superstardom for their respective teams, McCants failed to live up to his immense potential due to nagging knee injuries, as pointed out by The Washington Post. As a result, he had a relatively short stint in the pros, registering just 13.5 sacks and 192 tackles across six seasons for the Buccaneers, Houston Oilers (later known as the Tennessee Titans), and Arizona Cardinals. 
It didn't help that the 6-foot-3-inch, 245-pound McCants, who had great size and speed as a college linebacker, was forced to play defensive end in the NFL, eliminating the size advantage he would have had if he was allowed to play his natural position. "What I regret is moving to defensive end and changing my position," McCants told AL.com in 2020. "I wasn't able to display my true talent, and the speed I had going sideline-to-sideline. That's where I really was explosive at. They put me at defensive end and teams targeted me, because they always knew I was hurt."
McCants' post-NFL life was marred by addiction and other troubles
As stated in AL.com's 2020 feature on Keith McCants, the former Crimson Tide star began using drugs early on in his professional career, as he took pain medication to help him with his injured knee. Unfortunately, the injury didn't just shorten his career; he ended up undergoing 33 different surgeries on his knee and other body parts, and his reliance on painkillers led to an addiction where, at one point, he was downing more than 180 pills a week, as he admitted to Vice Sports in 2015.
Initially, McCants appeared to have made a smooth transition away from the gridiron; ESPN wrote that he became the first Black marine police officer in his home state of Alabama's Department of Conservation and Natural Resources. But AL.com wrote that he made a number of bad financial decisions that had him losing over $17 million. Additionally, he dealt with depression, early-onset dementia, and homelessness and dabbled with cocaine and other street drugs on top of his pain pill addiction. He also revealed in his Vice Sports interview that he considered suicide at various points of his post-NFL life.
Speaking to AL.com, McCants expressed hope for the future, saying that he felt "extremely lucky" to be alive. "The only thing I want to do now is take all my experiences — good and bad — and spread my story, make sure the next man doesn't have the same problems and go through the same things that I went through," he added. "I want people to go down a better direction than I had to go down. All that doesn't kill you makes you stronger."