This NFL Player Tried A TikTok Challenge And The Internet Isn't Happy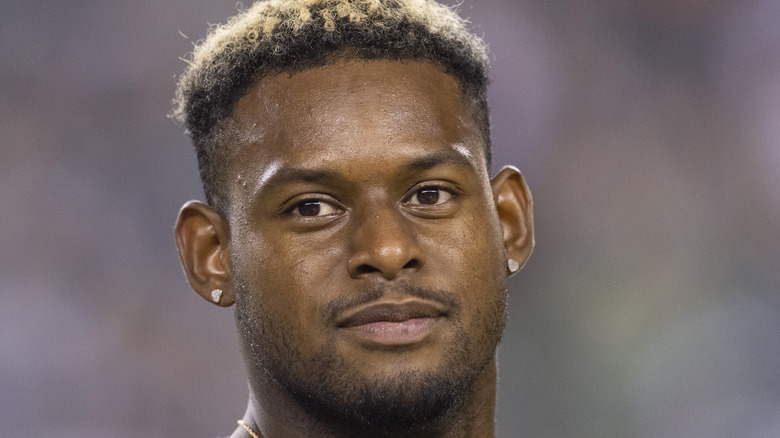 Mitchell Leff/Getty Images
Pittsburgh Steelers' wide receiver, JuJu Smith-Schuster, is catching some flak for taking the internet's latest viral challenge, dubbed "The Milk Crate Challenge," because fans don't want to see him hurt right before the football season starts. The challenge, in which people stack milk crates in a pyramid and a person is supposed to climb up them, then back down, often ends with the crates tumbling, and the person tumbling down with them.  
In Smith-Schuster's case, he nailed it. But still, he may not have, and according to what Dr. Vonda Wright, an orthopedic surgeon in Atlanta, told NBC News, injuries from the milk crate challenge tend to be things like broken arms or wrists, fractured femurs, torn ACLs, and even concussions and head bleeds that could cause permanent damage. 
Wright said, "This is probably the [internet challenge] that I've seen that has the highest potential for bodily injury that will take people out not just of their daily lives, but could have lifelong implications." 
Not to mention, NFL players are made to sign contracts in which they agree to not engage in certain behaviors, including things that are "illegal, violent, dangerous, or irresponsible" per a 2018 Personal Conduct Policy for NFL Players. While Smith-Schuster may have just been having a little fun without thinking of possible serious repercussions, taking an internet challenge likely falls under the general umbrella of "irresponsible." 
Tik Tok banned milk crate challenge videos citing danger
On the way down the milk crates Smith-Schuster, 24, can be heard saying, "Aw, this isn't bad." Then he makes it back to the ground to a small audience's claps and cheers.
The video dismayed some, including The Fan Morning Show's Chris Mack from Pittsburg's 93.7 the Fan who posted the video on Twitter with the tweet, "What in the hell is JuJu thinking? C'mon man." Another person tweeted that Smith-Schuster doing the milk crate challenge was "uncalled for and dangerous" and a third man pleaded, "Juju do not do milk crate challenge no more. Season 'bout to start. We need u on [the] field [not] in the hospital so stop doing crazy s***." 
Because of the possible dangers to those who fail the challenge, TikTok banned videos of people trying the milk crate challenge on their platform on August 27, saying, "TikTok prohibits content that promotes or glorifies dangerous acts, and we remove videos and redirect searches to our Community Guidelines to discourage such content. We encourage everyone to exercise caution in their behavior whether online or off," Tech Crunch reported. 
The Steelers are slated to kick off their new football season on September 12 against Buffalo Bills. Smith-Schuster is listed as a starter on the roster, per CBS Sports.