What Ever Happened To The Leaders Of The LuLaRoe Marketing Cult?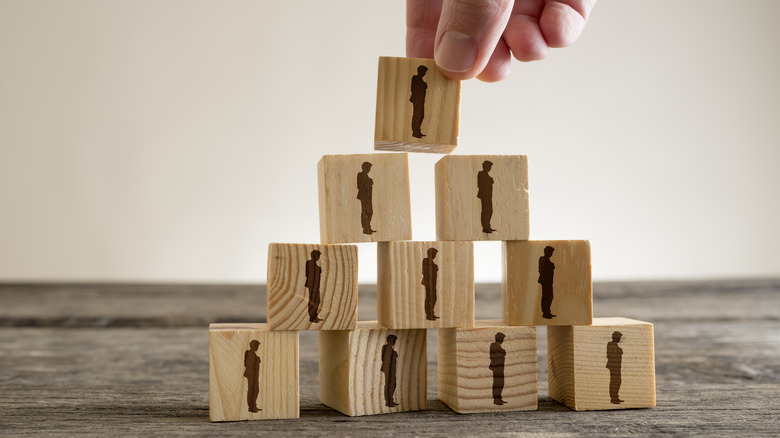 Gajus/Shutterstock
Hey, stay-at-home moms, here's a question for you: Have you ever, as the LuLaRoe website says, wanted to "control your schedule," "have more time for what matters," "live your best life," "achieve your dreams," and make loads of cash? Well, guess what: you too can join a pyramid scheme-like cult selling leggings and other apparel for California-based DeAnne Startup (yes, real name) Brady Stidham, whose family of businesspeople spans back 200 years to Startup's Candy Company in 1830. That'll be $5,000. No training required or even offered. What could go wrong?
Lots, actually. The above pitch, at present, has resulted in numerous class-action lawsuits against LuLaRoe for "cheating consultants out of 'thousands of dollars'" (per BuzzFeed News), an abundance of class-action lawsuits from customers around the country who received moldy products, and a $49 million lawsuit for LuLaRoe hiding millions from creditors (per Bloomberg). LuLaRoe's consultants, aka "Independent Fashion Retailers" — the folks who transformed their homes into Walmart by stuffing them full of what turned out to be unsellable products — have left en masse since LuLaRoe changed its bonus structure in 2017 and caused paychecks to drop by 75%. Meanwhile, consultants such as Katie Willis racked up $50,000 in credit card debt to sustain her business even as she and 80,000 others like her generated over $2 billion for LuLaRoe. 
And those on top? What exactly was the fate of DeAnne Stidham and her "cliquey," "cult-like" retinue?
DeAnne Stidham and LuLaRoe have to pay $4.75 million for their pyramid scheme in one state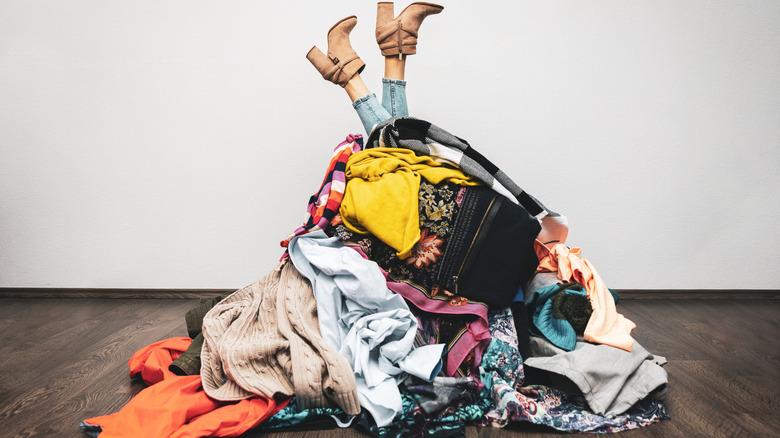 ronstik/Shutterstock
Back in 2020, as Truth in Advertising shows, Stidham was roasted by a Washington State Court to the tune of a 900-page deposition full of garbled responses and inveigling Instagram images of ecstatic, beach-bound consultants on seemingly permanent vacation. A year prior, in 2019, per Snapping Point, Washington State Attorney General Bob Ferguson stated, "LuLaRoe tricked consumers into buying into its pyramid scheme with deceptive claims of high profits and refunds for unsold merchandise." And as of February 2021, the Washington State Office of the Attorney General has ordered LuLaRoe to pay $4.75 million for violating the Washington Antipyramid Promotional Scheme Act and the Consumer Protection Act, citing "deceptive misrepresentations regarding profitability," "unlawful bonus structure," and an "unfair refund policy." This after Stidham's husband Mark previously stated, "I am not going to pay you guys a f****ing dime unless a judge orders me to pay it."
Part of LuLaRoe's manipulative policies revolved around what is essentially a gambling mechanic. Consultants never knew what stock they would receive, and fans prowled various consultants' Facebook pages looking for "unicorn" — standout and desirable — designs. Meanwhile, kitschy or "unflattering" designs (like leggings featuring Stidham in a Santa hat) continued to pile up and remain unsold. And yet, judging by LuLaRoe's fully functional website, they appear to still be an operational business entity.
Amazon Prime Video will stream the four-part documentary series "LuLaRich" beginning September 10. The trailer is on YouTube.