How Much It Costs To Be Buried Near Marilyn Monroe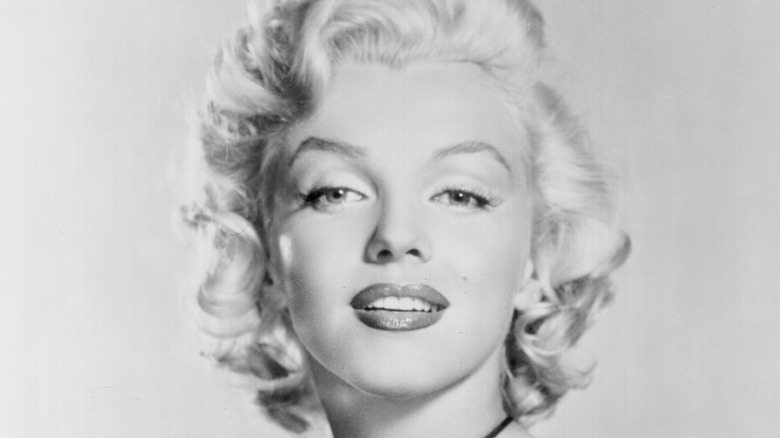 Michael Ochs Archives/Getty Images
On August 5, 1962, international superstar and sex symbol Marilyn Monroe died in her Los Angeles home (via Biography). She was found naked, lying face-down in her bed with a bottle of pills next to her and the phone receiver in her hand. Her death, caused by a drug overdose, was ruled a suicide (via History). To this day, conspiracy theories swirl around her death, and her legacy in pop culture lives on.
What is known about her mysterious and tragic demise is that Monroe was interred a few days later, on August 8 at Westwood Village Memorial Cemetery (via Atlas Obscura). Her ex-husband, Joe DiMaggio, planned the intimate service. He did not invite any of her Hollywood friends due to his belief that they were ultimately responsible for Monroe's downfall and subsequent death.
Her remains can be found in crypt number 24. It's easily distinguishable from the rest, as it has lipstick marks all over it from fans who visit day after day, 59 years after her death. In 1992, Playboy mogul Hugh Hefner bought the crypt next to Monroe's for $75,000 (via NPR). And now, a crypt next to two of the world's most famous symbols of sex is up for sale with a heavy price tag (via the New York Post).
Location matters, even in cemeteries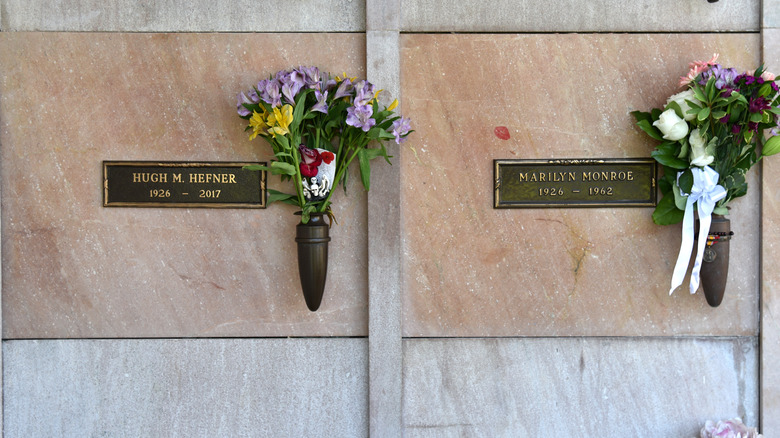 MSPhotographic/Shutterstock
According to a report last month in the New York Post, the price to be laid to rest next to Monroe and Hefner is $2 million. Moreover, the cemetery itself, located in Westwood, is also the final resting place of several other celebrities, including Natalie Wood, Truman Capote, and Farrah Fawcett (via People). DiMaggio chose the cemetery because it's where Monroe's childhood guardian, Grace Goddard, and surrogate mother, Ana Lower, are buried (via Atlas Obscura).
The crypt that is being offered for sale belonged to Broadway composer Jerry Herman. Known for his work in "Hello Dolly!" Herman bought the crypt in 1997. When he died in 2019, he was instead buried next to his mother in New Jersey. Thus why his family members are now selling the crypt.
For 20 years after her death, DiMaggio sent red roses to her grave three times a week. As for Hefner, he bought the crypt next to her due to their connection (via NPR); although they never met, both were born in 1926, and Monroe graced the cover of the first issue of Playboy in 1953. Additionally, Hefner had bought nude photos that the then-struggling actress posed for (reluctantly) in 1948 to make a car payment and used them as that first issue's centerfold.