What Was Willard Scott's Net Worth When He Died?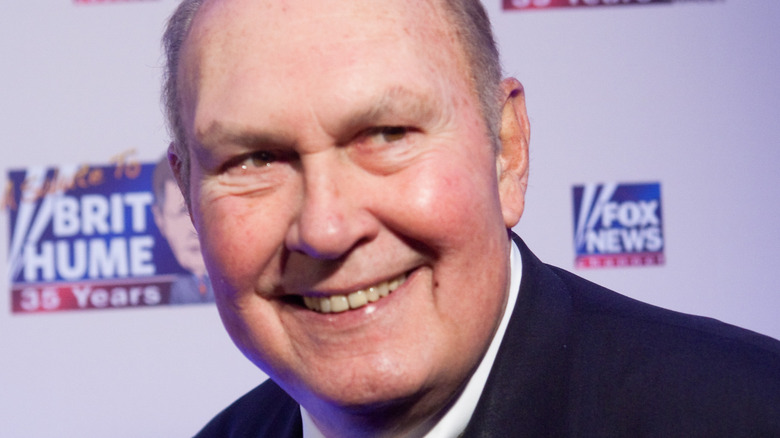 Brendan Hoffman/Getty Images
NBC News announced today on Twitter that veteran weatherman and beloved television icon Willard Scott has died at the age of 87. With over 65 years at NBC, 35 on "Today," Scott was an unlikely superstar. In his autobiography, "The Joy of Living," Scott wrote (via The Washington Post), "I'm ... bald, I'm overweight, I don't make all the smooth moves, and I dress like a slob ... I take tremendous pride in the fact that I beat the system."
Surprisingly, Scott had no formal training in meteorology when he began working as a weather forecaster, reports The New York Times. Formerly working in radio on a comedy improv show called "The Joy Boys," as well as children's programs — even appearing as Bozo the Clown and as the first Ronald McDonald — he declared (via The Washington Post), "A trained gorilla could do this job every night." And in fact, Scott's lively, down-home personality was what drew producers to him, as they were looking to find a boost in ratings with a character similar to the popular J. Fred Muggs, a chimpanzee who was brought on as a co-host in the early days of on "Today" in the '50s. A fan favorite, he helped save the show's plummeting viewership (via All That's Interesting). As Scott told The Washington Post in 1979, "The way I look at it, I'm there to fill the void created when J. Fred Muggs left."
His early work actually helped him become a successful host
While seemingly an odd transition, Scott actually believed his early experience in radio and TV was a great asset. "I have always said that the best training to be a TV newsman or anybody on television is to do a children's show because you are oblivious to the fact that there is a camera there," he said (via PBS). "You are playing to the kids in the studio, and then you are playing directly to the kids at home. ... You look in the lens and you are never using a teleprompter ... and you get a tremendous, comfortable feeling in front of a camera doing a children's show ... there are no two ways about that: Doing a kid's show is great training."
And successful he did become. At the time of his death, Celebrity Net Worth reports his estate is worth approximately $10 million.
Scott's first wife, Mary Dwyer, died in 2002. He is survived by his second wife, Paris Keena, and daughters Mary Phillips and Sally Scott (via The Washington Post).