The Mystery Of Marilyn Monroe's Wedding Ring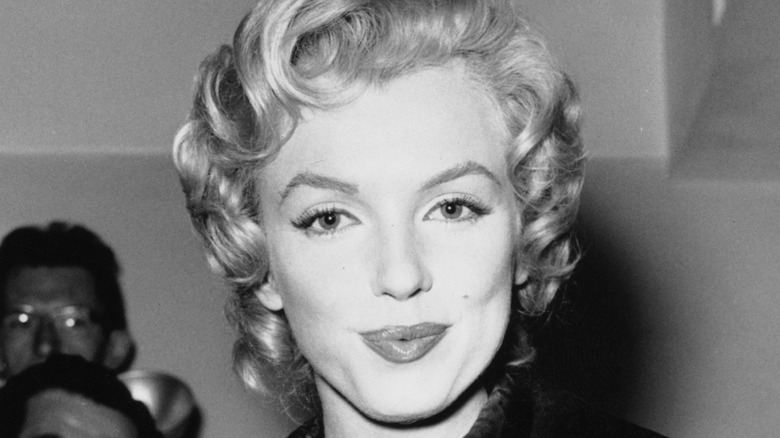 Harry Kerr/Getty Images
Blonde bombshell Marilyn Monroe was a beautiful and talented actress who attracted many men in her short lifetime. She was married three times — the first to her high school sweetheart James Dougherty, the second to baseball legend Joe DiMaggio, and the third to playwright Arthur Miller. Monroe's life was surrounded by mystery — from her rumored lovers to her tragic death — and to this day, many of those mysteries have never been solved, including the one about her first wedding ring from Joe DiMaggio.
Monroe and DiMaggio wed in 1954. They had been dating since 1952. DiMaggio had just retired from a successful baseball career and Monroe was a rising star on the silver screen. Per Biography, the couple's dating life was a bit difficult, as Joe was on the East Coast and Marilyn was on the West Coast, but they somehow made it work. It was during a vacation in DiMaggio's native San Francisco when he popped the question to Monroe, and it most likely was an impromptu decision, as Joe wasn't ready with an engagement ring (via The Vintage News). Nevertheless, Marilyn accepted and they wed in a simple City Hall ceremony that was supposed to be a private affair with just six witnesses. However, it turned into a frenzy as the press caught wind of the event and hundreds of photographers showed up to capture images of the newlyweds.
Two wedding rings?
Since Marilyn Monroe and Joe DiMaggio's wedding wasn't planned, custom wedding rings weren't made. However, Joe slipped a ring on Marilyn's finger during the ceremony as evidenced by photos taken after the union and during Marilyn's trip to Korea afterward. Per The Marilyn Monroe Collection, it was most likely an heirloom from Joe's family that was loaned to the couple. Later on, DiMaggio presented Marilyn with a platinum eternity band with 36 baguette-cut diamonds, which can be seen on her ring finger in several photographs.
Sadly, the couple's marriage didn't even last a year and they divorced just a little over eight months after their civil union. Monroe died in 1962 and there were rumors of her reuniting with DiMaggio shortly before her death. In 1999, a Christie's auction was held for the personal properties of Monroe, including the eternity band from DiMaggio. The ring had an estimated value of $30,000-$50,000, but fetched a price of $772,500 despite one diamond missing from the band (via Christie's). The other wedding band, which Monroe wore during the actual wedding, has never appeared in any auction, and it is speculated that it was returned to DiMaggio's family when the eternity ring was given to Monroe, or perhaps after their divorce.