The Real Reason KISS Is Retiring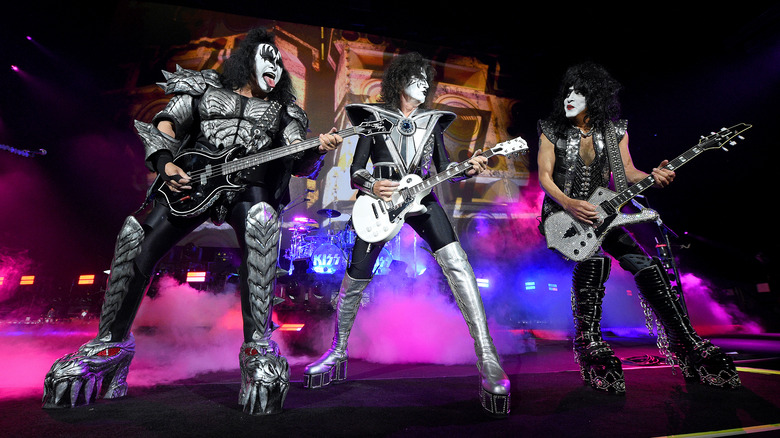 Kevin Mazur/Getty Images
The rock band KISS has been melting fans' faces for nearly 50 years now. In those five decades, the group, whose core has always consisted of Gene Simmons and Paul Stanley throughout multiple lineup changes over the years, brought a theatricality (and marketability) to their act that transcended their music. As The Dallas Observer notes, the band's music has consistently gotten only fair-to-middling reviews. But it's their shtick — their elaborate costumes, kabuki-themed makeup, and their outrageous stage shows — that's been pulling in generations of fans for 50 years.
However, in 2018 the band announced that they were calling it quits, according to Billboard, launching the End of the Road Tour. However, the COVID-19 pandemic threw a wrench into everything, and the farewell tour was postponed. In August 2021, though, the band got back on the road. And Gene Simmons explained exactly why this tour is, once for all, really and truly, the band's last.
The guys in KISS are just too old to keep it up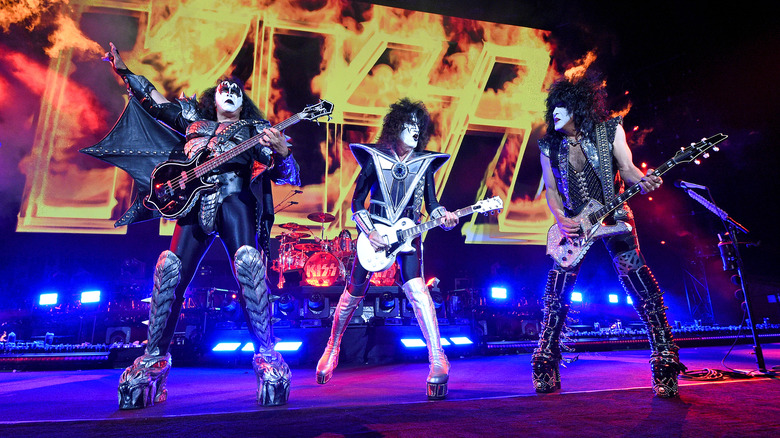 Kevin Mazur/Getty Images
For KISS, the band's music has always been secondary: their stage shows are where it's at for the true fan. And Gene Simmons explained, via Rock Celebrities, just how much goes into those stage shows: While a band like, say, Metallica, might just wear jeans and T-shirts before taking the stage, KISS members endure two hours of makeup pre-show, carry around 40-50 pounds of costumes and instruments, and leap and jump about during their act. "There's a physicality to what we do," he explained, "You know, I could have picked a smarter band to be in." 
The two members of the group who have been there since the beginning — Stanley and Simmons — are 69 and 72 respectively, and they can't keep it up anymore and still give fans their money's worth, Simmons said. "It's about dignity and self-respect. We've all seen boxers who stay in the ring too long, and bands that tour too long," he said.