The Truth About KISS' Relationship With The Beatles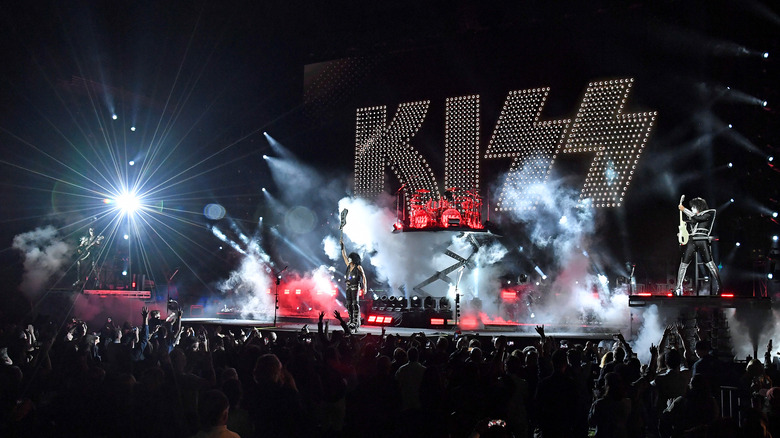 Kevin Mazur/Getty Images
The Beatles and KISS could not be further apart in terms of their music, the way they presented themselves to the public, and how they'll be remembered when the history of rock 'n' roll is written. The Beatles were a groundbreaking musical act that changed their listeners' understanding of how music is composed and performed — defining an era with their unique sound. KISS, meanwhile, typically garnered middling reviews for their music (per The Dallas Observer), but through a carefully constructed image and outrageous stage shows, developed a loyal fan base.
KISS started getting big long after the Beatles had officially broken up and were pursuing solo careers. Nevertheless, the wake the lads from Liverpool had left in the music industry was still strong, and at least twice in the decade after the Fab Four called it quits, members of the two groups considered collaborations with the other. Nothing ever came of either, however.
KISS turned down the Beatles — and vice versa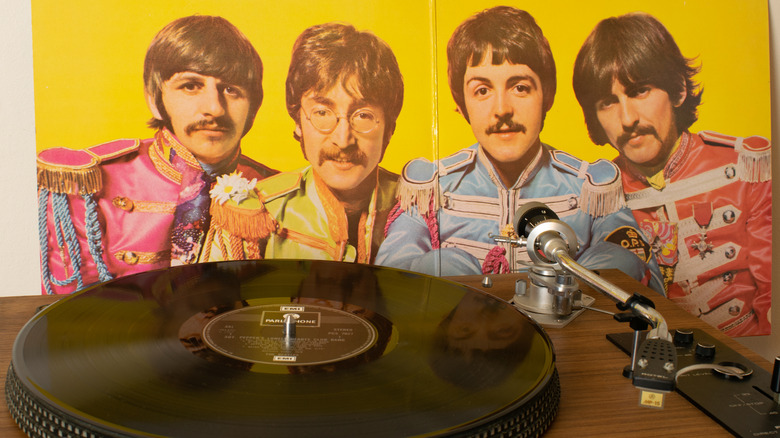 John B Hewitt/Shutterstock
1978 could have been a banner year for KISS-Beatles collaborations; at least it would have been if musicians from either camp had wanted to work with each other. As Louder Sound notes, though The Beatles had broken up by then, pop culture was still using their work for inspiration, and that included a movie version loosely based on the album, "Sgt. Pepper's Lonely Hearts Club Band." Someone from The Beatles' camp approached someone from the KISS camp asked if the guys would be interested in the role of "Future Villain Band" in the film. KISS turned down the job, purportedly because they were concerned about the optics of portraying villains, and the job went to Aerosmith, whom Louder Sound speculated were "too stoned to care."
The rejections went both ways. That same year, Gene Simmons was keen to produce a solo album, and he invited all four of The Beatles, now involved in their own solo projects, to collaborate with him. None was interested, he said. Only Ringo Starr turned him down directly, while the others vaguely mentioned "scheduling conflicts."