The Truth About Murderer James Wood's Childhood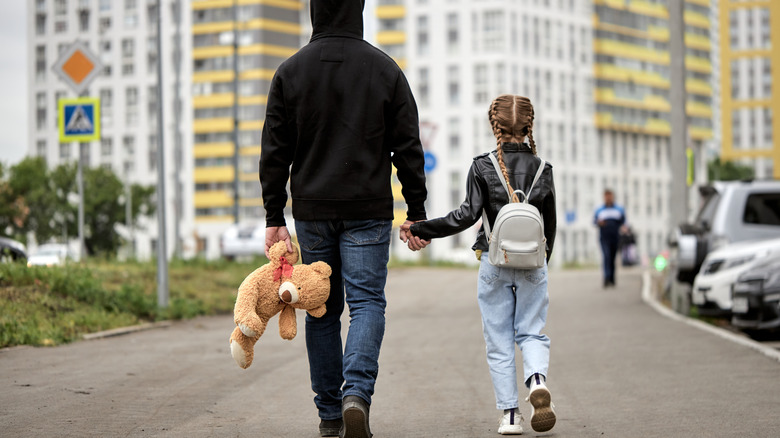 Roman Chazov/Shutterstock
On July 6, 1993, James Edward Wood was arrested and charged in the kidnapping and murder of 11-year-old Jeralee Underwood. Per the conditions of a plea agreement, Wood ultimately pleaded guilty to first-degree murder, first-degree kidnapping, and two counts of rape. He was sentenced to death by lethal injection on January 14, 1994.
As reported by FindLaw, Jeralee was collecting payments from her paper route customers in Pocatello, Idaho, when she was approached by James Wood. Authorities said Wood lured the girl under false pretenses and forced her into his vehicle. He then held her captive for more than 24 hours. During that time, he sexually assaulted the little girl before killing her with a gunshot to the head.
According to court documents, James Wood hid Jeralee's body in some brush. He later returned to the site, where he dismembered her body and threw the pieces in the river.
Jeralee's parents were alerted to the kidnapping by a neighbor, who saw a man forcing their 11-year-old daughter into his car. Jeralee's father contacted authorities immediately. However, as reported by East Idaho News, it took nearly a week to locate and capture the suspect.
FindLaw reports James Wood confessed to kidnapping and killing Jeralee Wood. He also confessed to a variety of other crimes, including multiple rapes, robberies, and at least one other murder.
It is unclear what motivated James Wood to commit such a heinous crime. However, he clearly had an unusual childhood, which may have been a contributing factor.
James Wood's painful childhood
James Edward Wood was born on December 9, 1947. By the time he was two years old, his father was incarcerated in a federal prison and his mother, Hazel, moved herself and her son to Pocatello, Idaho. As reported by the Radford University Department of Psychology, Wood began rebelling against authority figures when he was 6. By the time he was 9, he reportedly began having "violent sexual fantasies."
With his father already in prison, James lost his mother to a workplace fire when he was only eight years old. The Radford University Department of Psychology reports he was left in the custody of his step-father, who reportedly physically, psychologically, and sexually abused him.
Six years after his mother's death, James Wood officially became a ward of the state. Throughout his teens, James Wood committed a number of increasingly serious crimes including stealing cars, setting fires, and escaping incarceration after threatening a corrections officer with a knife.
The Radford University Department of Psychology reports James Wood committed his first rape at the age of 22. Although he was twice married (to the same woman), and the two had two children, his wife filed for divorce when he was, once again, sentenced to prison for a violent crime.
Between his release from the Angola State Penitentiary in 1986, and his arrest for the murder of Jeralee Underwood in 1993, James wood committed at least three rapes, including a 14-year-old and a 15-year-old. He also committed at least two robberies.