The Truth About Celebrity Chimp J. Fred Muggs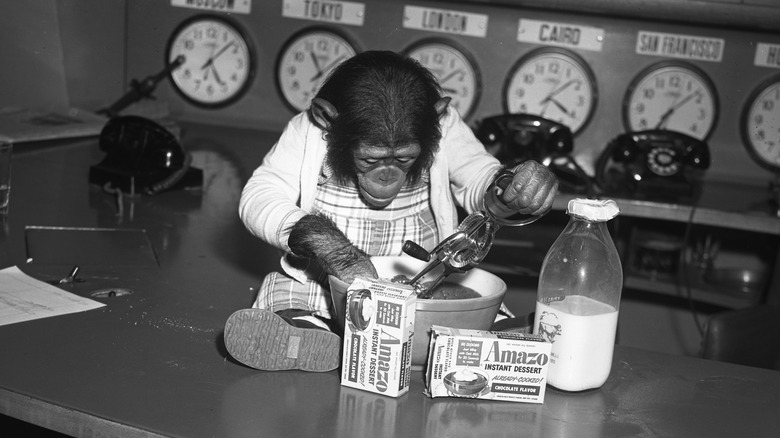 Donaldson Collection/Getty Images
In 1952, NBC's "Today Show" was struggling (via Groovy History). Hosted by Dave Garroway, ratings for the new show were plummeting and NBC had to think fast on how to save it. Their solution? A chimp (via All That's Interesting).
Born on March 14, 1952, in what is now modern-day Cameroon, an infant J. Fred Muggs was purchased from a pet shop by Carmine "Bud" Mennella and LeRoy Waldron (per the Tampa Bay Times). Mennella was actually an NBC page and used his connections to get Muggs an audition for the "Today Show". They were late to the audition and went to a coffee shop instead where Muggs charmed everyone, including an NBC executive, when he dunked his donut into his coffee.
Almost immediately, Muggs, Mennella, and Waldron were on the show and became an instant hit. Both children and parents loved him. Likewise, he performed comedy routines and became known as Garroway's "right-hand monkey". He even had a wardrobe of 450 outfits.
Ratings for the show, unsurprisingly, sky-rocketed. Muggs received countless letters from fans, went on a world tour, and was even given a girlfriend, Phoebe B. Beebe. Moreover, he had a monthly salary of $2000. Despite what he was bringing to NBC, not everyone was happy with Muggs — most notably, Garroway.
Garroway was jealous of Muggs' Fame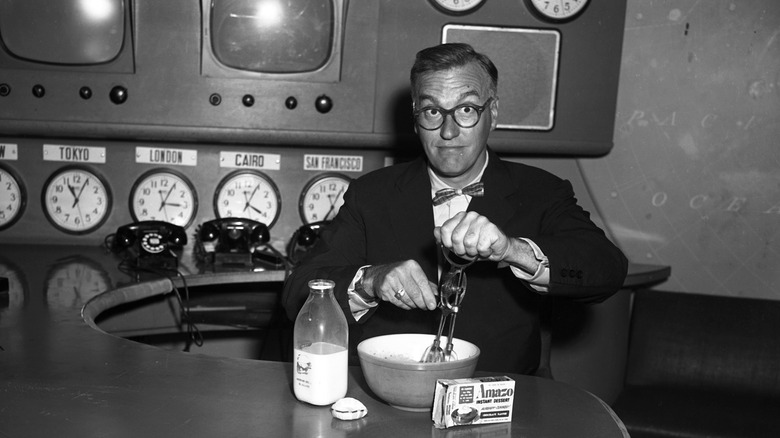 Donaldson Collection/Getty Images
The show's success was attributed to Muggs and not Garroway. Out of jealousy, he allegedly would lace the chimps' orange juice with Benzedrine to make him act out (via All That's Interesting). Muggs would also apparently throw violent tantrums (via Groovy History). There are stories of him biting people, including Garroway. Although he had a harness and leash (Mennella and Waldron would be out of frame holding the leash), he would run around the set and at times, would escape.
Muggs would be on the "Today Show" until 1957 when Garroway allegedly gave an ultimatum: it was either him or the chimp. According to the Tampa Bay Times, after leaving the show, Muggs continued to work in showbiz. In the 1970s Muggs, Mennella, and Waldron decided to move to Florida. It's here that Muggs lived in retirement in a cottage with his girlfriend, Phoebe B. Beebe. By all accounts, both are still possibly alive and are being taken care of by Mennella's son after Mennella's death in 2005. If so, Muggs would be 69.