The Oldest Basilica Of The Western World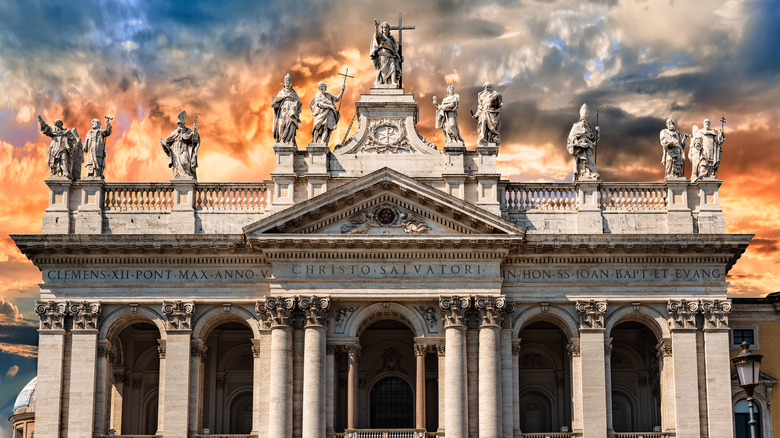 Marek Poplawski/Shutterstock
Basilicas are one of the most grandiose tourist attractions in Rome. The magnificent architecture and marvelous artwork are wonders to behold, whether you are a religious person or otherwise. Rome is home to about 900 churches and is also the location of the oldest basilica in the Western world — the Archbasilica of St. John Lateran.
On the basilica's facade, the words "omnium urbis et ecclesiarum mater et caput" are inscribed, which translates to "The mother and head of all the churches of the city and of the world," according to Simply Catholic. St. John Lateran Basilica was built in the early fourth century under the rule of Emperor Constantine the Great, who wanted his empire to have churches where Christians could worship. Unbeknownst to many, St. John Lateran isn't a person. The basilica was named as such for its patron saints John the Evangelist and John the Baptist, and after the Laterani family who once owned the land where it was built, per The Rhode Island Catholic. According to Roman lore, Constantine was present at the basilica's groundbreaking and wielded a pickaxe and dug the earth.
St. John Lateran Basilica today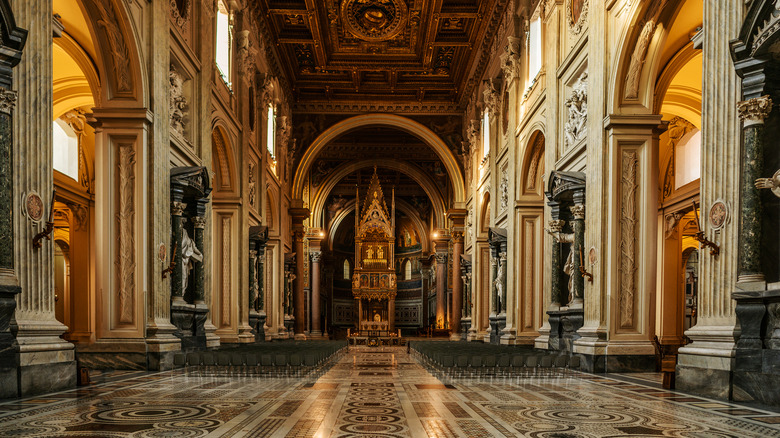 BestPhotoStudio/Shutterstock
The first structure of St. John Lateran was massive, but through the centuries, it became even bigger, with additions and renovations funded by various emperors. The basilica has survived a few fires and an earthquake, and although reconstructions were done, the church still retains its original structure to this day (via Rome.net). The basilica also served as a residence for popes since its construction and about a thousand years thereafter, but now it is where the pope celebrates weekly Holy Thursday masses.
The interior of St. John Lateran boasts of a few religious relics, one of which is said to be a wooden piece from the table where Jesus broke bread with his apostles during the Last Supper, according to Rome Sightseeing. Above the main altar are two of the most treasured relics of the church — the Holy Heads of apostles Peter and Paul placed in reliquaries. Today, countless visitors go through the church's doors to marvel at the structure, see relics firsthand, or have a quiet moment to pray in the oldest basilica of the Western world.