The Sad Reason Phil Collins Stopped Playing The Drums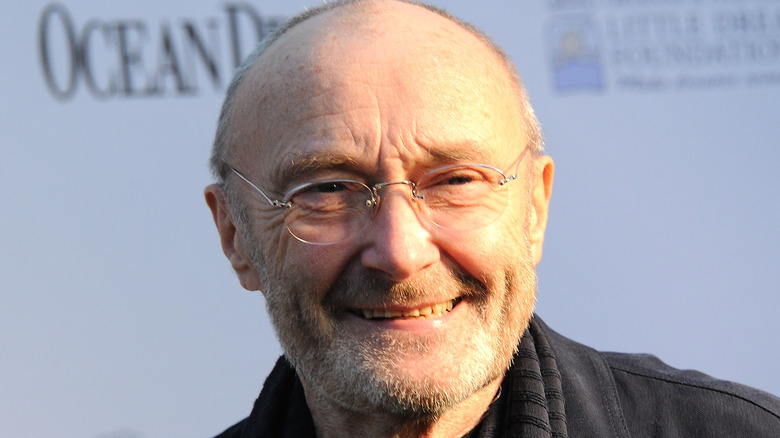 Desiree Navarro/Getty Images
Genesis fans have waited a good long year-and-a-half for it due to pandemic-related postponements, but the band's "The Last Domino?" tour will finally be kicking off in their native U.K. in October and heading to North America in November, as reported by Variety. For the first time since 2007's "Turn it on Again" tour, Phil Collins, Mike Rutherford, and Tony Banks will be performing together as a band, and for many a devotee, it's been a long time coming. 
Sadly, if you're hoping to watch Collins pull double duty as usual as Genesis' lead vocalist and drummer, the veteran musician opened up in a recent interview about the reason why he stopped playing the drums, and why he still won't be doing so during the tour. He also admitted that he isn't sure whether the group will be able to go on the road again after "The Last Domino?" wraps up. It's a bittersweet development at best, though one that shouldn't be considered surprising due to the challenges Collins has dealt with in recent years.
Collins says he can barely hold his drumsticks the right way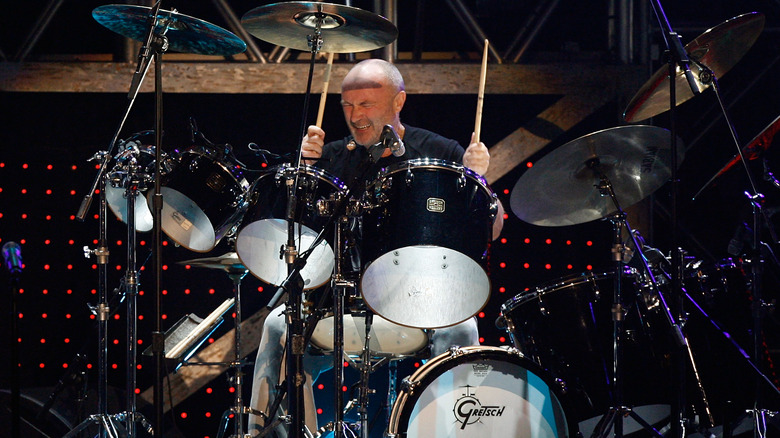 Kevin Winter/Getty Images
Despite all the drummer jokes you might have heard through the years, there is a certain art to playing the drums, and part of it requires holding, or gripping your sticks in a certain way. As an accomplished drummer since the 1960s, Phil Collins has undoubtedly mastered his instrument of choice. But as he revealed this week on "BBC Breakfast," he has reached a point where he can no longer hold his drumsticks properly. "I'd love to but you know, I mean, I can barely hold a stick with this hand," he lamented, as quoted by People. "So there are certain physical things that get in the way."
Although the legendary drummer's son Nic Collins will be filling in for his dad when "The Last Domino?" reunion tour begins later this year, he added that it's "very frustrating" for him to be unable to play alongside his son due to his "physically challenged" state. He will, however, remain in his role as Genesis' lead vocalist, so fans can still look forward to top-notch performances of the band's many classic hits.
Collins' physical issues aren't limited to his hands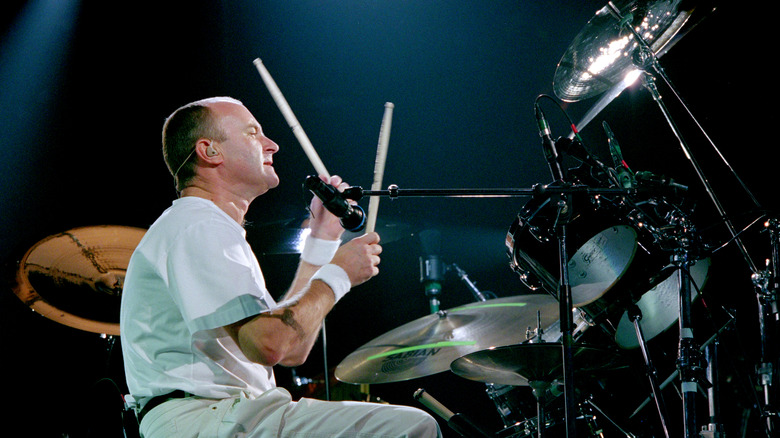 Dave Hogan/Getty Images
There are other factors that may have contributed to the fact that Phil Collins won't be behind the kit during Genesis' upcoming tour. In 2016, he told Billboard that he had been having difficulty playing the drums properly since 2007 and that he felt like he was walking "on sticks" due to a dislocated vertebra and multiple foot fractures that both required surgery, as well as nerve damage. "I don't know if I'll ever be fit enough to play the drums again on tour," he said. "My left arm has changed — it's a neural thing. The back surgery I had was great — I mean, how good can surgery be?"
According to People, Collins was hospitalized in 2017 after suffering a fall that resulted in a head injury. It was also mentioned at the time that the singer-slash-drummer had trouble walking due to a condition known as "drop foot" that emerged after his back surgery.
Regarding his plans after "The Last Domino?", Collins told "BBC Breakfast" that his advanced age and declining physical condition makes it uncertain whether he — and his bandmates, for that matter — will continue performing in the future. "We're all men of our age, and I think to some extent, I think it probably is putting it to bed," he explained. "I think yeah, I think just generally for me, I don't know if I want to go out on the road anymore."