The Forgotten History Of The Swimmobile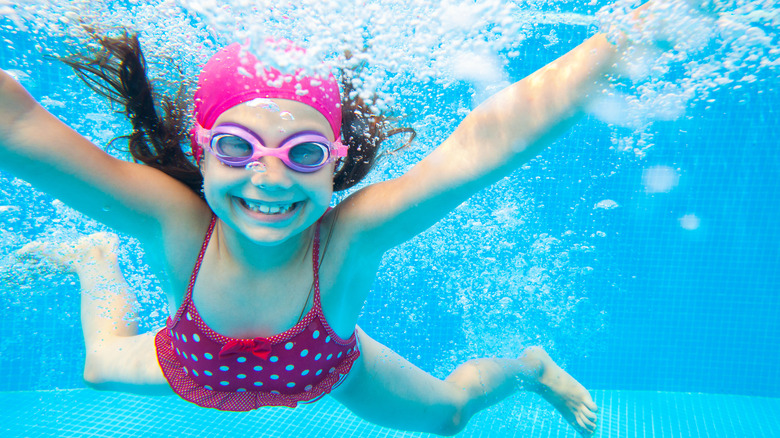 YanLev/Shutterstock
Who among us hasn't suffered through a long, hot summer day and wished a pool would magically appear and offer some relief? It may seem like a pipe dream, but at one point, there were actually swimmobiles, mobile swimming pools that traveled to neighborhoods with no beach or pool and offered kids the chance to splash around and cool off. The Rochester, New York Democrat & Chronicle reminisced about the city's old swimmobile, which reportedly looked like a halved truck semi-trailer. It was hauled to various locations around town where city recreation workers would fill the pool with water from fire hydrants, leave it in place for the day, and then haul it away again to prepare it for its next destination. Rochester seems to have been a mecca for temporary swimming pools — the city also had several porta-pools that would stay in one place for longer periods of time.
When Rochester premiered its swimmobile in 1967, the Democrat & Chronicle credited Recreation Bureau Director Joseph Caverly for inventing the concept which then spread to other cities, but other locales also claimed to have the first or concurrent swimmobiles. Summer activities had been few and far between for Rochester children and Caverly took on the issue as a pet project, wanting to provide the opportunity to swim to those who hadn't experienced pools. Said Caverly, "Some children are too timid to go to the school pools, and after we get their 'feet wet' and they find it's fun, they take right to the regular pools."
Swimmobiles brought pools to eager swimmers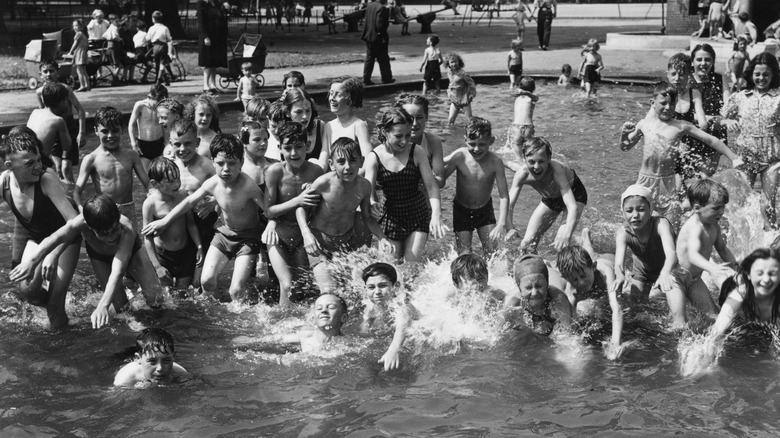 Topical Press Agency/Getty Images
As reported by the Democrat & Chronicle, the swimmobile had filtration and chlorination systems, was about three to four feet deep, and could accommodate about twelve kids at a time, or up to 150 in a day. The swimmobile continued making its annual rounds until the early 1980s, at which point it was moved to a playground and remained there for another five years. 
Other cities had their own swimmobiles, including New York City and Detroit. The New York Times wrote about the city's many swimming pool options in 1976, noting that in addition to the traditional, stationary pools found in parks, YMCAs, hotels, apartment buildings, and schools, the Department of Parks and Recreation owned five mobile pools. Recreation workers towed the 15-by-40 feet pools to different destinations each day from July 12 through September 2 between 11:00 a.m. and 3:00 p.m. Per Director of Recreation Jerry Demers, "We take the pools to parks or streets that have hydrants and make the arrangements through local community organizations." 
According to the New York City Department of Parks & Recreation, the city also had its share of temporary porta-pools, meant to provide pool access to underserved neighborhoods in all five boroughs. In 1972, there were 74 mini-pools around New York City; as more traditional pools were built, they were phased out but 17 remain in use today. Perhaps the person who wrote this scene from "The Simpsons," available on YouTube, in which Springfield briefly got its own pool-mobile enjoyed some mobile swimming during the golden age of the swimmobile.