The Strange Things William S. Burroughs Is Buried With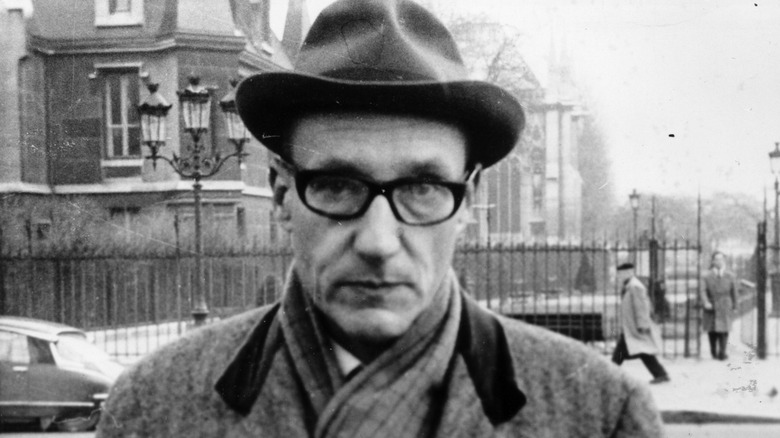 Evening Standard/Getty Images
William S. Burroughs was one of the major influential artists and thinkers of the Beat generation. Along with fellow Beats such as Allen Ginsberg and Jack Kerouac, Burroughs roamed the bars and coffeehouses of New York City's Greenwich Village in the mid-20th century, basking in sex, drugs, and the Beat version of rock 'n' roll — art of the visual and literary varieties. Together, the Beats influenced 1960s counterculture and shaped what came afterwards.
One of Burroughs' most influential works is "Junky," a 1953 semi-autobiographical novel based on his experiences as a user and dealer of heroin, per Biography. His 1959 novel "Naked Lunch" is similarly influential, delving into his feverish experiences with heroin and other opioids. Another significant element of Burroughs' legacy is his 1951 manslaughter conviction for the death of his second wife, Joan Vollmer, after he shot her with a pistol — though he claimed the shot was accidental, per Bitch Media.
Burroughs' death on August 2, 1997 was, perhaps surprisingly, not a direct result of a large dose of heroin or an accidental or intentional gunshot. The writer, then 83, died of complications of a heart attack he had suffered the previous day, per The New York Times. He is buried in his family plot at the Bellefontaine Cemetery in St. Louis, Missouri, per the cemetery's website. Of course, the details of Burroughs' final state of rest proves he is as eccentric and illicit in death as he was in life.
William S. Burroughs was buried with hard drugs, wearing a spiffy outfit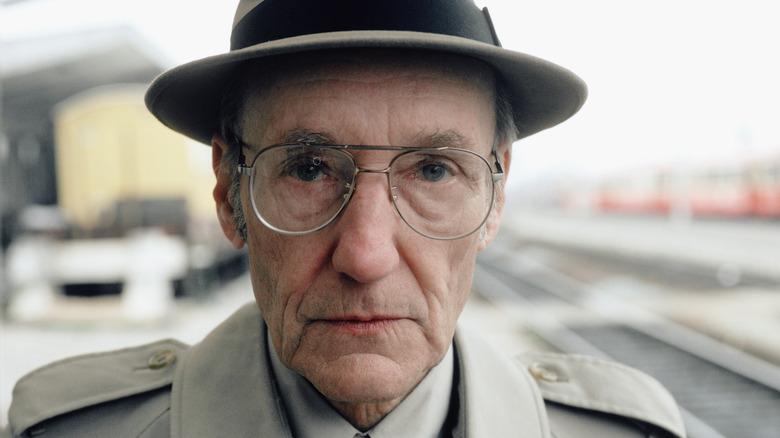 Ulf Andersen/Getty Images
The most complete picture of Burroughs' coffin was offered by the writer's close friend, poet John Giorno. Giorno's poem "The Death of William Burroughs" (posted at Lyrik Line) details the process of choosing what to send with Burroughs into his grave. Giorno, along with his and Burroughs' editors James Grauerholz and Ira Silverberg, even chose Burroughs' final clothes. They picked a white shirt and blue jeans, classed up with a green velvet and gold brocade vest and dark sports jacket. The selected accessories included a blue necktie Burroughs had painted himself, a red bandanna ("He always kept one in his back pocket," Giorno noted), eyeglasses "in his outside breast pocket," and two honorary rosettes Burroughs had received for his writing.
Some of Burroughs' other "accessories" were more unorthodox. According to Giorno, Burroughs was laid to rest with his trademark ballpoint pen and his "favorite cane, a sword cane made of hickory with a light rosewood finish." In his pants pocket was a symbolic gold coin ("William would have enough money to buy his way in the underworld," Giorno explained). And, of course, Burroughs' loot would be incomplete without drugs: a "joint of really good grass," as well as a small packet of heroin. Last but not least, Giorno and the editors sent Burroughs with "his most favorite gun," a .38 caliber revolver nicknamed "The Snubby." "William, bejeweled with all his adornments, was traveling in the underworld," Giorno wrote.