The Staggering Amount Of Money The Black Mafia Family Made
The Black Mafia Family is a crime group that was formed in Detroit in 1989 and is involved in drug trafficking and money laundering. Its leaders are the Flenory brothers — Demetrius, also known as Big Meech, and Terry, known as Southwest T. Throughout the years, the Flenory brothers spread their operations to include other cities such as Los Angeles, Atlanta, and Miami, among others, increasing their cocaine distribution network and earning millions of dollars in the process, as reported by Medium.
According to The Detroit News, the brothers' drug ring was so huge that they sold about 2,500 kilos of cocaine each month — and that's just in Atlanta. Aside from drug trafficking, the Flenory brothers also founded a record label, BMF Entertainment, which launched the music career of hip-hop artists such as Young Jeezy and Fabolous. Big Meech's plan was to establish a legitimate business to grow his already-large fortune, but they were arrested before the plans came to fruition. "I could have grabbed a bunch of millions and have been somewhere where you can't be extradited but that wasn't what I wanted ... I was trying to legitimize me and the whole family," he said (via The Moguldom Nation).
The Black Mafia Family earned hundreds of millions in profits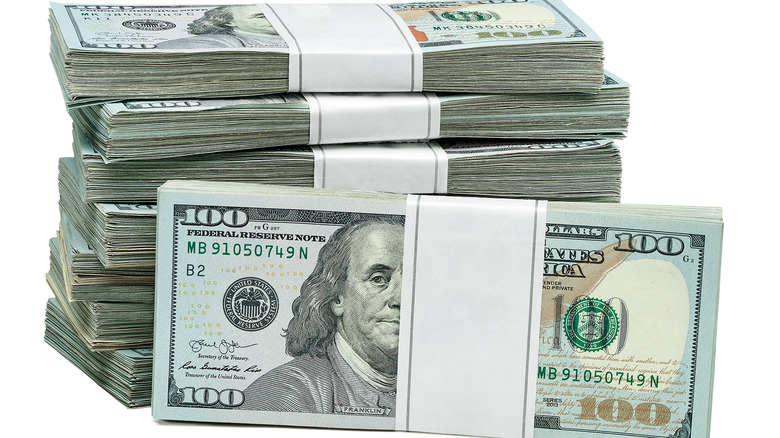 Harun Ozmen/Shutterstock
Since the Black Mafia Family operated in 11 states, it's no surprise that they made a lot of money. An article from The Detroit News states that the brothers have about 500 people under their employ and have earned $270 million in drug trafficking. Big Meech also talked about his wealth in an interview where he said, "None of them was more liquid than me ... I could go grab a million dollars throw it out the car."
The Drug Enforcement Administration (DEA) worked years to accumulate pieces of evidence against the Black Mafia Family. The Flenory brothers were arrested for their crimes and both pleaded guilty to cocaine distribution and money laundering charges. In their sentencing in 2008, each brother received 30 years in prison for heading the Black Mafia Family and an additional 20 years for money laundering, according to the DEA's official website. Southwest T. was released in 2020 due to the COVID-19 pandemic and is currently under house arrest, while his brother remains in federal prison.