This Was The Most Popular Pastime On Alcatraz
BLAZE Pro/Shutterstock
Alcatraz was once home to some of the most dangerous criminals in the years when it operated as a maximum-security prison from 1934 to 1963. Inmates were expected to follow strict schedules and rules, and those who adhered to the regulations were rewarded with a couple of hours to do recreational activities. The older inmates preferred to play quiet games of chess and cards, while others played sports. According to the Los Angeles Times, the most popular pastime for inmates was softball.
Alcatraz's prison yard was where inmates spent their recreation time. The north part of the yard served as a small area where inmates played softball. Since they were walled in, home runs in which the ball goes over the wall were automatically considered outs. The sport was so popular, in fact, that Alcatraz inmates formed four competitive softball teams named after Major League Baseball teams in the 1930s — Tigers, Giants, Cubs, and Cardinals (via National Park Foundation). There were also four amateur teams named after minor league teams — Seals, Oilers, Oaks, and Bees. Softball games in Alcatraz were taken seriously and even recorded, complete with inmates' statistics.
Games became heated in Alcatraz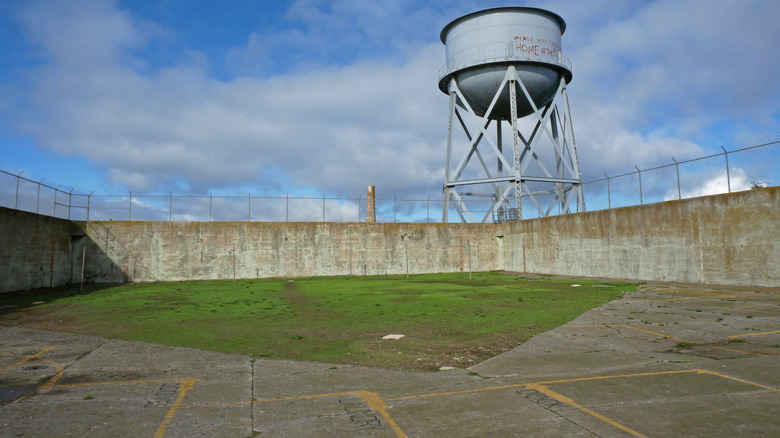 nickel33/Shutterstock
Just like sports in the outside world, there were times when inmates got heated while playing sports in Alcatraz. There were instances where fights broke out, and a race riot nearly started during one of the softball games when a white inmate said some racist comments to a Black inmate, per the National Park Service. However, prison guards were always on standby to maintain peace.
For some inmates, playing softball was a way to escape prison life, if only for a couple of hours. Many prisoners were also avid fans of baseball and on October 4, 1955, the inmates weren't denied the chance to listen to Game 7 of the World Series. Radio jacks were placed in the inmates' cells so they could listen to the commentary during the game. Game 7 ended with the Brooklyn Dodgers winning against the New York Yankees, 2-0, according to Baseball-Reference, and shouts of celebrating inmates disrupted the otherwise quiet cell house.