Here's What Mark Twain Would've Looked Like In Color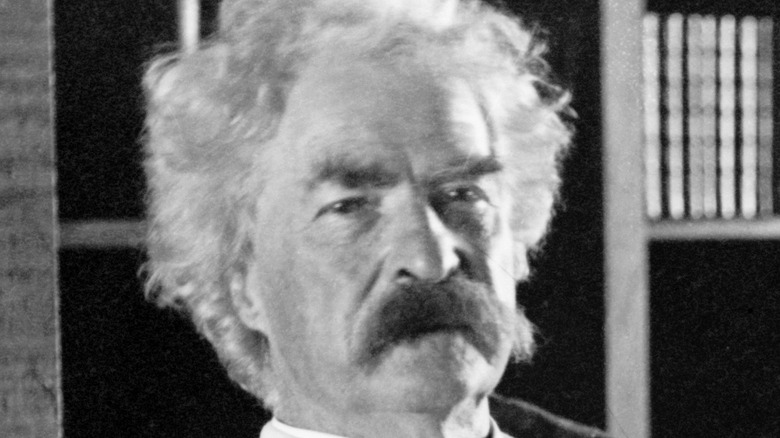 Donaldson Collection/Getty Images
Born Samuel Clemens in 1835, Mark Twain is one of America's most beloved authors (via Biography). In his lifetime, Twain wrote several novels, most notably, "The Adventures of Tom Sawyer" and "Adventures of Huckleberry Finn." Beyond this, he was also a journalist, riverboat pilot, and more. Hailing from Missouri, his early childhood helped inspire most of his work (per The Mark Twain House).
As Missouri was a slave state, a young Twain spent much of his time listening to stories told by enslaved people. Moreover, his childhood was marked by various deaths, including that of his own father, enslaved people he knew, and even some of his friends (via History). All of these incidents, one way or another, crept into his writing. After his father's death, Twain worked as a newspaper apprentice, where he would often read while he worked.
At age 18, Twain moved to New York and Philadelphia to write articles for a newspaper. In 1861, he decided to head west and try to strike it rich. He failed but continued to write. In 1865, Twain made it big with his story "Jim Smiley and His Jumping Frog". This later led to a flourishing writing career, stage performing, and travel. As most of his life was lived in the 19th century, nearly all photos of Twain are black and white. Here's what one of the greatest novelists looked like in color.
Twain in color
Dated 1907, Twain would have been around 72 in the above colorized photo. With his disheveled white hair and prominent pallor, he looks like he could be much older. His notable wrinkles and unruly eyebrows and mustache give into this sentiment even more. Nonetheless, his gaze gives him an air of gentleness. With his tender look, he appears to be a grandfather figure, one who has lived through a lot and perhaps is quite weary.
In 1870, Twain married Olivia (known as Livy) Langdon (via Biography). Together, they had four children including Langdon, Suzy, Jean, and Clara. The Twains eventually settled in Hartford, Connecticut (per The Mark Twain House). It's here that he wrote some of his most famous novels (including "The Adventures of Tom Sawyer" and "Adventures of Huckleberry Finn"). All of his children, with the exception of Clara, died before the age of 30.
Mark Twain died at age 74 in 1910. The New York Times reported that the sentiment among those who knew him was that he died of a broken heart due to the death of his children and his wife (who died in 1904).