The Truth About The Clinton Correctional Facility Jailbreak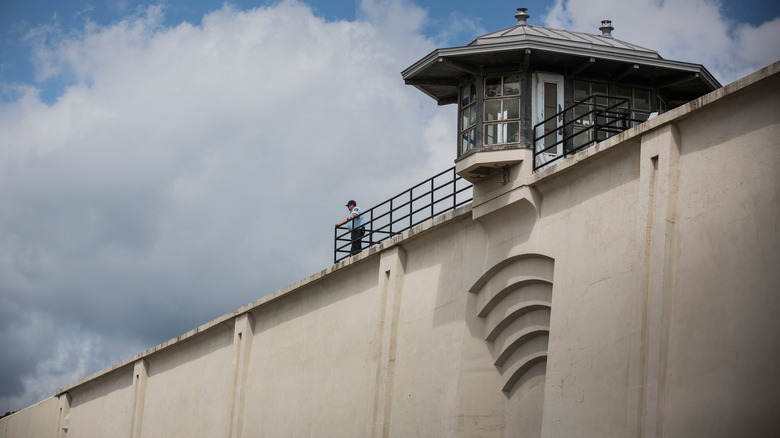 Andrew Burton/Getty Images
In the summer of 2015, two convicts escaped from the maximum security Clinton Correctional Facility in upstate New York and made headlines around the nation (via New York Magazine). Richard Matt and David Sweat, both convicted of murder, escaped through holes that were carved over the months leading up to their June 5 jailbreak, and remained on the lam for a few weeks until Matt was shot and killed on June 26 and Sweat shot and captured alive two days later, ending one of the highest-profile jailbreak sagas in years.
In the months and years following the escape, reports revealed how the two murderers were able to use the lax at best, corrupt at worst prison staff to their advantage and have them aid their tunnel dig and look the other way as they slipped through. The extent of the help they received from prison workers certainly raised eyebrows. One guard delivered tools hidden within meat to the inmates, while a prison seamstress who was romantically taken by the murderers also did her part to provide the power tools necessary for their escape.
A married prison seamstress was key to their escape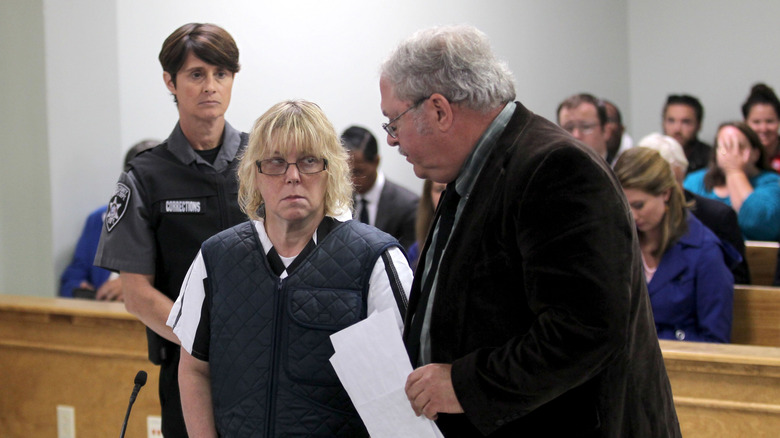 Pool/Getty Images
According to NBC, a centerpiece to the escape was not just the scheming of Matt and Sweat, but the involvement of Joyce Mitchell, a seamstress who worked in the prison. Mitchell, who was married, provided a drill and hacksaw to the convicts, and was also having an affair with Matt and had a previous relationship with Sweat. She was sentenced to seven years in prison, but was released early on good behavior and will remain on parole until 2022.
The two murderers had bonded, somewhat surprisingly, over art (via New York Magazine). The pair's paintings were well-regarded among the inmates, and they sold their work for cheap prices with the knowledge that they could cash them in for favors down the line. Their biggest customer was prison guard Gene Palmer, who in return for about a dozen paintings allowed the pair to enter their cells without crossing the metal detector or being frisked. This allowed the two to start planning their escape, and after months of digging through walls and pipes, the convicts took the plunge into temporary freedom.