This Computer Was Created Specifically For The Amish
Gabor Kovacs Photography/Shutterstock
When we think of typical Amish trappings, they usually revolve around barns, buggies, and beards. Computers and cell phones certainly have no place in the Amish lifestyle, right? Not always. Per Spiceworks, some Amish people have found ways to interact with modern technology and continue practicing their faith and lifestyle.
Steve Blank, a member of the Lancaster County Old World Amish, manufactures computers and provides IT service for the Amish community, noting, "An Amish computer technician sounds more like a joke than a reality." His company, StarLux Illumination, started as an off-grid lighting company; at one point, Blank started using an electronic word processor with spreadsheet software to run his business more efficiently. He realized other Amish business owners could benefit from this machine and started building and selling them, naming his product "The Guardian." 
To make the whole situation even more surprising, the Guardian isn't even the only available Amish computer. As reported by the Farm Show newsletter in 2007, designer Allen Hoover made the Classic Word Processor for "Plain People," which includes Mennonites, Amish, and other Christian denominations that adhere to a traditional lifestyle, generally eschewing modern conveniences. Hoover said he "met with individuals from church groups to see what is acceptable" and found there was a desire to make spreadsheets, do simple drawings, and perform word processing. He advertises it as "Made specifically for the Plain People. Unequalled safety: no modem, no sound, no photographs, no games or gimmicks. Service provided by real persons."
How does an Amish website work?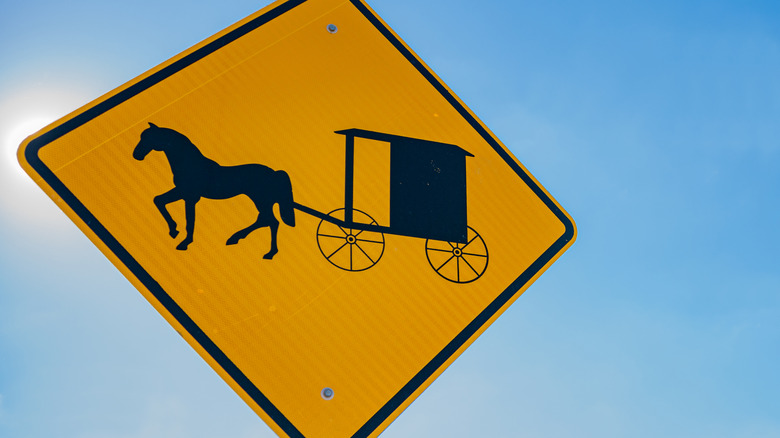 Photos BrianScantlebury/Shutterstock
Per Spiceworks, there's lots of range within the Amish community when it comes to using technology. According to Steven M. Nolt of the Young Center for Anabaptist and Pietist Studies, "The more conservative groups do not make use of any computerization. Others allow computers for word processing, accounting, and email only (no video or internet connection); and still others allow more complete computerization and have a service contract with a non-Amish IT firm." Chris Weber, a man who works with Amish youth, told Buzzfeed News that for some Amish people, it's about semantics: "Amish are all about the loopholes. The best way to create an exception is to have it be dependent on business." One of the original benefits of the Classic Word Processor was its inability to go online; nor can programs be added to it.
For some Amish communities, it comes down to ownership. People may be allowed to use telephones and even smartphones, but not within their homes, leading communal "phone shanties" or large phone booths where Amish people can make and receive calls but keep the technology out of their actual houses. Some Amish business owners use computers that actually belong to a non-Amish person or hire non-Amish people to run their websites and answer emails. According to Donald Kraybill, co-author of the book "The Amish," "In more progressive communities, getting online access is a really debated thing. They worry [that] if it is accepted, it will lead to greater access to other parts of life."