Why This Museum Claims To Hold Thomas Edison's Dying Breath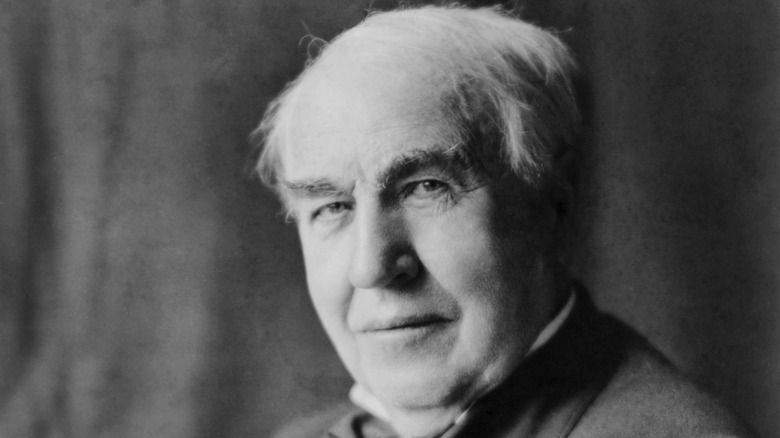 Everett Collection/Shutterstock
Thomas Edison was one of the greatest inventors and innovators of the 19th century. Throughout his life, he obtained more than 1,000 patents and also became a successful businessman. The famous inventor's accomplishments inspired many people, one of them being industrialist Henry Ford — the founder of the Ford Motor Company.
Ford considered Edison his hero, and the two eventually met in 1896 at a convention held in New York. The meeting forged a friendship between the two men that lasted until Edison's death in 1931. According to Mental Floss, the two became so close that they bought neighboring vacation homes in Florida, and even went camping together with other industrialists. In 1914, Thomas Edison's laboratory burned down and his insurance wasn't enough to cover the damages. Ford immediately wrote his friend a $750,000 check to cover the damages and sent it with a note that said he was ready to send more money if needed. Near the end of his life, Edison was confined to a wheelchair and in solidarity, Ford bought his own wheelchair so he could have races with his friend (via Thrive Global).
On October 14, 1931, Thomas Edison went into a coma and died four days later due to complications from diabetes.
The preservation of Thomas Edison's dying breath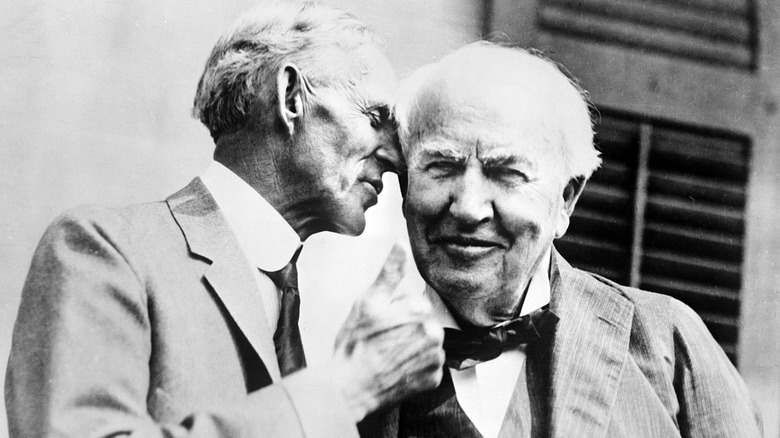 Donaldson Collection/Getty Images
According to lore, Henry Ford asked Thomas Edison's son, Charles, to preserve his friend's dying breath in a test tube and send it to him as a keepsake. However, per Atlas Obscura, the truth was that there were eight test tubes that just happened to be on Edison's bedside. Charles explained how Ford got his hands on one of them and said, "Immediately after his passing I asked Dr. Hubert S. Howe, his attending physician, to seal them with paraffin. He did. Later I gave one of them to Mr. Ford."
Henry Ford died in 1947 and after his wife's death in 1950, the test tube containing Thomas Edison's dying breath turned up during the cataloging of the Ford estate. Some of Ford's belongings were donated to the Henry Ford Museum in Dearborn, Michigan, including the test tube. However, it remained in storage until 1978 when it was finally put on display, as reported by Science Alert.