Why Amish Children Aren't Allowed To Go To School Past 8th Grade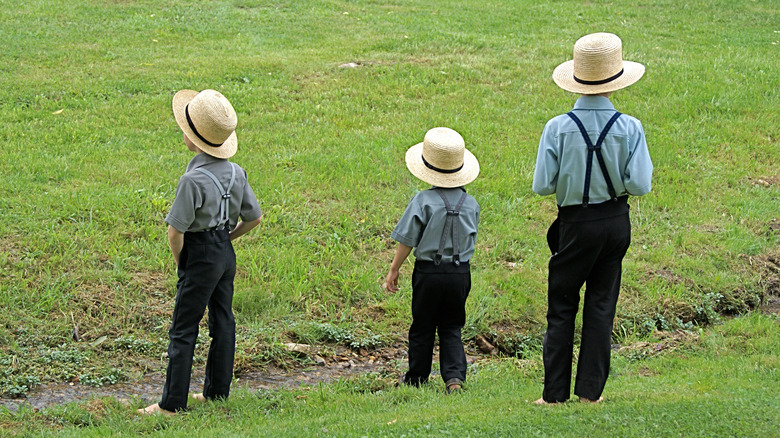 Melody Edwards/Shutterstock
In the United States, Compulsory Education Laws state that children are required to attend school until a certain age. Typically, the age range of schooling is from 6 until at least 16 years old, depending on the state of residence (via Find Law). However, this law doesn't apply to Amish children. In the Amish community, children aren't required to attend schooling beyond 8th grade — the schooling level for children 13 to 14 years old.
In 1972, as reported by The New York Times, a law was passed that exempts the Amish community from Compulsory Education Laws, as it was deemed a violation of their religious beliefs. The Amish believe that education above the 8th grade level does not coincide with their simplistic way of life and therefore, is not required. One of the main reasons is practicality, and because the Amish community thrives on manual trade and agriculture, they believe that children can benefit more from hands-on experience that will be useful to the community. In addition, as stated in Amish America, followers believe that Amish kids may be susceptible to ideas that are against the religion's beliefs if educated beyond the 8th grade.
How are Amish children educated?
Chris Hondros/Getty Images
Despite not going to school past 8th grade, the Amish strongly believe in education. Amish communities have their own school where children are typically divided into two groups — grades 1 to 4 and grades 5 to 8. Per Exploring Amish Country, children are taught important skills, such as ethical living, hard work, and the skills needed to be a valuable member of the community. Basic subjects that are taught include arithmetic, writing, reading, and history.
The education doesn't stop for Amish children after completing 8th grade. Afterward, they go on to learn more about their future roles in the Amish community by learning from their elders. Young boys become apprentices and help with agricultural or craftsmanship work, while young ladies learn domestic work from their mothers and elder sisters (via Discover Lancaster). Although limited to basic education, the Amish believe that children are able to learn all they need to be outstanding members who can contribute to the community as they become adults.