The Donald Trump Ancestor Who Paved The Way For His Wealth
noamgalai/Shutterstock
With a current net worth of $2.3 billion, it's safe to say that Donald Trump is rich (via Bloomberg). The former president of the United States acquired his wealth through a variety of business deals and, of course, his family. In 2016, he famously said his father gave him a small loan of a million dollars (per CNBC). The sentiment being that using this "small loan," he was able to create a billion-dollar empire.
Through his investments and developments, Donald eventually became a real estate mogul. According to Biography, this led him to build a brand and venture into casinos, golf courses, books, and television (including shows like "The Apprentice"). This and his notorious penny-pinching ways are what ultimately led to the increase in Donald's staggering net worth.
Per the BBC, both his finances and business savviness can be attributed to his father, Fred Trump. However, Fred was not the first in the family to acquire wealth or delve into real estate. That title goes to his father and Donald's grandfather, Friedrich, an immigrant from Germany (via NYC Walks).
Donald Trump's grandfather was involved in shady business deals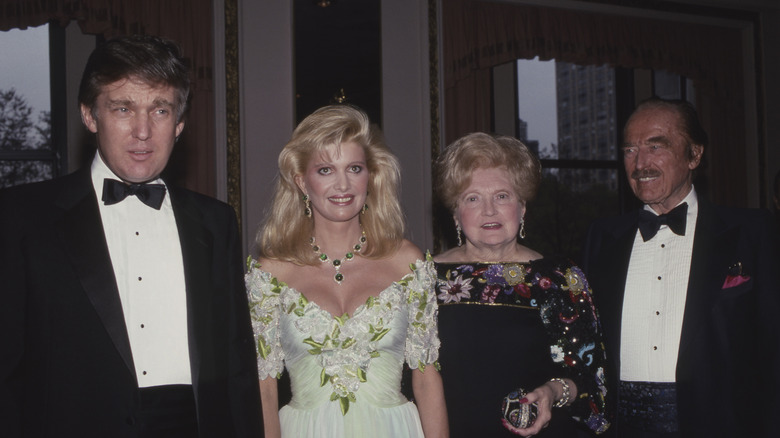 Sonia Moskowitz/Getty Images
According to History, Friedrich Trump was only 16 when he hopped on a ship to America to escape the three years of compulsory military service in Germany. He headed to Washington State and the Yukon to try his hand at the Gold Rush. Per NYC Walks, Friedrich invested in real estate in Seattle and set up a brothel and restaurant. However, these two businesses were on someone else's property. Simply put, he was squatting and could not truly legitimize his businesses. After getting in legal trouble over this, he left for Canada in 1891 to start anew.
In Canada, Friedrich operated hotels and brothels that thrived. He eventually sold off these businesses, which made him a well-off man. In 1901, he married Elisabeth Christ (Donald Trump's grandmother), a fellow German from his hometown. The couple moved to New York, where Elisabeth became homesick (via The Guardian). They returned to Germany to settle down but were rejected (per Forbes). As punishment for Friedrich skipping his compulsory military service, their citizenship was revoked. The Trumps reluctantly returned to New York and had three children (including Fred Trump, Donald's father). In 1918 at age 49, Friedrich died of the Spanish Flu. His net worth was around $510,000.
Elisabeth outlived her husband for decades and created a real estate company called Elizabeth Trump & Son (she Americanized her name). She ran the successful businesses with her son, Fred, until her death. Fred eventually handed it over to Donald, who used it to create his billion-dollar empire.