How Steve Callahan Survived Adrift At Sea For 76 Days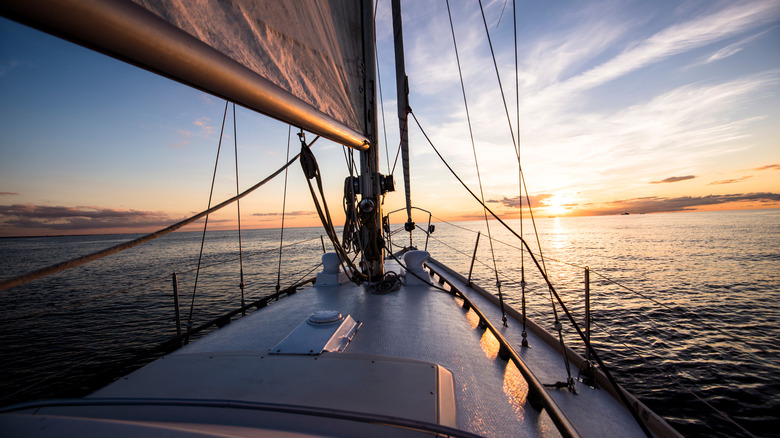 Alex Stemmers/Shutterstock
In 1980, Steven Callahan was reeling from a devastating divorce. In an attempt to forget his troubles, he planned a sailing trip that would take him to Bermuda, England, and the Canary Islands, before returning back home to the United States.
As reported by History Daily, Callahan designed and built his 21-foot sloop sailboat, "Napoleon Solo," himself, and had vast sailing experience. However, nothing could have prepared him for the disaster that would destroy his boat and leave him drifting in the Atlantic Ocean for 76 days.
In January 1981, Steven Callahan left New England for his epic journey. History Daily reports He made it to Bermuda, then the port of Cornwall in England, without any issues or concerns. While in England, he joined a group of other sailors who were taking part in a race to Antigua.
As reported by History Daily, the group ran into a severe storm along the way, and several boats, including "Napoleon Solo," were severely damaged. Although Steven Callahan was not harmed in the storm, he was forced to drop out of the race so he could repair his boat and continue his planned voyage.
Once "Napoleon Solo" was repaired, Callahan sailed through Spain and Portugal before arriving at the Canary Islands.
Cruising World reports Steven Callahan left the Canaries on January 29, 1982. Callahan said the first week of his journey to the Bahamas "was smooth." However, on the evening of February 4, something struck the ship and tore a hole in the hull.
Disaster strikes "Napoleon Solo"
Artem Zavarzin/Shutterstock
Although he may never know what struck, and ultimately destroyed, his sailboat, Steven Callahan believes it was a whale. In an interview with 48North, he said, "It seemed to come from the leeward side ... It was a big crash ... "
After realizing "Napoleon Solo" was irreparably damaged, Callahan got into his life raft, which he said was "not quite big enough for [him] to lie flat." However, it was adequate to keep him alive and safe for 76 days at sea.
As reported by History Daily, Steven Callahan had to return to his half-sunken boat several times to retrieve necessary supplies, including solar stills and a spear gun. However, those items ultimately saved his life.
During his interview with 48North, Callahan said he essentially "learned to live like an aquatic caveman." He used the solar stills to make drinkable water, and he was able to catch fish and birds with the spear. Unfortunately, he did not have any way to cook them, so he simply ate them raw.
In addition to his years of experience, Callahan relied on a survival manual, which he happened to have with him when the disaster occurred. The book was written by Dougal Robertson, who survived being adrift in the Pacific Ocean for 38 days. The book gave him a lot of practical advice. However, Callahan said Robertson's story also provided him with inspiration to make it through the ordeal.
Steven Callahan is finally rescued
In addition to making sure he had enough food and water to survive, Steven Callahan strived to maintain a positive attitude. In his interview with 48North, Callahan said "you can look at anything as a blessing or a curse, and sometimes there's a little bit of both."
Steven Callahan said he had "a lot of time to think" while was adrift, and he realized he made a lot of mistakes in his life. However, as reported by Cruising World, he vowed to change and "do a better job with [his] life," if he was rescued.
Callahan said he was thankful that he was drifting toward the Caribbean. He said the steady winds and currents carried his raft in the best possible direction and allowed him to keep track of the distance he traveled.
However, he also faced some distressing setbacks. History Daily reports Steven Callahan accidentally damaged his boat while fishing. Although he was eventually able to repair it, it took 10 days, and Callahan fought to keep the raft afloat until the repair was complete.
After 75 days, Callahan spotted lights in the distance — which happened to be coming from the island of Galante. The following day, a group of fishermen spotted the raft and rescued Steven Callahan.
Cruising World reports it took approximately eight months for Steven Callahan to recover from the ordeal. He shared the details about his survival in a book titled, "Adrift: Seventy-Six Days Lost at Sea."