Everything We Know About Missing Geologist Daniel Robinson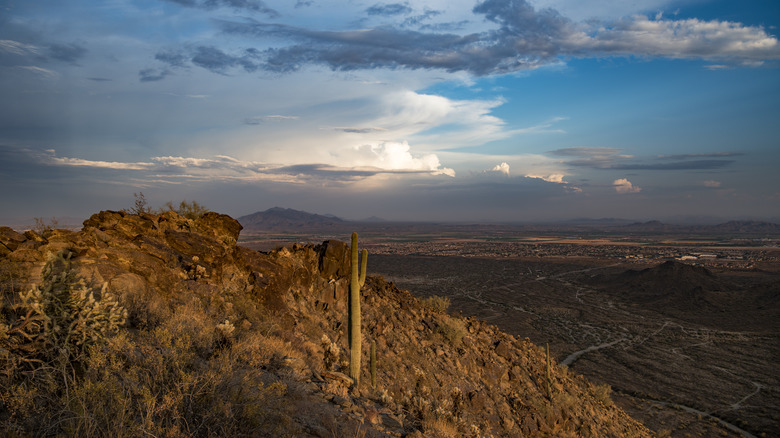 algesoft/Shutterstock
Daniel Robinson is a 24-year-old geologist who hasn't been seen or heard from since June 23 when he left a work site in Buckeye, Arizona, according to a Go Fund Me set up by Robinson's father. What makes the story even stranger is that his 2017 Jeep Renegade was found in a ravine, rolled on its side with the airbags deployed, a little less than a month after Robinson went missing, per a tweet from the Buckeye Police Department. The Jeep was only a few miles from Robinson's last job site, according to Arizona's 12News (via YouTube), but no sign of Robinson was found.
According to the 12News report, Daniel's father, David Robinson, hired a private investigator named Jeff McGrath to help find his son. When McGrath checked Daniel's crashed car and its control module for clues, it raised more questions. "After the airbags came out, somebody turned over that ignition at least 46 more times," McGrath told 12News. Another unusual discovery in their analysis was that the car drove several more miles after the airbags deployed. "That tells me the car was driven around after it crashed," McGrath said.
According to data from the car's entertainment system, the crash happened four hours after Robinson left the job site. McGrath said that gap in time could be crucial to finding out what happened to Robinson. "This looked like a staged event to me," he added. 
Robinson's father says the Buckeye police lack training to find missing people
Part of the reason this story is coming into the national spotlight three months after the young Black geologist went missing is because of a college reporter. A viral tweet posted by Shayla Davis seemed to point out the way missing white women garner much more public attention than when people of color go missing. Referred to "missing white woman syndrome," the idea has been recently illustrated in the real-life ongoing news coverage of the disappearance turned homicide of Gabby Petito. 
Not only that, but Daniel's father went public with a Change.org petition to switch Daniel's case from a missing person to a criminal investigation. He says in the petition that Buckeye police have done "very little." According to the petition's description, he and those he's hired as well as those who have pitched in to help have done more than the police, even finding "about six" sets of human remains during their searches, none belonging to his son. 
"It appears that the Buckeye Police Department lacks the training to effectively conduct searches for missing persons," David Robinson wrote.
Yet another part of this puzzle, according to News12 (via YouTube), is that Daniel was wrestling with mental health issues in the weeks ahead of his disappearance. Whatever happened to Daniel Robinson, his family is asking for help in locating him. 
If anyone has any information that could possibly lead to finding Daniel Robinson, please visit pleasehelpfinddaniel.com. People can also call the Buckeye police nonemergency line at 623-349-6400.