Why Star Trek Never Would Have Happened Without Lucille Ball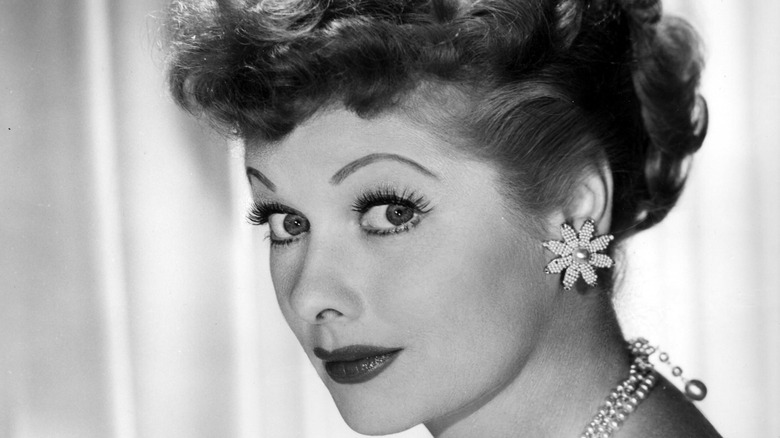 Photoshot/Getty Images
"Star Trek" has amassed a cult following since its introduction as a TV series back in 1966. Since then, the franchise has grown to include several TV series, movies, and even animated shows. It's hard to believe that "Star Trek" wouldn't have happened it wasn't for the backing of one of the entertainment industry's most powerful women at that time — Lucille Ball.
Lucille Ball was a fixture on television screens as the star of the sitcom "I Love Lucy," which aired from 1951 until 1957 on CBS. The show was produced by Desilu Productions, which was owned by Ball and her then-husband, Desi Arnaz, who was also her co-star in the series. "I Love Lucy" was such a huge success that the independent production company looked into creating more television shows. Arnaz and Ball divorced in 1960, and Ball bought her ex-husband's shares in the company, which made her the sole owner of the business and the first woman to run a television studio, per Women's History.
In the 1960s, Desilu Productions was desperate to launch another successful show. Ball was looking at two proposals that were brought to her attention — "Star Trek" and "Mission: Impossible" (via Business Insider).
Lucille Ball fought for Star Trek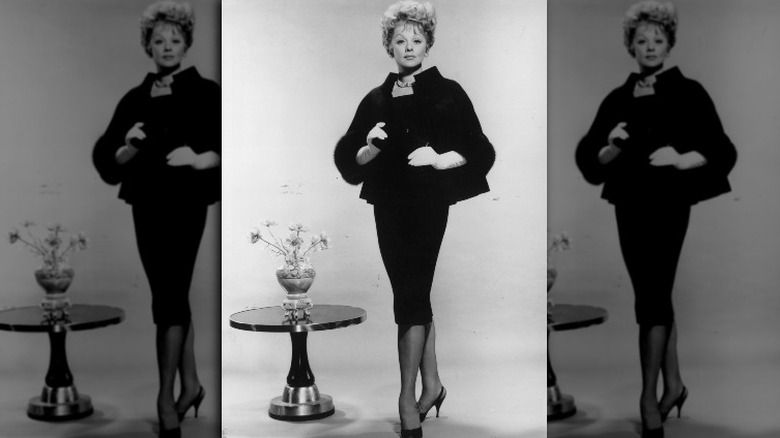 Hulton Archive/Getty Images
Desilu Productions' board members were against choosing "Star Trek" as filming for the pilot episode alone would be costly for the company. However, Lucille Ball, as the head of the business, overruled the majority and gave the green light for producing "Star Trek". As the story goes, Ball initially thought that the show was about traveling USO performers — artists who provided entertainment for troops, as reported by Entertainment Weekly. Ultimately, Ball believed in "Star Trek" creator Gene Roddenberry's project, and the pilot episode titled "The Cage" was filmed.
That wasn't the start of the sci-fi show, however, as NBC didn't like the pilot and rejected it for being "too cerebral." It seemed that "Star Trek" wouldn't be seen by the public but miraculously, NBC ordered a second pilot — an extremely rare occurrence in the entertainment business — to be shot. NBC likely wouldn't have given the show a second chance if it wasn't for the backing of Lucille Ball (via Star Trek). The second pilot, titled "Where No Man Has Gone Before," had a completely different set of actors from the first pilot, save for Leonard Nimoy who retained his role as Mr. Spock. The second pilot was a success and gained NBC's approval.
Lucille Ball lost Desilu Productions
NBC ordered 16 episodes for the first season of "Star Trek," but again, Desilu board members tried to stop Lucille Ball from proceeding with the project as they were fearful that the cost to produce the show would bankrupt the company. Ball wasn't to be deterred, though, and production started, per Heavy. The first episode aired on September 8, 1966. A few years after its airing, Ball's own daughter, Lucie Arnaz, pushed for the board to cancel "Star Trek" as it was the most expensive show Desilu was producing. Again, Ball refused and said that she liked "Star Trek".
Desilu executives kept on trying to convince Ball to pull the plug on the show's second season, but she refused, believing that "Star Trek" will be a hit. However, production costs were piling up and in the middle of the second season, Ball was left with no choice but to sell Desilu Productions to Paramount. Shortly after, "Star Trek" became an international success under Paramount and aired in more than 60 countries. Sadly, Desilu ran out of funding before it was able to get its investment back and reap the rewards.