The Surprising Numbers Of Bears Davy Crockett May Have Killed In One Year
David "Davy" Crockett was a frontiersman and politician born in the eastern part of Tennessee in 1786. He came from a poor family and was one of nine children. He started work at a young age to help pay for debts his family has accrued. By the time he reached his teenage years, Crockett started spending much of his time outdoors, which helped him gain the experience to become an outstanding frontiersman.
Crockett is regarded as a folk hero and to this day, he remains the subject of books and stage plays that tell of his experiences. He is also the focus of a song titled "The Ballad of Davy Crockett", which tells of his adventures. There is one line in the song that goes "killed him a bear when he was only three," which sparked stories of his strength. According to Time, there is no evidence of that happening, although he was known as an avid bear hunter. In the early 1800s, hunting was a popular pastime and a good source of income as bear pelts and meat fetched high prices.
Crockett killed more than 100 bears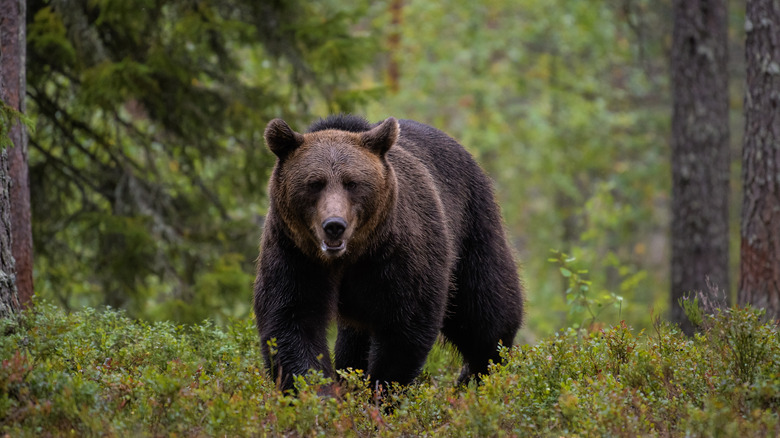 Michele Aldeghi/Shutterstock
Davy Crockett chronicled his life in the book "Narrative of the Life of David Crockett, of the State of Tennessee" which was published in 1834. In it, he talked about one of his main hobbies and said, "I was always fond of hunting." He was known to hunt different animals such as deer, elk, and turkey, but his favorite, by far, was hunting bears. According to American Hunter, Crockett's largest recorded kill was a 617-pound bear that he came across in the woods of West Tennessee.
In the spring of 1825, Crockett was actively hunting bears for months. When he started hunting, he came across only a few bears as they were mostly hibernating. However, when springtime came, the bears were ready to come out, and that's when Crockett hunted most of them. In his book, per History Matters, Crockett said that he killed 47 bears in one month, and in just seven months, his tally went up to 105 bears. Davy Crockett fought in the Battle of the Alamo and was executed after being captured by the Mexicans in 1836.