The Muhammad Ali Moment That Changed Mike Tyson's Career Forever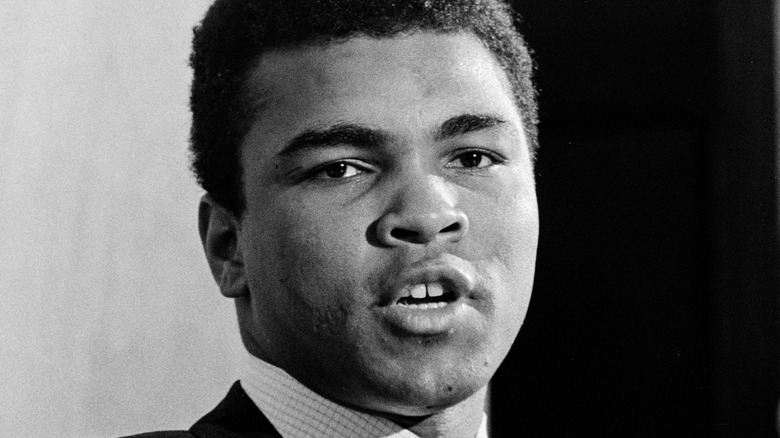 Charles Steiner/Getty Images
Although he didn't exactly quit while he was ahead, Muhammad Ali is still considered by many to be the greatest boxer to ever walk this earth. Blessed with unlimited charisma and a tongue that was his sharp as his skills in the ring, Ali was ahead of his time as a top athlete who could also be considered a mainstream celebrity. Even those who didn't pay attention to boxing knew who he was, and while his Parkinson's disease slowed him down considerably in the last few decades of his life, he still made it a point to be present at various media events, essentially serving as an ambassador of goodwill for the sport of boxing.
One generation after Ali's professional debut, Mike Tyson first made his presence felt as the next big thing in heavyweight boxing, and did so with a lot of the same swagger that Ali possessed in his heyday. Unlike Ali, however, Tyson frequently found himself on the wrong side of the law, and by the late '90s, he was far better known as the guy who made a meal out of Evander Holyfield's ear than anything he did prior to that controversial 1997 bout.
For all their similarities and differences as boxing legends, Ali and Tyson remain two of the sport's all-time greats. And there happens to be one moment in the former's career that somehow proved to be a game-changer for the latter — and in the best way possible, as he revealed in a recent interview.
Tyson says Ali's loss to Larry Holmes pushed him to avenge his hero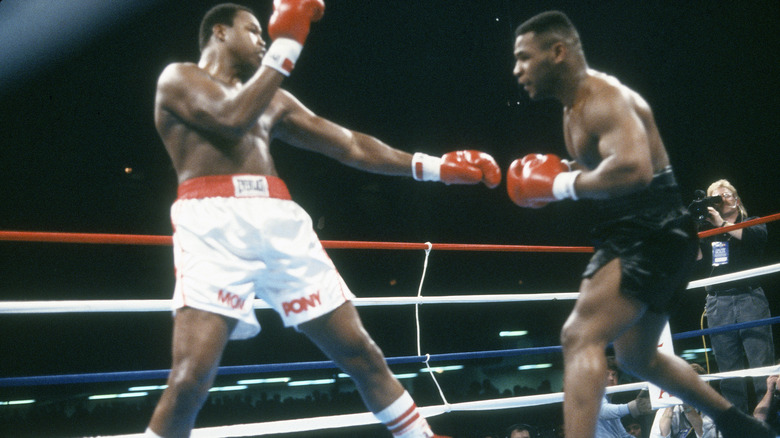 Focus On Sport/Getty Images
In an interview with Valuetainment shared on September 19, 2021, Mike Tyson was asked about the one victory in his boxing career that felt the most exciting to him. According to Tyson, his January 22, 1988, heavyweight title defense against veteran Larry Holmes stood out because it gave him a chance to avenge his hero Muhammad Ali, whose loss to Holmes in 1980 was not his last professional fight, but certainly was a late-career moment fans would rather forget. While speaking to interviewer Patrick Bet-David, Tyson recalled being only 14 years old and under the tutelage of trainer Cus D'Amato when he spoke to Ali a day after his loss to Holmes.
"I'm crying on the phone, [and] he said, 'I'm gonna be back and I'm gonna fight Holmes again and I'm going to knock him out," Tyson said. "I'm like, 'when I'm big I'm going to get him for you' and he must've been like, 'hey kid, you know who I am, the greatest of all time.'" As a teenage boxing prodigy, he then made it his life mission to defeat Holmes if and when he got the chance to do so. And he did get that opportunity slightly more than seven years later, when, at just 21 years old, he defeated the 38-year-old Holmes via fourth-round TKO at the Convention Center in Atlantic City (via BoxRec). 
Tyson feels Ali's use of anti-thyroid drugs before the Holmes fight was a mistake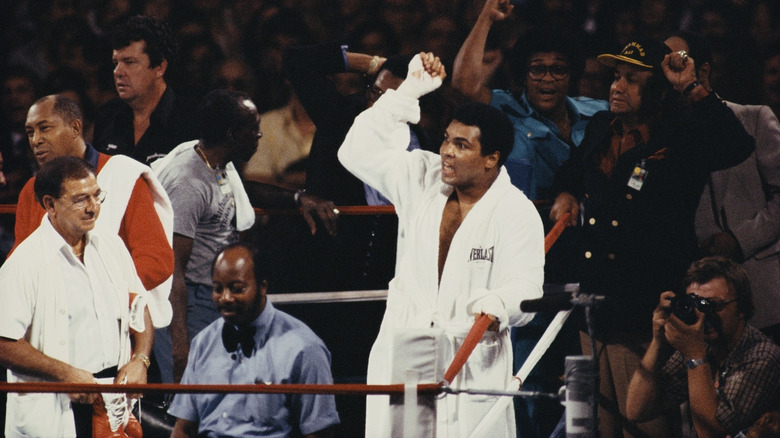 Steve Powell/Getty Images
As shown on his BoxRec page, Mike Tyson's win over Larry Holmes was followed by several more successful title defenses, though his dominant run was momentarily interrupted by an upset loss to James "Buster" Douglas in February 1990, and interrupted again for much longer due to his well-documented legal issues. But even with those setbacks in mind, Tyson had one of the best careers a professional boxer could ever hope for (except, of course, that little thing with Evander Holyfield's ear), and he owes it mostly to how he successfully avenged Muhammad Ali's loss to Holmes.
In an interesting side note, Tyson mentioned in his Valuetainment interview that prior to Ali's fight against Holmes, Ali was "taking drugs that made him lethargic" and at 38, was no longer the same fighter he was he was in the 1960s and 1970s. Ali himself admitted this, explaining that at first, the anti-thyroid medication he was taking helped make him "quicker and stronger with my old great reflexes" but when he doubled his dosage, he became slow and ineffective. "I came to the hospital because I suspected there was something wrong with me," he told UPI. "The more I thought about the pills, the more I figured they had something to do with it."
Looking back on this moment, Tyson opined that Ali shouldn't have taken the pills, but "by him doing that, there never would've been me."